Well, spring is upon us and although the weather is getting warmer, that doesn't mean you have to put away ALL of your winter favorites. For example, you can still wear your favorite boots for at least a few more months!
These boots, on sale at Wet Seal for only $19.90, are the perfect transitional pair to work from winter to spring, and even into summer. Fringe is huge right now, and these boots have tons of it, plus a flattering, slouchy fit and a nice neutral color that will go with virtually everything you own. That all being said, check out a few looks for some fashion inspiration!
The Boots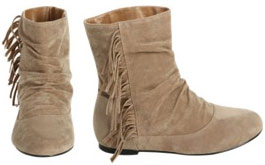 "Verticle" Fringe Boot – $19.90 at Wet Seal
Outfit Inspiration
Here are three ways to wear these inexpensive boots for different spring/summer occasions – get inspired!
Outfit 1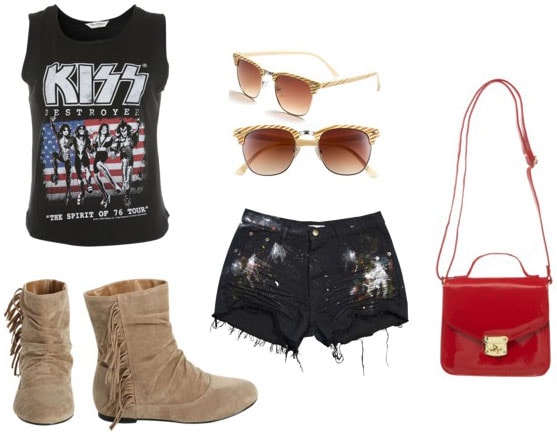 Boots, Tank, Shorts, Sunglasses, Purse
To me, this seems like the ultimate late spring/summer outfit – it's laid back, comfy, and effortlessly cool. (I can just picture it at Coachella or another fabulous music festival!) Here, I paired the boots with some destroyed denim shorts and a band tee, and finished the look off with some retro-inspired sunnies and a bright red purse for a fun pop of color.
Outfit 2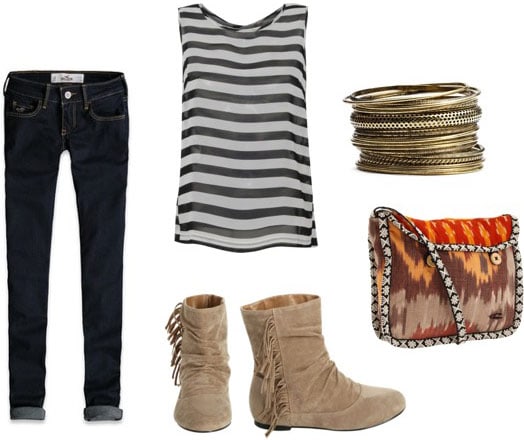 Boots, Jeggings, Tank, Bracelets, Purse
This look is still fun like the first, but is a little more polished and covered-up. It would work great for a day of classes when the weather is warm. This time, I paired the boots with dark wash jeggings and a chiffon striped tank. I then added a funky printed purse and a stack of gold bracelets to top off the look.
Outfit 3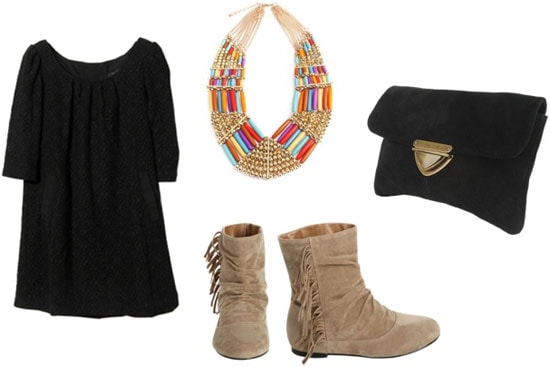 Boots, Dress, Necklace, Clutch
For a more dressy look perfect for a casual night out, I paired the boots with a gorgeous black lace tee shirt dress and an awesome, brightly beaded necklace. To make sure I didn't overpower the necklace, I chose a simple black clutch with gold details to hold all the essentials for a night on the town.
Your thoughts?
So there you have it! The perfect pair of boots to seamlessly transition from season to season. So now it's time to tell me what YOU think: Which look was your favorite? Would YOU wear these boots? If so, how would YOU style them? Let me know!