For this week's Fabulous Find, we've found a trendy piece that's quickly becoming a wardrobe mainstay: a denim button-up shirt.
This classic, medium wash top from Wet Seal can be styled so many different ways, whether worn as-is or layered under or over other items. Plus, it can be paired with pretty much every other piece of clothing you own. And at only $19.50, this budget-friendly find won't put a huge dent in your wallet, either.
Ready to see what the top looks like? Just scroll on to check it out as well as three versatile and stylish ways to wear this Fab Find:
The Shirt: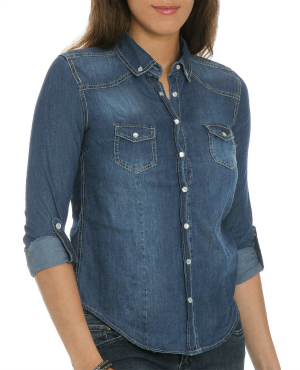 Medium Wash Denim Shirt — $19.50 at Wet Seal
Outfit Inspiration
If you like this chic and inexpensive shirt, then you're going to love the outfits we put together for inspiration. Read on to find out three stylish ways to wear this week's Fabulous Find:
Outfit #1: Cute & Trendy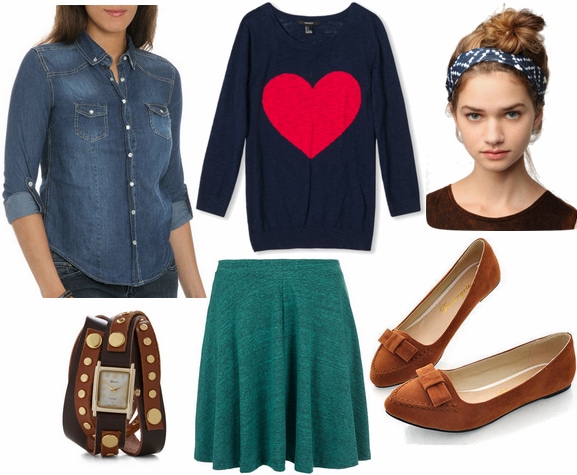 Product Info: Shirt- Wet Seal, Sweater- Forever 21, Head Wrap- Urban Outfitters, Watch- ModCloth, Skirt- Topshop, Shoes- YesStyle
For this first outfit, layer our Fab Find underneath an adorable graphic sweater, allowing the collar to peek through. Next, add a pretty green skirt, as well as a pair of cute and comfy flats. Accessorize with a studded watch, then pull back your hair with an on-trend printed head wrap to complete this look.
Outfit #2: Fashion-Forward Double Denim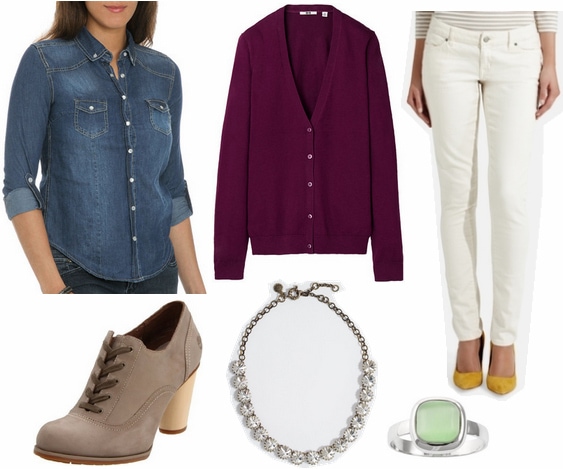 Product Info: Shirt- Wet Seal, Cardigan- Uniqlo, Jeans- The Limited, Shoes- Timberland, Necklace- J. Crew Factory, Ring- Target
Create a casual look by pairing the shirt with some sleek white skinny jeans. Taupe ankle booties add a stylish touch, while a purple cardigan lends a much-needed pop of color. Give this outfit a fashion-forward vibe by buttoning the denim shirt all the way up, then accessorizing with a sparkly necklace underneath the collar (like this). Finally, accessorize with a mint green cocktail ring.
Outfit #3: Casual Meets Edgy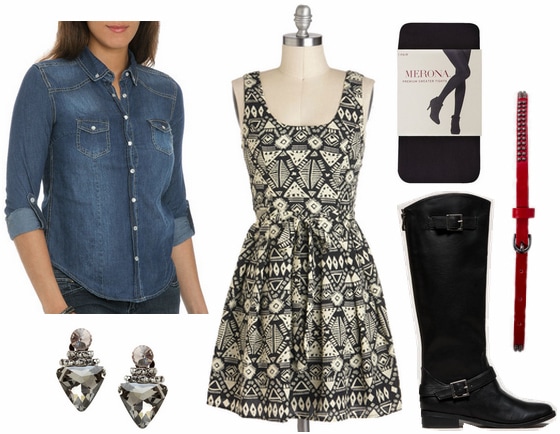 Product Info: Shirt- Wet Seal, Dress- ModCloth, Tights- Target, Earrings- BaubleBar, Boots- American Eagle Outfitters, Belt- Forever 21
To get this last look, start with a geometric print dress, then add the Fab Find, leaving it unbuttoned and creating a sort of makeshift jacket. Next, define the waistline by wrapping a studded red belt around the dress. Black opaque tights keep the look winter-appropriate, while matching riding boots add a polished and classic vibe. For the finishing touch, accessorize with a pair of gemstone drop earrings, which echo the pattern found on the dress.
Your thoughts?
What do you think of this week's Fabulous Find? Would you buy this top from Wet Seal? Which look is your favorite? How would you wear the shirt? Remember to leave a comment below and tell us what you think!