I've been really obsessed with royal blue lately. It's a vibrant color that's universally flattering – what more can you really ask for?
That's why, when I saw this royal blue dress from Walmart for only $12, I was in HEAVEN. The ribbon belt is a little plain, but that's an easy fix – swap it out for one of your favorites and style away! Here's some fashion inspiration.
The Dress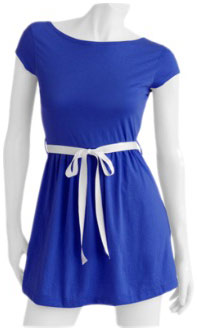 Knit Dress w/ Bow Ribbon Front – $12 at Walmart
Outfit Inspiration
Outfit 1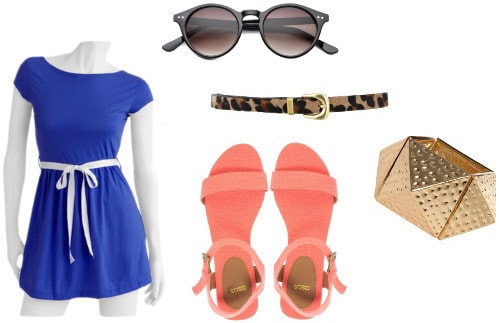 Dress, Belt, Sandals, Sunglasses, Bracelet
This seems like the perfect spring outfit to me – a cute, flirty dress, a pop of color, and an awesome pair of sunnies. Sub the belt out for this awesome leopard print one. Then just add pretty sandals and a cool piece of statement jewelry and enjoy the beautiful spring weather!
Outfit 2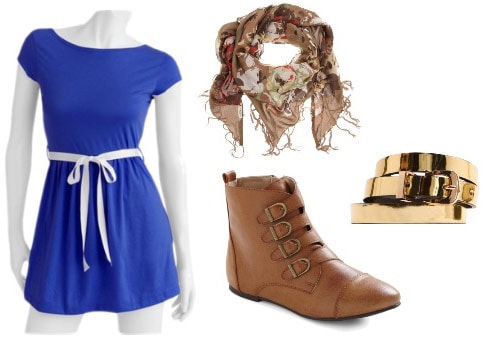 This look is a little more subdued, but equally cool and seasonally appropriate. Don't put away those ankle boots just yet – throw them on with this dress and add an indie-inspired scarf for a cool, boho chic type of look. Finish it off with a fun belt, like this amazing gold metallic one. Rock this look on campus and you're sure to be noticed!
Outfit 3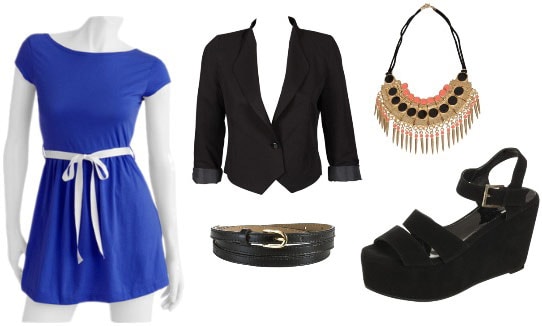 Dress, Blazer, Belt, Shoes, Necklace
Royal blue SCREAMS sophistication to me – so that's why this dress was so fun to dress up for a hot night on the town. For this look, I added a fitted black blazer and an awesome pair of black flatform sandals. A simple black leather belt cinches you in and an eye-popping statement necklace adds some color and interest to your otherwise classically chic look.
Your thoughts?
So there you have it: three ways to rock this amazingly simple, vibrant dress. Go get it now – I have a feeling it's going to go fast!
Now I want to know what you think – how would YOU style this simple dress? Are you obsessed with cobalt blue? Do you usually swap the belts out on dresses that come with them? Tell us in the comments!