This week's Fabulous Find comes from the one and only Walmart – and it's definitely a steal! At only $18, this moto-style jacket is inexpensive, functional AND comfortable, made of knit terry instead of leather or wool. Even though it's made of a lighter-weight knit material, it still maintains its structure and brings a cool edge to any outfit. Read on to learn how to style it!
The Jacket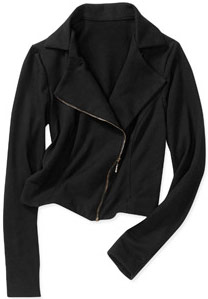 French Terry Motorcycle Jacket – $18 at Walmart
Outfit Inspiration
Below, I've created three totally different ways to style this one awesome jacket:
Outfit 1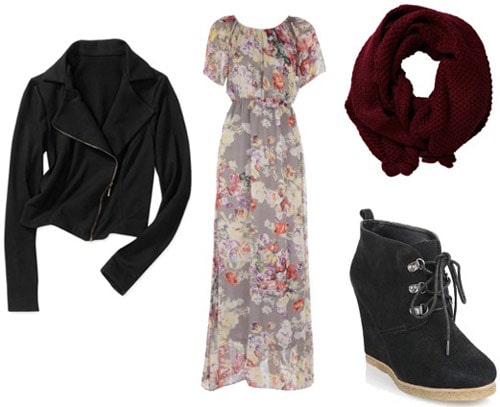 The first look is something that easily transitions from summer to the colder months – a maxi dress! Worried about staying warm? Throw on a pair of tights underneath – who's gonna see?!
To create this look, I started with this gorgeous floral dress and added the black moto jacket for some edgy contrast. Next, I layered on this gorgeous deep red scarf for some extra warmth and a pop of color. As for shoes, I chose a black wedge that not only works with the whole color palette, but will make you seem like you have legs-for-days underneath that maxi!
Outfit 2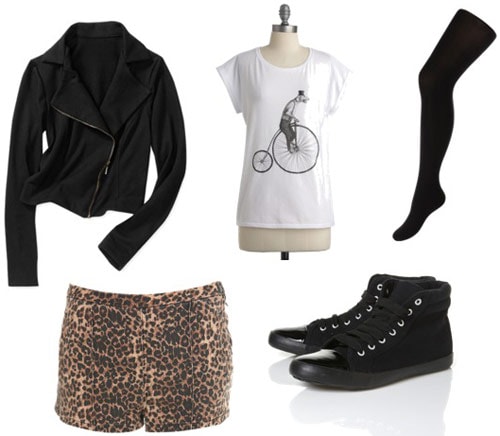 Jacket, Tee, Shorts, Sneakers, Tights
This look is much more casual than the first, but just as warm and stylish. Here, I paired the jacket with some awesome leopard print shorts and a quirky black and white graphic tee. Black tights, worn underneath the shorts, keep this outfit winter-friendly, and these great sneakers (which I've used in CF posts before – they're just so perfect…) are comfortable AND stylish. Rock this look while you're running errands or just hanging around.
Outfit 3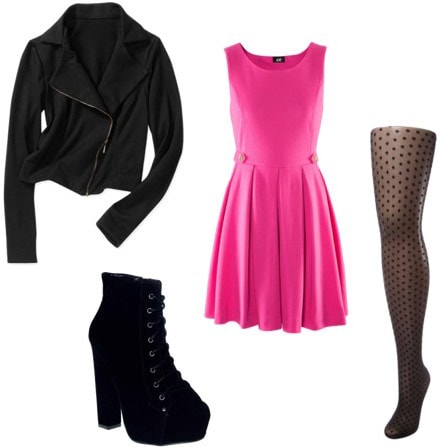 The last and most dressy look definitely packs a lot of punch. This time, the moto jacket is paired with a hot (almost neon) pink, ladylike dress – which makes the rougher black accessories pop even more. These badass black lace-up heels are the perfect contrast to the feminine pink dress and even more feminine polka dot tights, and the moto jacket has the same toughening effect. Wear this outfit for a night on the town with the girls – you're sure to turn heads.
Your thoughts?
Now I want to know what you think! Do you see the outfit possibilities for this week's Fabulous Find? How would YOU wear this jacket? Which outfit is your fave? Let me know with a comment!