Let me just start by saying that under normal circumstances, I avoid Walmart at all costs. For one thing, the store is so overwhelming – I always get so distracted that I never find what I came there to get in the first place. For another, they're not exactly known for their designer clothes.
But, a few weeks ago, I somehow found myself in a Walmart, and, as is usually the case when I enter one of these big chain stores, I found myself drawn to the clothing section. There, I made a tremendous discovery, and I'm here to share my unexpectedly-fashionable find with you guys!
The Find: Miley Cyrus & Max Azria Acid Wash Tee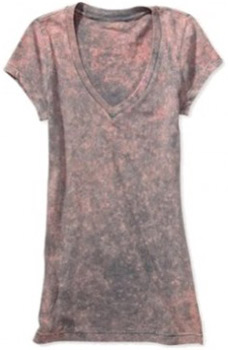 Acid Wash Tee – Miley Cyrus & Max Azria, Walmart
I have to say, that day I discovered the Miley Cyrus & Max Azria collection for Walmart was probably one of the best days of my life. (Clearly, I need to get out more.) The clothes are, I'm not going to lie, aimed towards a younger age group… but I don't care. And you shouldn't either! Because I'm telling you, there are some gems in there. There are tons of cute leggings, chambray shirts, high-waisted skirts, dressy blouses, and TONS of basic tees – all at rock-bottom prices.
I found this great acid wash v-neck from the Miley Cyrus & Max Azria line at my local Walmart, and I'll admit – I bought it in about four different colors. This one, though, is my favorite- and guess what? IT WAS $7.00!! Can you really blame me for stocking up?
While the tee is sadly not available online, it's probably in your local store, so search around – it's a fabulous basic that can be had at an incredible price. If not, there are tons of other acid wash tees available at most of your favorite retailers right now.
How I Wear My Acid Wash Tee
Now for some outfit inspiration! Here are two different ways to style this really cute, versatile tee (or your own, non-Walmart version – it'll work just as well).
1. Layered & Flirty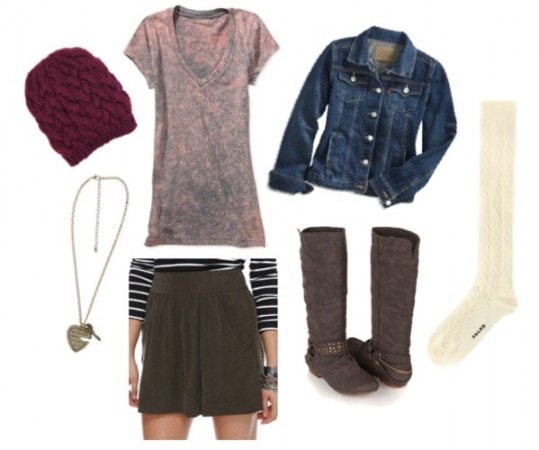 Shirt, Skirt, Jacket, Boots, Socks, Beanie, Necklace
For those of you who, like me, live in an area where the weather is in the 20s one day and the 70s the next, you can't just shove all of your summer and fall clothes into the back of your closet and restrict yourselves to heavy coats and jeans. You need to have access to all pieces, because, as you know, layering is key in transitional weather.
For this outfit, I paired the tee with a high waisted skirt in a neutral brownish-gray color. On top, I added a classic denim jacket – to be left open in order to showcase the shirt as well as the adorable lock-and-key necklace. As far as shoes go, I chose a pair of distressed, studded boots to add a little edge, along with a pair of cream colored knee highs to bunch above the boots. A cute maroon beanie tops it all off and adds some color and interest to the outfit.
2. A Warmer Alternative
Shirt, Jeans, Jacket, Boots, Scarf, Bracelet
If you like the first look but can't get away with wearing a skirt and light jacket in the winter, this second look is a great alternative.
Here, I tried to use basically the same color palette, but with more winter-appropriate pieces. The shirt is now paired with a super dark wash (the only way to go, if you ask me) pair of jeans and a comfy hooded military jacket. A pair of brown lace up boots will keep your feet warm, while a cute plaid scarf with a pop of purple does the same for your neck. I decided to keep the accessories light, with only a faceted gold bangle to hang casually around the wrist.
What do you guys think?
Who knew a $7.00 tee from Walmart would be such a cute, useful piece?! I wear mine really often.. Would you? Have you guys ever found anything trendy and (obviously) affordable at Walmart? How would YOU style this tee? Let me know what you guys think!