We all have those days when we just want to wear something super-comfortable, and that's when having good pair of leggings comes in handy.
For this week's Fabulous Find, we've found some leggings that are both comfy and fashion-forward from the one and only Urban Outfitters. These leggings have a really unique textured snakeskin print, making them look like they cost much more than $14.99. Before we show 'em to you, though, we have a quick message:
CF PSA: We firmly believe that leggings aren't pants, so make sure to wear a long enough top to avoid showing way too much! (You guys know what we mean.)
Okay, now that that's out of the way, scroll on down to check out our Fabulous Find, as well as a few outfit ideas on how to style these leggings for fall.
The Leggings: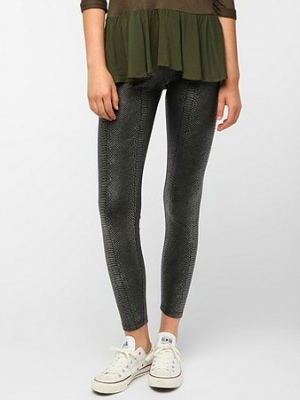 Sparkle & Fade Snake Skin Leggings — $14.99 at Urban Outfitters
Outfit Inspiration
If you like these cheap and chic leggings, then you're going to love the outfits we put together for inspiration. Read on to find out three stylish ways to wear this week's Fabulous Find:
Outfit #1: Cute & Comfy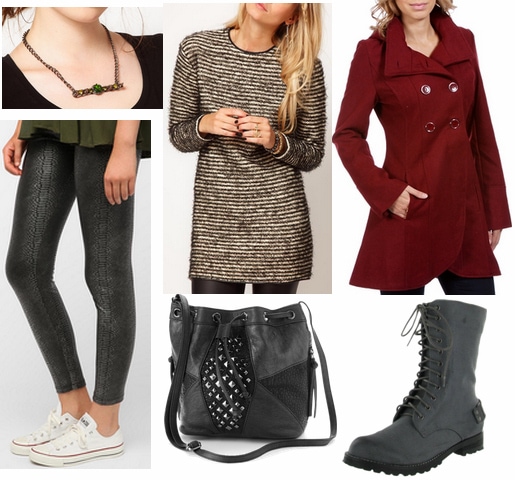 Product Info: Leggings- Urban Outfitters, Necklace- ASOS, Tunic- ASOS, Coat- Windsor, Bag- Kohl's, Shoes- amazon.com
For a fashion-forward everyday outfit, pair our Fab Find with a comfy striped tunic. Next, add a dark red double-breasted coat, which is not only stylish, but will keep you cozy in cold weather. Gray combat boots give this outfit some edge, while a studded cross-body is roomy enough to hold all of your essentials. Accessorize with a statement-making gold bar necklace to complete this look.
Outfit #2: Low-Key & Polished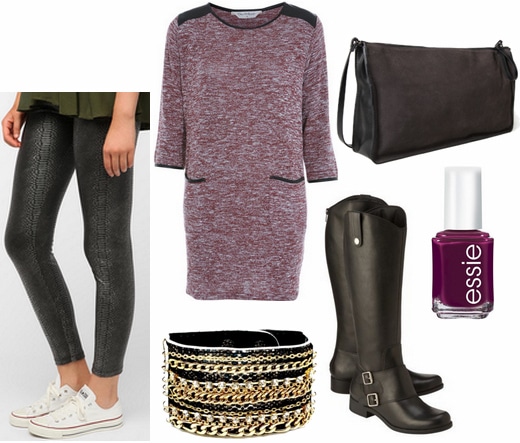 Product Info: Leggings- Urban Outfitters, Dress- Miss Selfridge, Bag- Forever 21, Bracelet- Fantasy Jewelry Box, Shoes- Target, Nail Polish- Essie's "Bahama Mama"
A sweater dress is a fantastic choice for autumn weather and, when paired with leggings, creates a casual, yet chic look. Black riding boots add polish, as does a faux suede handbag. Accessorize with a unique cuff bracelet to add a bit of sparkle. For the finishing touch, paint your nails a pretty purple shade.
Outfit #3: Chic Loungewear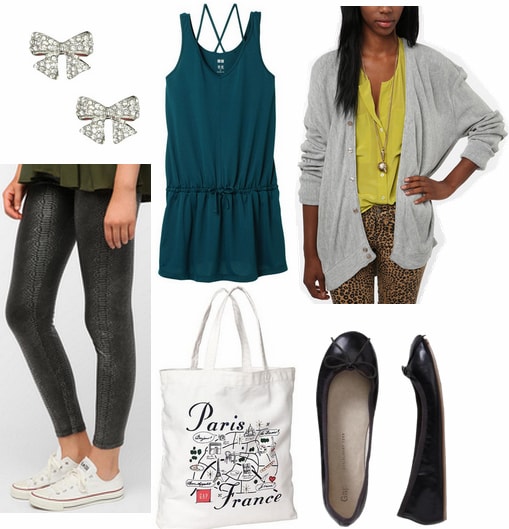 Product Info: Leggings- Urban Outfitters, Earrings- Wet Seal, Tunic- Uniqlo, Cardigan- Urban Outfitters, Bag- Gap, Shoes- Gap
This final outfit is the perfect choice for a casual evening, whether you're having movie night with your roomie or headed to a late night study session in the library. Start by pairing the leggings with a teal-colored sleeveless tunic. Add an oversized gray cardigan and black ballet flats for a casual and comfortable look. Grab a graphic tote and accessorize with bow-shaped earrings for a stylish take on loungewear.
Your thoughts?
What do you think of this week's Fabulous Find? Would you buy these leggings from Urban Outfitters? Which look is your favorite? How would you wear leggings? Remember to leave a comment below and tell us what you think!