So this week's Fabulous Find is a little bit more pricey than I usually like to go – (which reveals just how cheap I really am) but in this case, I think the price is worth it. Considering these shoes are from Urban Outfitters, which can definitely be a pricey store, this is a great deal – a pair of adorable, versatile sneakers for only $20!
Shoes are usually expensive, so when you can find an amazing pair at a price this low, I recommend you jump on it! That being said, every girl needs a couple pairs of sneakers in her wardrobe – a legit pair of athletic shoes for working out, and a cute pair for fashion purposes only. And for the latter, these are perfect!
The Shoes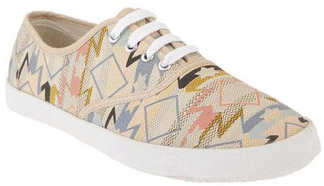 Aztec Plimsoll Sneaker – $20 at Urban Outfitters
Outfit Inspiration
Now for some outfit inspiration! Here are three adorable ways to style these fabulous sneakers.
1. Summer Shorts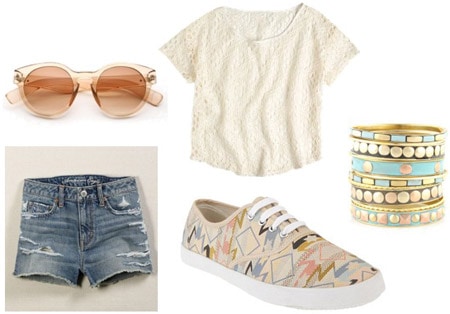 Sneakers, Shorts, Tee, Sunglasses, Bangles
This outfit screams "summer" – a pair of cutoffs and a pretty, bohemian-chic white top is basically the uniform of the season! Add a pair of cool retro sunglasses, some fun bangles, and last but not least, the amaaaaazing geometric-print sneakers for an up-to-date summer look!
2. Dressed-Up Casual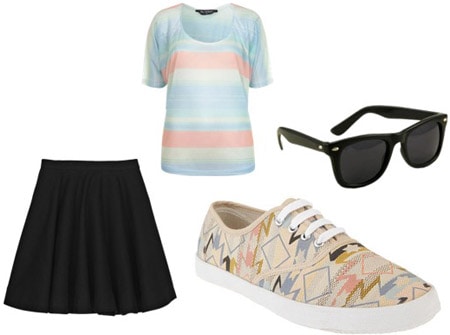 Sneakers, Skirt, Tee, Sunglasses
This look is also casual, but definitely has an edgier and slightly more polished vibe in comparison to the first look. This time, the sneakers work perfectly with a flouncy black skirt and a pastel-striped tee (a little nod to print mixing, as always!). The look is topped off with a pair of classic black wayfarers that tie in the back skirt.
3. Polished & Pretty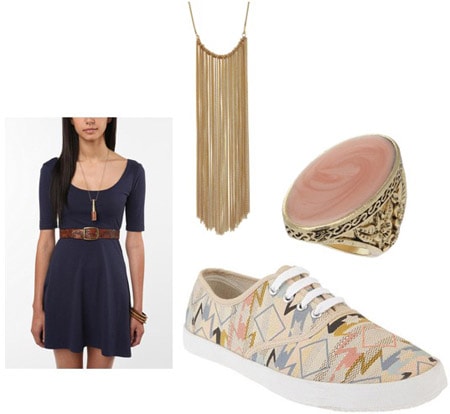 Sneakers, Dress, Necklace, Ring
This look, although not SUPER dressy, is definitely something you could wear for a casual lunch or dinner date while still looking more put-together and polished – who says you can't make sneakers look chic? A simple navy dress and some pretty gold and pink accessories work perfectly to tie in the shoes while giving the ensemble some pretty, feminine touches.
Your thoughts?
What do you think of this week's Fabulous Find? Do you like the sneakers? How would you wear them? Leave a comment and tell us what you think.