So I know what you're probably thinking already… "Why would she EVER do a Fabulous Finds post on a scarf when it's summertime? It's like 900 degrees outside!" Well… I happen to be a huge fan of scarves during ALL seasons, especially summer – and you should be too!
In summertime, lightweight scarves can be worn traditionally around the neck, on your head as a trendy turban or simple headband, or simply tied around your purse strap (as seen on most of our favorite bloggers!) for an extra punch of color. So, the truth is, there are a million ways to wear scarves during the warmer months!
Now that you know why I chose it, let's talk about this amazing lightweight scarf from Urban Outfitters – it's pretty, printed, and perfect for summer. Even better, it's on sale for only $9.99! Read on to learn how to wear it.
The Scarf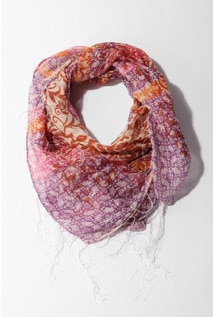 Floral and Paisley Square Scarf – $9.99 at Urban Outfitters
Outfit Inspiration
Below, I'll show you three potential ways to wear this pretty summer scarf. This time, not only have I included three outfits, but the scarf is worn differently in each one – around the neck, as a headband, and as a purse accent!
1. Summer Scarf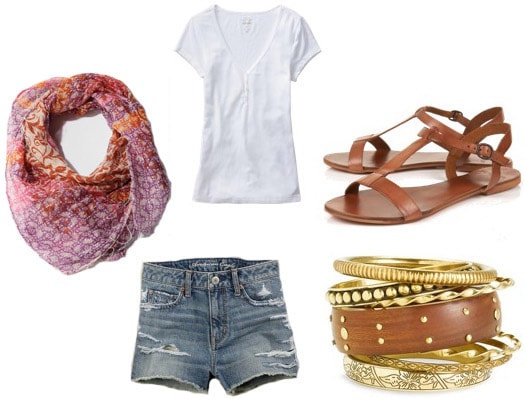 Scarf, Shorts, Tee, Sandals, Bangles
This look is really cute and casual – it's perfect for a relaxing summer day!
I started with a trusty pair of high-waisted denim shorts (I use these in so many of my posts, and guess what – I actually bought them the other day! LOVE.) and a plain white tee. These simple pieces create a blank canvas for the printed scarf, tied loosely around the neck as pictured. (It would look equally adorable as a turban-esque headband – but we'll get into that in a second!) Finish the look with a pair of casual leather sandals and some eclectic bangles.
2. Hot Headband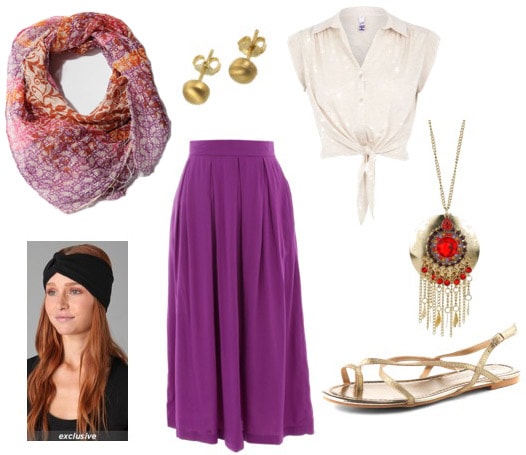 Scarf, Skirt, Top, Sandals, Earrings, Necklace
I love this outfit so much – probably because it's dripping with current trends and loaded with bright colors. Case in point: I started with a midi skirt… and not just any midi skirt, but a midi skirt in an eye-catching purple hue. Next, I added a trendy tie-front crop top, and accessorized with trendy jewelry. To finish the look, just tie the printed scarf into a turban-headband, as shown in the picture. (Here's a video tutorial on how to do that!)
Overall, this look reminds me so much of the street style photos we see of all those super trendy girls at music festivals – and I think that's probably why I'm so obsessed with it.
3. Purse Prettifier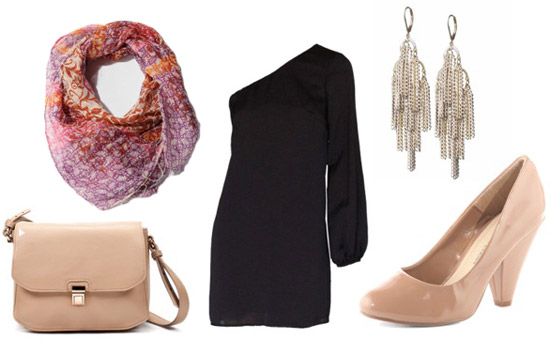 Scarf, Dress, Heels, Purse, Earrings
Last up, as usual, is our most dressy look. This time, I chose a chic one-sleeved black dress, patent beige heels (these aren't too high, which is a MUST for me), a cool purse in a matching shade, and some chain-link earrings.
And where does the scarf come in to play, you ask? Well… tied around the purse strap, that's where! I love the way scarves look tied to purses – and the trend is ALL over sites like Lookbook and personal style blogs right now, so I know I'm not alone. Overall, it's just a fun, interesting, and extremely easy way to add a pop of color to any outfit.
Your thoughts?
So there you have it! Three interesting and completely different ways to wear a scarf during summer.
Now I want to hear what you think. Which look was your favorite? Do you have any other interesting ways to wear a summer scarf? Would YOU wear a scarf during summer? Let me know what you guys think, I always love hearing your feedback!