While we absolutely love Urban Outfitters, this stylish and trendy retailer can be a bit too expensive when you're on a tight budget. That being said, their sale section (both online and in stores) is a fantastic place to score some deeply discounted goods. Take this week's Fabulous Find, for instance – it's a versatile button-up shirt that's on sale for nearly 50% off the original asking price.
Button-ups are a classic wardrobe staple and this particular top is no exception. Its slightly oversized fit also means that it can be easily worn over tanks, sweaters and dresses to create some chic layered looks for fall. Whether you want to wear the shirt tucked in or knotted, buttoned or unbuttoned, the styling possibilities are endless and at just under $20 it's also quite the steal.
Ready to see what the shirt looks like? Scroll on down to check it out as well as three ways to style it for fall.
The Shirt: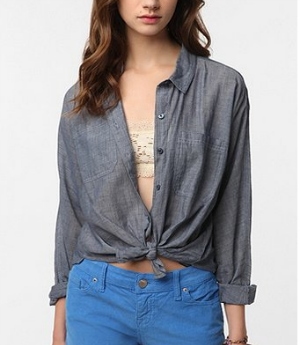 BDG Breezy Dolman Shirt in Blue — $19.99 at Urban Outfitters
Outfit Inspiration
If you like this versatile and budget-friendly top then you're going to love the outfits we put together for inspiration. Read on to check out three stylish ways to wear this week's Fabulous Find:
Outfit #1: Modern Comfort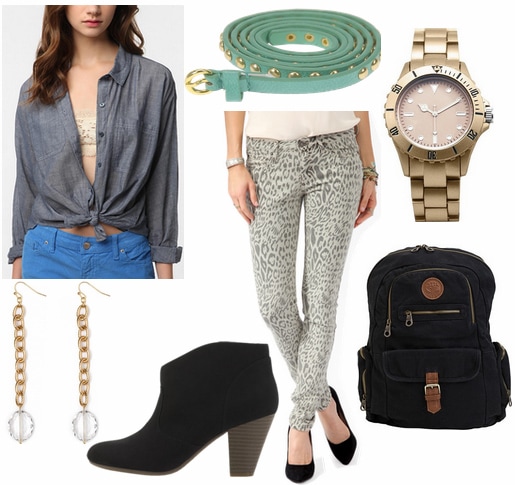 Product Info: Top- Urban Outfitters, Belt- Bank Fashion, Watch- Target, Jeans- Forever 21, Earrings- BaubleBar, Shoes- Payless, Bag- Swell
For the first outfit, wear the top with some on-trend leopard print skinny jeans for a fun, yet casual look. Heeled ankle booties add a comfortable boost of height, while a skinny studded belt adds a pop of color. Next, accessorize with some simple and elegant jewelry like a gold watch and matching drop earrings. Add a roomy backpack and you'll have a trendy and fall-appropriate outfit to rock on campus.
Outfit #2: Vintage-Inspired Casual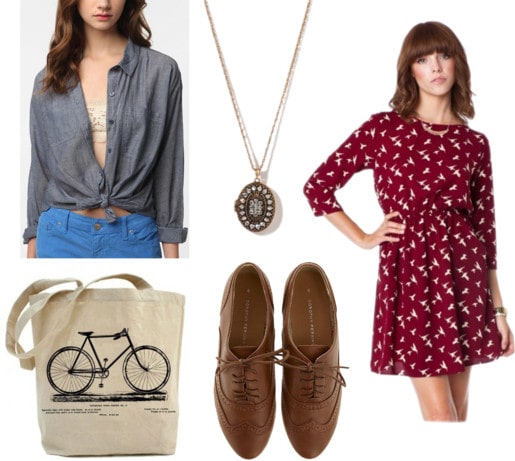 Vintage-Inspired Casual by collegefashion featuring tote handbags
Product Info: Top- Urban Outfitters, Necklace- Forever 21, Dress- Sosie, Bag- Etsy, Shoes- Dorothy Perkins
For the next outfit, wear the shirt over an adorable bird print dress to create a stylish layered look. Cuffing the sleeves, tying the bottom and leaving the buttons undone (as shown in the pic above) on the shirt keeps the look fresh and fashion-forward. Next, add a pair of lace-up oxfords and a long locket necklace, both of which have a sort of vintage-inspired vibe. For the finishing touch, accessorize with a cute and quirky printed tote bag.
Outfit #3: Wild Child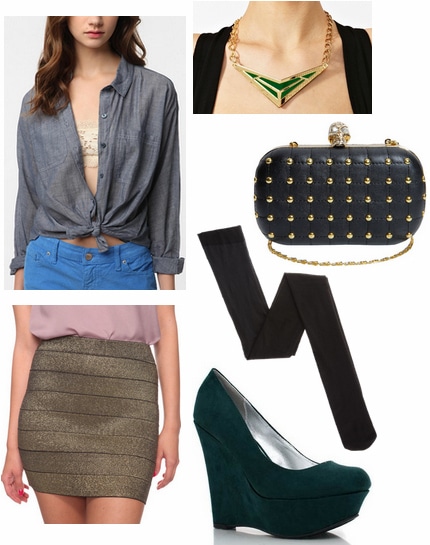 Product Info: Top- Urban Outfitters, Necklace- Nasty Gal, Bag- boohoo.com, Tights- Armani Exchange, Skirt- Forever 21, Shoes- Go Jane
Dress up the skirt for nighttime by paring it with a metallic mini-skirt adorned with a subtle striped pattern. Black opaque tights add coverage, while dark green platform wedges lend a stylish dose of color. Accessorize with a statement necklace that draws from the green hue of the shoes, then grab an edgy studded box clutch to complete this outfit.
Your thoughts?
What do you think of this week's Fabulous Find? Would you buy this top from Urban Outfitters? Which look is your favorite? How would you wear the shirt? Remember to leave a comment below and tell us what you think!