So this week's Fabulous Find is something that can be either really good, or really bad – tie dye. Luckily, the tie dye in this post isn't a giant rainbow spiral, so that's a start! The shirt I chose for this week is a really cool, kinda boxy, monochrome blue slightly cropped tee (that's a mouthful, huh?) and the best part? It's only $15 at Target!
While a blue tie dye t-shirt probably doesn't seem like the most versatile piece, it actually is – and I've created three outfits to prove it!
The Shirt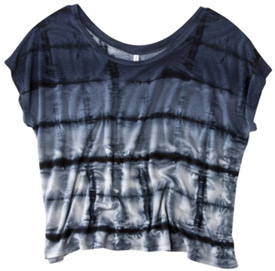 License Barred Window Graphic Tee in Charcoal – $14.99 at Target
Outfit Inspiration
Here are three example ways to wear this pretty tie-dye tee – one casual, one dressy, and one that's in between.
1. Miss Monochrome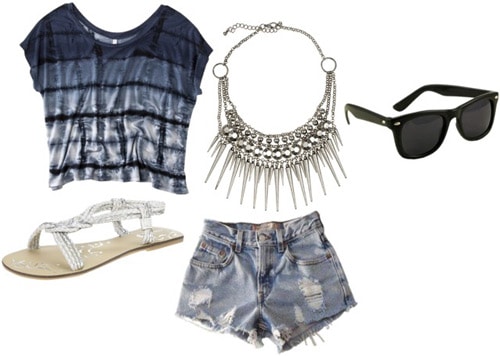 Shirt, Shorts, Sandals, Necklace, Sunglasses
I chose to go all-out-blue in this outfit – pairing the blue tie-dye shirt with a pair of faded, high-waisted denim shorts. Staying in the same color palette, I chose a cool pair of braided silver metallic sandals and an awesome silver spiked bib necklace! (Pretty sure I've used it here before, too..) Finally, in true Fabulous Finds form, top the outfit off with a pair of simple black wayfarers for a fun daytime look during these last days of sunshine.
2. Boho Babe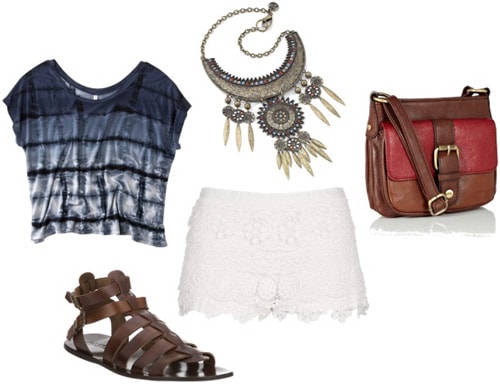 Shirt, Shorts, Necklace, Sandals, Purse
Here's another way to wear this shirt – by going totally boho! This time, pair the shirt with these awesome white lace shorts, much like the ones that we've seen all of our favorite bloggers wearing recently! Then, add this amazing bronze-gold over-the-top geometric and feather bib necklace, a pair of leather sandals, and a cross-body bag with a pop of color to bring out the red stones in the necklace! This outfit is sure to make a statement hanging out around campus and going to class.
3. Dressy Diva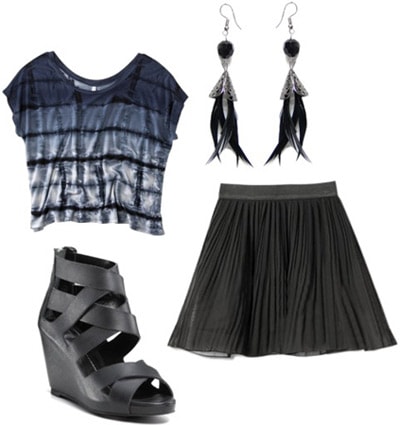 Shirt, Skirt, Wedges, Earrings
Finally, for a more dressed-up look, pair the shirt with a super cool pleated black skirt (pleats are huge this fall!) and a streamlined pair of black wedges (or heels, if you wanna get more dressy). Finish off the outfit with a pair of pretty black and silver feather earrings for a fun night on the town – whether it's with the girls or a special guy!
Your thoughts?
What do you think of this week's Fabulous Find? How would you style this tie-dye tee? Which outfit is most your style? Leave a comment and let us know.