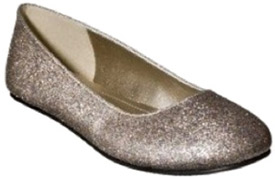 I'll just say it right now: Target is easily my favorite place in the entire world. No matter what I go there to buy, I always end up leaving with about 10 times that amount – whether it's clothing, accessories, shoes, hair and beauty products, cute Kleenex boxes, or my signature hot pink trash bags (don't judge!), I just can't resist Target's many adorable (and budget-friendly) offerings.
It's safe to say that Target always has great deals on some of the most stylish products around. That's why it didn't come as much of a shock to me when I found these amazing sparkly flats at my local Target for only $12.99!
We've covered the glitter trend pretty extensively here at College Fashion, and while some of you may love it already, I'm sure that many of you are still wary to try it out. If you're one of the latter, fear not, because these cute flats offer a perfect way to try out the trend without being overwhelmed with glitz. The shoes, although very sparkly, serve more as a complement to an outfit rather than the focus.
Here are some ideas on how to wear these glittery (and affordable) flats for any occasion:
1. Going to Class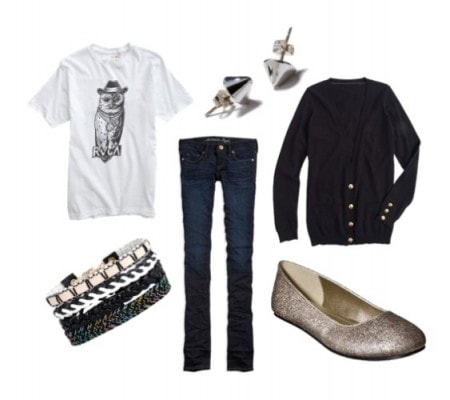 Flats, Jeggings, Tee, Cardigan, Bracelets, Earrings
I love this outfit for its casual-cool vibe: It's a perfect look for going to class, especially on the days when you just want to throw on a tee-shirt and jeans and rush out the door, but the glittery flats add a hint of sparkle to keep things interesting.
To start, I paired the flats with some dark wash jeggings and an oversized graphic tee. (It's actually a men's shirt… whatever!) A black, slouchy boyfriend cardigan with cute details looks great left open over the tee, and some pretty black and white friendship-style bracelets are a nice complement to the look. Finish off with a simple pair of earrings, like these silver spiked studs.
2. Just Hanging Out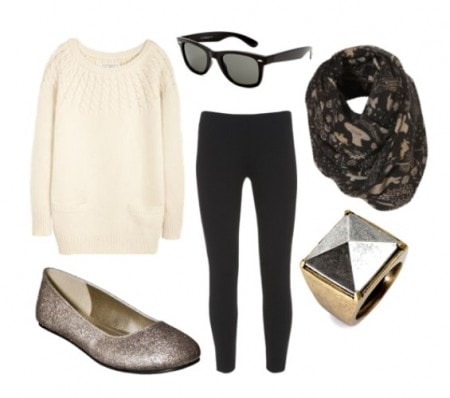 Flats, Sweater, Leggings, Scarf, Ring, Sunglasses
I'm sure that if we did a poll, the winner of "Most Comfortable Winter Outfit" would be this tried-and-true college combo – leggings and a big sweater. It may not be the riskiest, most fashion-forward look of all time, but it's definitely a go-to for a majority of college girls during these cold winter months.
I decided to keep comfort at the forefront for this look, inspired by the aforementioned college uniform. In this outfit, the flats add interest to a simple pair of black leggings and a cream-colored oversized sweater. I kept the accessories minimal by throwing on a whimsical scarf in the same color palette, a studded ring, and a classic pair of wayfarers. Whether you're going to the library, having lunch with the girls, or just hanging around the dorm, this is a comfy, adorable outfit to do it in!
3. Going Out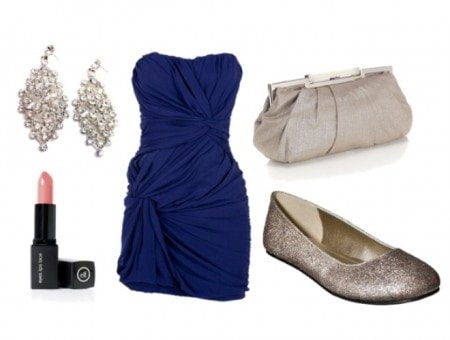 Flats, Dress, Clutch, Earrings, Lipstick
If you're anything like me, heels are not your thing. Don't get me wrong – I love them. I think they're amazing, I look at them online and in stores, I try them on, and I even own some really cute pairs – but bottom line is, I can't walk in them and they hurt my feet. That's why I usually opt for flats when it comes to most dressy occasions, and these flats are perfect for those times!
For this look, I matched the flats with a gorgeous royal blue minidress that features tons of ruching and interesting knotting in the fabric – I thought it was especially amazing because it's fitted and sexy, while being textured enough to flatter most body types. Since the dress itself is so show-stopping on its own, a nude purse and a pretty pair of silver earrings are more than enough to accompany it. Finish off the look with some pretty light pink lipstick and you're ready for a night on the town!
Your thoughts?
Who would have thought that a pair of $13 glitter flats could be so versatile? These shoes are the perfect way to try out the sparkle trend without spending a ton of money, so if you were wary of the glitter trend before, I hope this post motivates you to try it out! After all, you can wear anything as long as you do it with confidence!
Now I wanna know what you think. What did you guys think of these outfits? Would you wear these flats? How do you feel about the glitter trend? Have you ever found an amazing pair of shoes at Target? Let me know!