It's safe to say that we can always count on Target for cute and affordable wardrobe finds – whether you're looking for a killer pair of shoes, a cute tee, trendy jewelry, or a pair of comfy pajamas, they have it all!
This week's Fabulous Find, from Target, of course, is something that I personally think NO ONE (guy OR girl!) should go without – a plaid shirt. Worn alone or layered with other pieces, a plaid shirt is always classic and cute. And even better, Target has this exact flannel in about a million different colors right now, for only $11 each! If you ask me, that's a pretty small price to pay for something that you can wear SO many different ways, through practically every season.
Read on to see how to style this versatile wardrobe staple.
The Shirt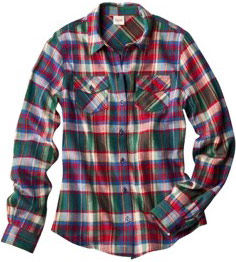 Mossimo Supply Co. Juniors Plaid Top – $11.99 at Target
Outfit Inspiration
Below, check out these three easy ways to style this adorable, affordable shirt.
Outfit 1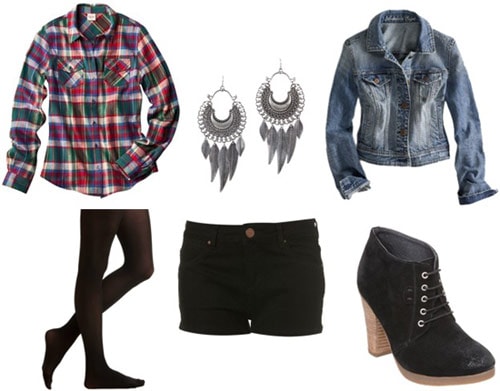 Shirt, Shorts, Jacket, Tights, Shoes, Earrings
This look is great because it consists entirely of items that every girl probably has in her closet right now – we're talking easy basics, like a plain pair of black shorts, tights, and a denim jacket. The shoes I chose can be dressed up or down, and in this case, they lend their casual side to this ensemble and elongate the legs while not coming off as too dressy or overdone. A pair of interesting feather earrings finish off the look nicely by adding a little interest.
Outfit 2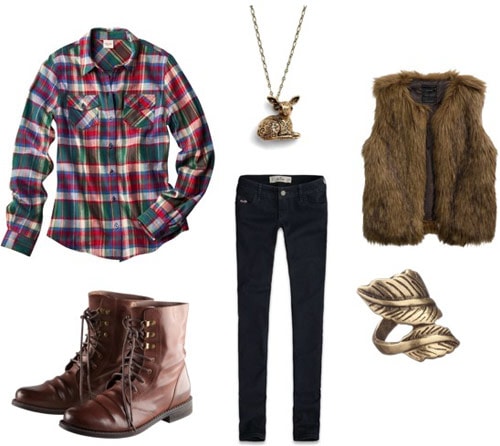 Shirt, Jeggings, Vest, Boots, Necklace, Ring
This look, I'll admit, looks like it literally came from an American Eagle ad – but, I'm okay with that… cause it's kind of perfect. This time, I paired the shirt with some dark wash jeggings and contrasting accessories for a slightly eclectic look. The faux-fur vest gives off a luxurious vibe and looks great with some rugged lace-up boots, and rustic gold accessories. I love this outfit for something like a little last-minute Christmas shopping or lunch out with your friends.
Outfit 3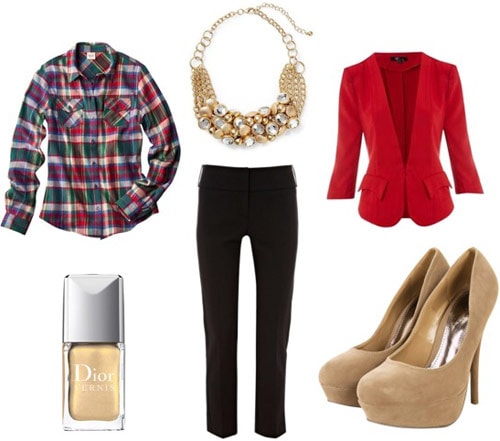 Shirt, Dress Pants, Blazer, Heels, Necklace, Nailpolish
So it may seem like it'd be impossible to dress up a casual plaid shirt like this, but it's really not as hard as it looks! By pairing the shirt with some dressier, tailored pieces, it's instantly updated and appropriate for a nice holiday party.
To create this look, I started with a pair of fitted black dress pants and a structured red blazer to add some much needed shape to the shirt. Then, to dress up the ensemble even more, I chose a killer pair of tan pumps and a festive gold necklace. Last but not least, some gold polish on your nails is a great finishing touch for that extra shine. Rock this look at a holiday party, whether it's with your family, coworkers, or friends!
Your thoughts?
Never knew a plaid shirt could be so versatile, huh?! But there you have it! Three extremely different and equally cute ways to wear this great (and affordable) button-down.
So now it's time to let me know what YOU guys think… Which was your favorite look? Would you wear this shirt? Do you have any great finds you've gotten at Target that you can't live without?! Let me know! I always love the feedback!