This week's Fabulous Find is actually a pair of sandals from Target that I wanted to buy the other day, but unfortunately the store didn't have my size!
So, for this post, I'm going to pretend I already own them (I'm a little bitter, not gonna lie) and style them the way I would have. At only $15, you can't go wrong with this versatile pair of metallic sandals!
The Sandals
Braided Flat Sandals – $15 at Target
Outfit Inspiration
Here are three different ways to wear these endlessly versatile summer staples.
1. Casual Combo with a Twist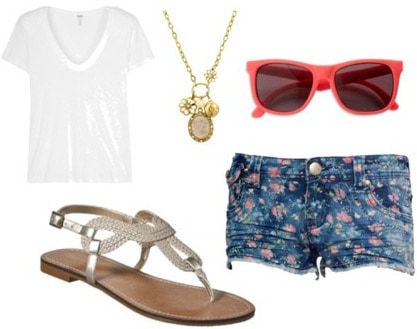 Sandals, Tee, Shorts, Necklace, Sunglasses
I love this look for a sunny weekend day – it'd be perfect for hanging out with friends or just running errands. As you can see, it's a very basic outfit, but it gets an extra shot of style with the help of a few choice details. Here, the metallic sandal works as a neutral next to a white tee and a unique pair of floral denim shorts. The metallic gold color of the sandal also helps tie in the charm necklace. Finally, a pair of hot pink sunglasses adds a pop of color and plays off the floral pattern on the shorts.
2. Pretty & Simple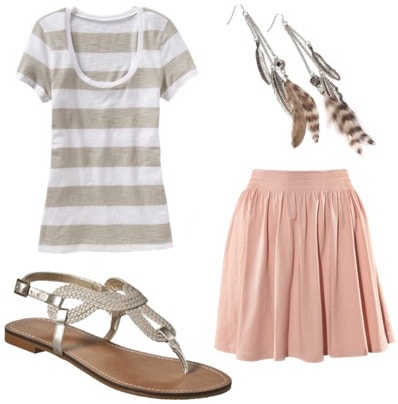 This is an easy, feminine look that would be the perfect thing to wear for lunch with friends or a casual date. The sandals, this time, work well with a striped tee in the same color palette and a knee-length skirt. (Thanks to those of you who suggested including longer skirts and dresses in my posts – I'm obsessed with them now!) This pretty, pale look is given a little edge with the addition of some standout feather earrings.
3. Luxe Leopard
Sandals, Dress, Earrings, Lipstick
For the dressiest look of the three, I decided to keep it pretty simple and let the dress do most of the talking. I chose a bold, one-shouldered leopard print dress to go with the sandals this time, and added an interesting pair of art-deco rhinestone earrings for extra flash. Finish off the look with some pretty pink lipstick and you're ready for a night on the town – and by skipping the heels, you'll stay comfortable on your feet all night!
Your thoughts?
Now that you've seen three ways to wear these metallic sandals, I want to know what you think! Do you like the sandals? How would you style them? How do you feel about longer skirts for summer – love or loathe? Let me know with a comment.