When it comes to fashion, striking the perfect balance between style and comfort is always a priority to me. That's why I'm loving the jogger pants trend: they're just as comfy as sweatpants, but have a chic and stylish silhouette.
For this week's Fabulous Find, I picked a pair of joggers that are both cute and inexpensive. These Target jogger pants have a modern fit, and can easily be dressed down for lounging in the dorms or spruced up for a casual outing with friends. If the gray pair I picked isn't your style, never fear: there are six more colors to choose from. And at under $20 each, you'll probably want to pick up more than one pair!
Simply scroll down to check out these joggers, as well as three cute ways to wear jogger pants this season:
The Pants:

Slim Jogger Pant in "Heather Grey"" — $19.99 at Target
Outfit Inspiration
If you like these trendy and budget-friendly joggers, then you're going to love the outfits we put together for inspiration. Read on to find out three stylish ways to wear this week's Fabulous Find:
Outfit #1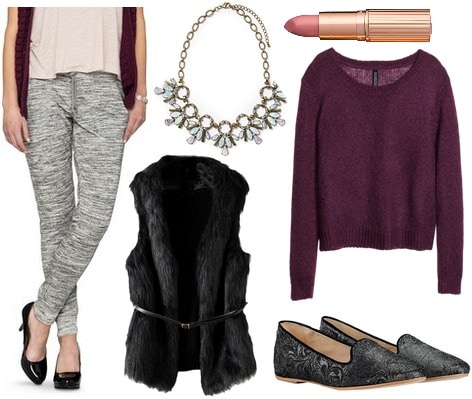 Product Info: Pants- Target, Necklace- Piperlime, Lipstick- Net-a-Porter, Vest- BlackFive, Top- H&M, Shoes- Yoox
Elastic waistbands are always a good idea for Thanksgiving, so I can see these joggers being worn for a laid-back T-Day dinner. Wear them with a pretty jewel-toned sweater and embossed loafers. Go luxe by layering on a belted faux fur vest, then add a bit of sparkle with a gorgeous statement necklace. Apply a peach-colored lipstick and you'll stay comfortable yet look super-stylish this Thursday.
Outfit #2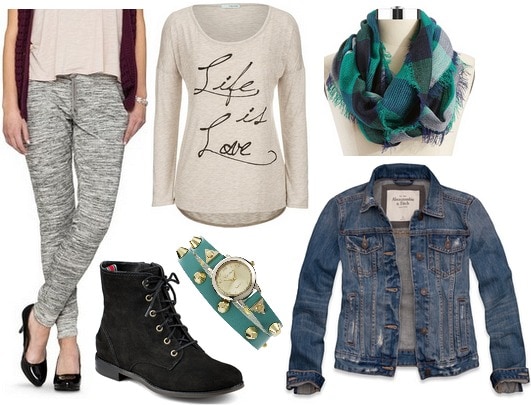 Product Info: Pants- Target, Top- Maurices, Scarf- Lord & Taylor, Shoes- Sperry, Watch- Overstock, Jacket- Abercrombie & Fitch
Create a cute and casual autumn look by wearing our Fab Find with a long-sleeved graphic tee and a distressed denim jacket. Lace-up combat boots are both practical and fashionable, while a pretty scarf incorporates both color and pattern into the outfit. Accessorize with a studded watch that matches the scarf to complete the ensemble.
Outfit #3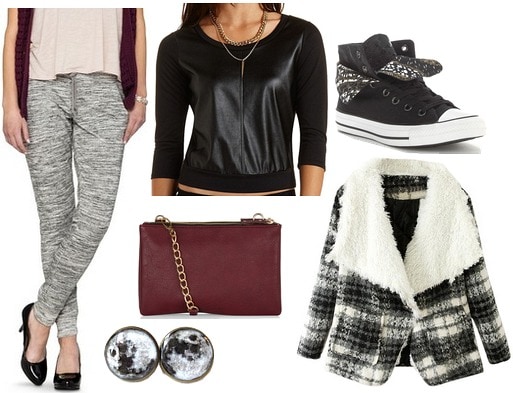 Product Info: Pants- Target, Top- Charlotte Russe, Shoes- Converse, Bag- Accessorize, Earrings- Etsy, Coat- BlackFive
Play up the sporty vibe of the joggers in a stylish way with this outfit. Wear the pants with an edgy faux leather sweatshirt for a cool textured look. Layer on a cozy plaid coat and a pair of comfy fold-down Converse, then add a pop of color with a burgundy-hued crossbody bag. For the finishing touch, accessorize with these unique moon-shaped earrings.
Your thoughts?
What do you think of this week's Fabulous Find? Would you buy these Target joggers? Which look is your favorite? Would you wear jogger pants? Remember to leave a comment below and tell us what you think!