This week's Fabulous Find is a casual, yet fashionable college girl wardrobe staple: the graphic tank top. This gray tank from Target has an abstract black and purple screen print that goes with everything from boyfriend jeans to a colorful maxi skirt. And at just under $15, this versatile top will give you a lot of bang for your buck.
Ready to see what the tank top looks like? Just scroll on down to check it out, as well as three fantastic ways to wear the top for spring.
The Top:
Mossimo Supply Co. Juniors Graphic Tank in Heather Gray — $14.99 at Target
Outfit Inspiration
If you like this cheap and chic tank top, then you're going to love the outfits we put together for inspiration. Read on to find out three stylish ways to wear this week's Fabulous Find:
Outfit #1: Low-Key Night Out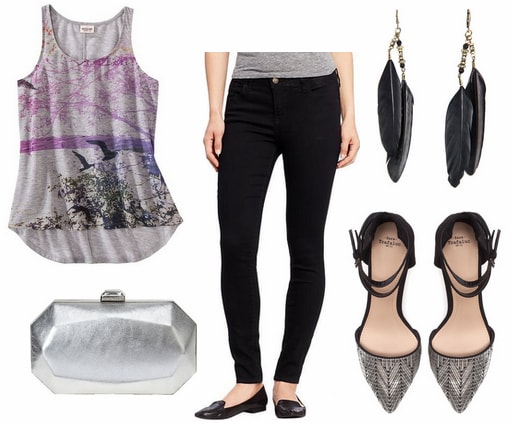 Product Info: Top- Target, Jeans- Old Navy, Earrings- Mango, Bag- Nine West, Shoes- Zara
This graphic tank can be dressed up for a casual night out by adding a few key pieces. Start by pairing the top with some black skinny jeans, then add a pair of pointy-toe pumps for a dressy and fashion-forward look. A structured metallic box clutch picks up on the silver color of the shoes, while boho-glam feather earrings finish the ensemble.
Outfit #2: Cute & Playful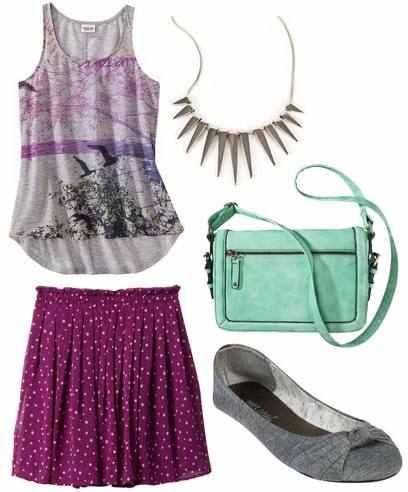 Product Info: Top- Target, Necklace- Windsor, Skirt- Uniqlo, Bag- Target, Shoes- Wet Seal
For a fun and feminine look, try pairing the tank with a violet-colored, printed skirt. Gray ballet flats are comfy, yet polished, while a pastel cross-body bag adds a nice pop of color. Last but not least, accessorize with a spiked statement necklace.
Outfit #3: Spring Breaker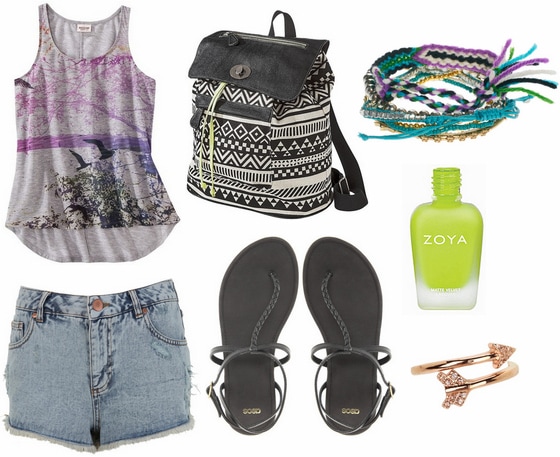 Product Info: Top- Target, Bag- Target, Braclets- ASOS, Shorts- Miss Selfridge, Shoes- ASOS, Nail Polish- Zoya's "Mitzi", Ring- Juicy Couture
Spring break is coming up (or you may already be on it!), and this final outfit is a stylish way to wear our Fab Find if you're headed to a warmer climate. Pair the tank with classic denim shorts and flat black sandals for a cute and casual look. Next, not only is a backpack a practical choice, but the black and white graphic print on this one adds an on-trend vibe. Accessorize with a set of colorful bracelets, as well as an arrow-shaped ring. For the finishing touch, paint your nails with a bold neon polish.
Your thoughts?
What do you think of this week's Fabulous Find? Would you buy this tank top from Target? Which look is your favorite? How would you wear the top? Remember to leave a comment below and tell us what you think!