If you read my column often, you'll probably notice a pattern here – I love tee shirts from Target. They're inexpensive (This one is only $12.99!!) and always super cute and trendy… and can be worn so many different ways!
This week's Fabulous Find is no exception. Below, I'll show you three ways to style this awesome geometric printed tee from Target.
The Tee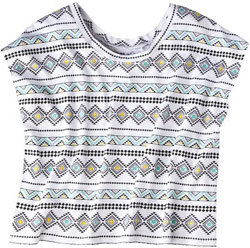 License Juniors Graphic Tee – $12.99 at Target
Outfit Inspiration
To help get your ideas going, here are three sample outfits incorporating this same patterned tee.
Outfit 1 – Fall Shorts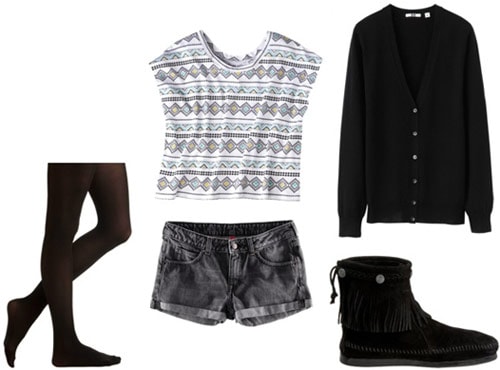 Tee, Shorts, Sweater, Tights, Booties
This outfit is perfect for going to class or just hanging around. Tights and shorts are trendy and perfect for transitional weather – so grab any pair of shorts, any pair of tights, and have at it! Pair them with the tee, throw a cardigan over the top, and add some interest with these awesome black fringe moccasin boots. You'll be warm, comfortable, and trendy all at the same time!
Outfit 2 – Polished Casual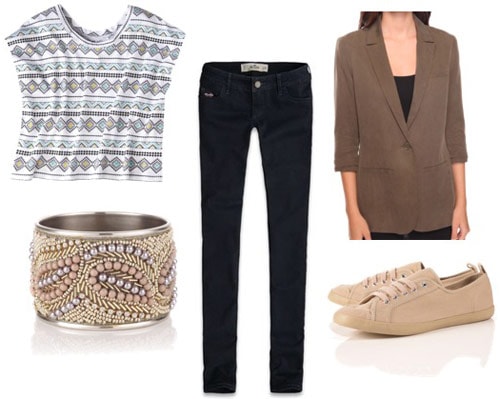 Tee, Jeggings, Jacket, Sneakers, Bracelet
This look is cool because it's much more put-together than the first, but its casual elements make it extremely wearable for day. This time, I paired the tee with some dark wash jeggings and a neutral colored jacket for warmth. This AMAZING pair of beige-y sneakers puts a casual spin on the look, while the intricate bangle adds a hint of sparkle.
Outfit 3 – Night Out Fab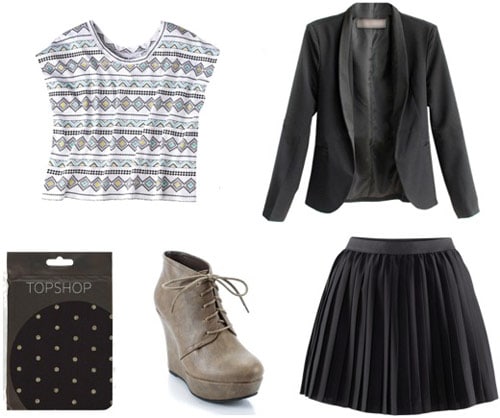 Tee, Skirt, Blazer, Wedges, Tights
Think tee shirts are only for daytime? Think again! It's totally possible to dress up this casual tee for night.
Start by pairing the tee with a high-waisted skirt – you can either tuck it in or leave it out – and top it off with a structured blazer to add shape and sophistication. Next, for warmth, I chose a pair of cool reverse-polka dot tights to add that always welcome element of print-mixing. For your feet, I added an incredible pair of taupe lace-up wedges. Rock this on a night out with the girls or a nice dinner out with your love!
Your thoughts?
So there you have it – a completely adorable, versatile tee worn three different ways, and the options are endless! How would you wear this tee? Which look was your favorite? Let me know!