Printed jeans are hotter than ever, and for this week's Fabulous Find we found some floral print skinnies from Target that are not only inexpensive, but super-versatile to boot. Since these babies are black and white, you can pair them with pretty much anything in your closet. Plus, the neutral floral print has a polished, fashionable vibe that works for day or night.
Want to see what the jeans look like? Just scroll on down to check out our Fab Find, as well as three cute, college-appropriate ways to style them:
The Jeans: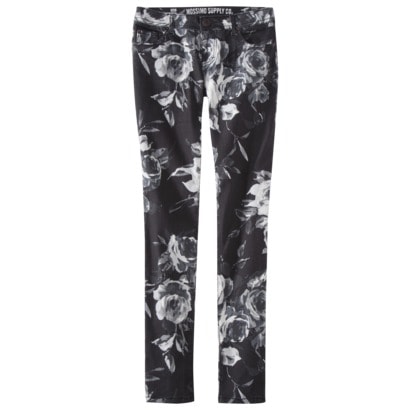 Mossimo Supply Co. Printed Floral Denim in Black/White Floral — $22.99 at Target
Outfit Inspiration
If you like these fashion forward and budget-friendly jeans, then you're going to love the outfits we put together for inspiration. Read on to find out three stylish ways to wear this week's Fabulous Find:
Outfit #1: Jewel Tones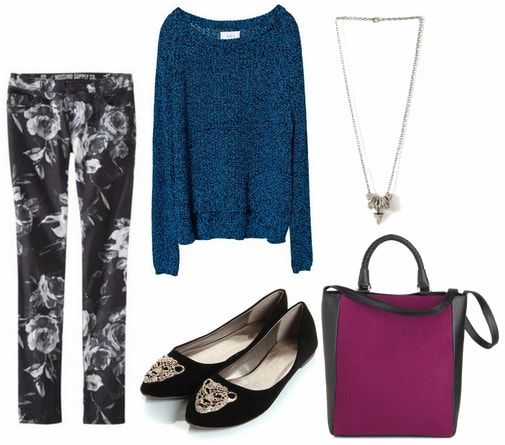 Product Info: Jeans- Target, Sweater- Nelly, Necklace- Forever 21, Shoes- boohoo.com, Bag- ModCloth
For a cute and casual way to wear this week's Fab Find, try pairing the jeans with an oversized sweater in a bold color. Black flats are a comfortable choice, while the leopard adornment on the toes adds a cool touch. Next, accessorize with a simple, yet edgy long silver necklace. To complete this look, grab a purple-and-black colorblocked tote — it's the perfect size to carry all of your new textbooks for the semester.
Outfit #2: All Black Everything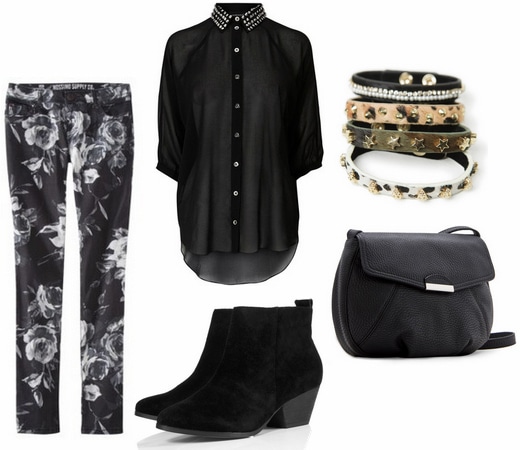 Product Info: Jeans- Target, Top- Warehouse, Bracelets- Zara, Shoes- Topshop, Bag- Mango
Sometimes, a girl just wants to wear all black. To keep things interesting despite the basic color scheme, try incorporating interesting details and different textures, as seen above. Start by pairing the jeans with a black blouse that has an ornate embellished collar. Add suede ankle booties and a faux-leather handbag for a chic and streamlined look. For the finishing touch, accessorize with several mixed metal bracelets.
Outfit #3: Feminine Edge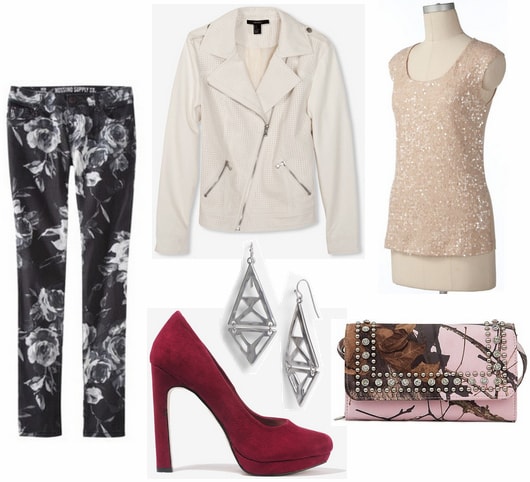 Product Info: Jeans- Target, Jacket- Forever 21, Top- Kohl's, Shoes- Forever 21, Earrings- Nordstrom, Bag- Cavender's
Rock this Fab Find the next time you go out by pairing the jeans with a pretty light pink sequined top. A perforated faux leather jacket adds a edgy, yet polished vibe, while burgundy pumps create a bright pop of color. Finally, accessorize with silver statement earrings and a unique printed clutch.
Your thoughts?
What do you think of this week's Fabulous Find? Would you buy these jeans from Target? Which look is your favorite? How would you wear the jeans? Remember to leave a comment below and tell us what you think!