This week's Fabulous Find is a classic summertime staple: a stylish and comfortable pair of flat sandals.
This particular pair comes from Target — a store that never disappoints us fashion-wise — and has a simple yet sleek design that's perfect for summer. Priced at just under $15, these sandals come in a trendy mint green hue and feature some fantastic gold hardware on the t-strap area, which creates a look that is fashion-forward and a little bit glam. And if this shade of green isn't your cup of tea, never fear– these sandals are also available in black, white and hot pink. Score!
Want to take a look at these minty fresh sandals? All you have to do is scroll on down to check out the sandals as well as some outfits for inspiration.
The Sandals: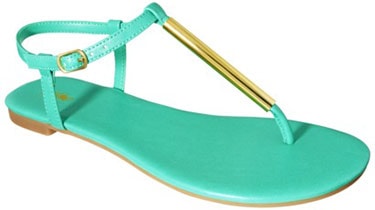 Mossimo "Poeske" Flat Sandals in Mint — $14.99 at Target
Outfit Inspiration:
If you like these cheap and chic sandals then you're going to love the outfits we have put together for inspiration. Read on to find out three stylish ways to wear this week's Fabulous Find:
Outfit #1: Matchy Matchy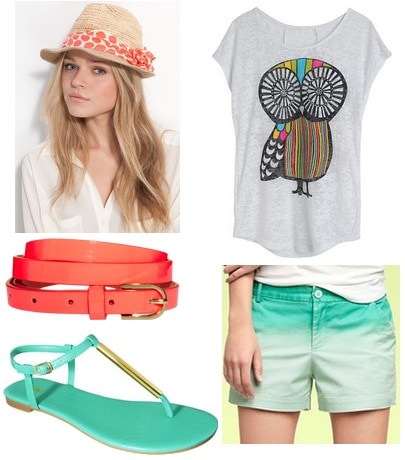 Product Info: Sandals- Target, Hat- Nordstrom, Top- Delia's, Belt- ASOS, Shorts- Gap
For a bold and stylish look, try wearing the sandals with a pair of unique dip-dyed shorts. Mint green looks great paired with bold, punchy orange, so add the color with a simple belt and trendy straw fedora. Finally, this adorable graphic print tee ties together all of the colors found elsewhere in the outfit.
Outfit #2: Preppy Meets Retro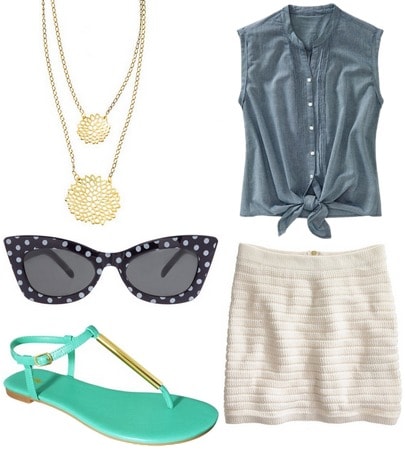 Product Info: Sandals- Target, Necklace- Chloe + Isabel, Top- Old Navy, Sunglasses- ASOS, Skirt- Madewell
These mint green sandals work exceptionally well with denim, but instead of pairing them with typical skinnies, we decided to try them with a simple chambray top. Pair the sleeveless button-up with a textured ivory mini skirt for a easygoing, yet sophisticated look. For the finishing touch, accessorize with a layered gold necklace and bold polka dot cat-eye sunglasses.
Outfit #3: Low-Key Glam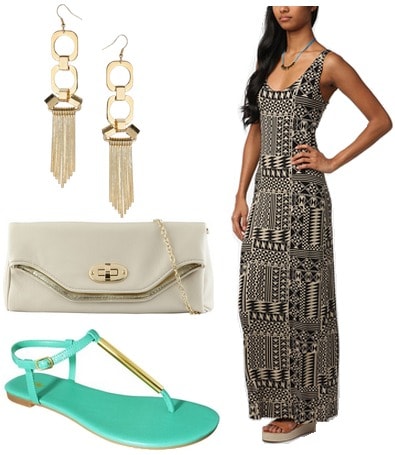 Product Info: Sandals- Target, Earrings- Topshop, Clutch- Aldo, Dress- Urban Outfitters
For our final look, we decided to style these sandals for a dressy, yet low-key night out. A maxi dress is a fantastic choice for nighttime and this one from Urban Outfitters has a bold abstract pattern, making it the perfect summer statement piece. A sleek white clutch adds interest, while chandelier earrings lend a glamorous touch. Finally, add the sandals, which will keep the look from being too formal while imparting a much-needed hint of color.
Your thoughts?
What do you think of this week's Fabulous Find? Would you buy these Target sandals? Do you like the mint green color? Which look is your favorite? How would you style these sandals? Remember to leave a comment below and tell us what you think!