This week's Fabulous Find is a warm weather classic: a button-front denim skirt. This light wash skirt from Target has a breezy and easygoing vibe that's perfect for summer. Whether you pair it with a comfy tee or a lacy blouse, this Fab Find will create an effortlessly cute and stylish look.
Best of all, this skirt rings in at just under $23, so you won't need to break the bank in the name of style. Ready to see what it looks like? Just scroll on down to check out our Fab Find, as well as three chic ways to style it this summer:
The Skirt: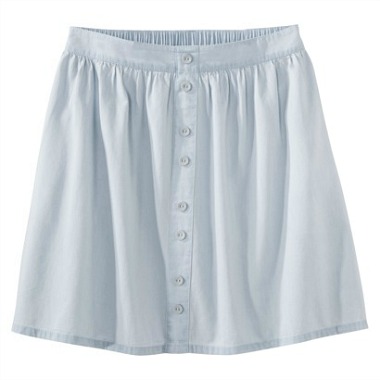 Mossimo Supply Co. Juniors Denim Button Down Skirt in Light Wash — $22.99 at Target
Outfit Inspiration
If you like this cute and budget-friendly skirt, then you're going to love the outfits we put together for inspiration. Read on to find out three stylish ways to wear this week's Fabulous Find:
Outfit #1: Trendy Meets Classic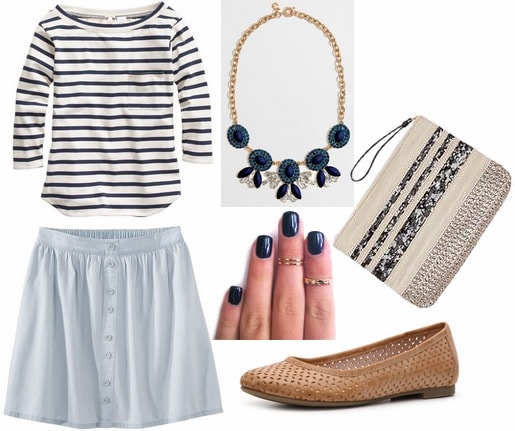 Product Info: Skirt- Target, Top- J. Crew, Necklace- J. Crew Factory, Rings- Etsy, Bag- Gap, Shoes- DSW
For a timeless, yet trendy summertime look, start by pairing our Fab Find with a navy and white striped tee. Woven flats keep things comfy and classic, while a jeweled statement necklace adds a modern touch. Continue the trendy vibe with a metallic wristlet, then accessorize with a few gold knuckle rings.
Outfit #2: Candy Colored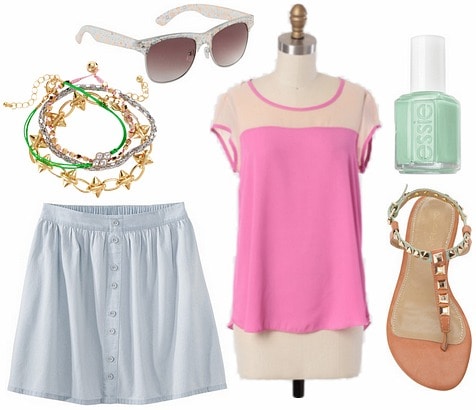 Product Info: Skirt- Target, Bracelets- H&M, Sunglasses- Aldo, Top- Ruche, Nail Polish- Essie, Shoes- Miss Selfridge
Create a cute and colorful outfit by pairing the skirt with a hot pink color-blocked top. Add a pair of stylish embellished sandals, then accessorize with several multi-hued bracelets. Grab a pair of cute floral print sunglasses, then paint your nails a pretty mint shade to complete the look.
Outfit #3: Fun & Fashionable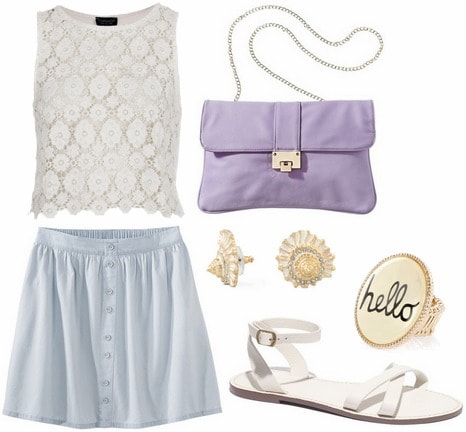 Product Info: Skirt- Target, Top- Nordstrom, Bag- Target, Earrings- C. Wonder, Ring- River Island, Shoes- Madewell
For this last outfit, pair the skirt with a crochet top, which makes for a feminine and stylish summer look. Put on a pair of sleek white sandals, then add a pop of color with a light purple chain strap bag. Make a fun statement with the jewelry: shell-shaped earrings and a playful ring add the finishing touches to the ensemble.
Your thoughts?
What do you think of this week's Fabulous Find? Would you buy this skirt from Target? Which look is your favorite? How would you wear this Fab Find? Remember to leave a comment below and tell us what you think!