Okay, before you say anything, don't get mad at me for doing another Target post! (In case you missed the first one, see last week's Fabulous Find: Target Tie-Dye Tee.)
I know two Target Fabulous Finds in a row is a little much, but I fell in love with this burgundy cardigan sweater for a multitude of reasons – the first is the color. SO PRETTY. It's rich and vibrant and perfect for fall – and if this particular hue isn't your cup of tea, there are tons of others to choose from. The second reason is that it's literally described as "Ultrasoft" – what sounds more amazing and comfortable than that? Nothing. The third reason is that you absolutely cannot have too many cardigans – especially really, really simple ones like this. And the last reason? Well, that it's only $17.99.
The Cardigan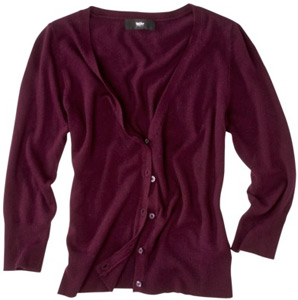 Mossimo Ultrasoft Cardgian – $17.99 at Target
Outfit Inspiration
Here are a few ways to wear this cardigan that are perfect for this transitional summer-to-fall weather we're experiencing now!
1. Laid-Back Rocker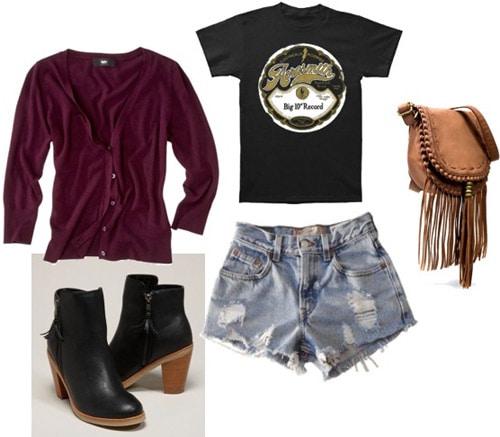 Cardigan, Shorts, Tee, Boots, Purse
I love to channel an old-school rocker feel in my own outfits, so this one was really fun to put together! For a casual day hanging around or going to class, I paired some high-waisted cutoffs with a cool vintage band tee (this one is Aerosmith, but substitute any band you love) and the pretty cardigan, left open over top. I chose to go with an ankle boot (I'm lusting over these ones from American Eagle) with a trendy stacked heel, to make your legs look extra amazing in those shorts! Finish off the look with a bohemian cross-body back for the ultimate cool girl look.
2. Mixing & Matching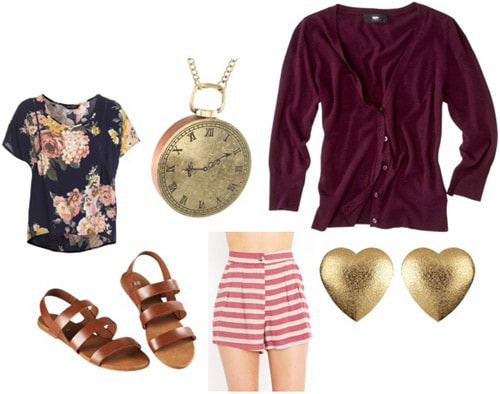 Cardigan, Shorts, Top, Sandals, Necklace, Earrings
This look is all about mixed prints – such a fun trend for fall. Because the floral shirt and these adorable striped shorts incorporate similar colors, they work perfectly when paired together. The cardigan brings a necessary pop of bold color, while the brown sandals are a nice neutral and the gold jewelry adds to the chicness and femininity of the look.
3. Color Blocking Made Easy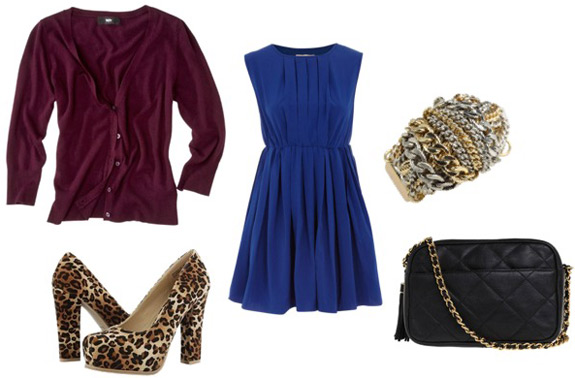 Cardigan, Dress, Heels, Purse, Ring
Color blocking is HUGE this fall – but that said, sometimes it can be tricky to come up with a color-blocked outfit that doesn't make you look like a clown. I'm here to help – this look is all about color blocking in a subtle, yet statement-making way.
Pairing two bold colors in the same outfit is one of the easiest ways to stand out – and while you could definitely choose a more extreme look than this one, I love these deep jewel tones together for fall! For a dressy night out, I chose this classic royal blue dress to pair with the cardigan, and instead of choosing another bold color for the shoes, I went with a bold print – leopard! (Remember, leopard is a neutral!) I finished off the look with a quilted cross-body bag and a cool chain ring for some edgy icing on the cake.
What do you think?
There you have it: one simple cardigan, three ways – and there are millions more! Remember, it comes in other colors too – so the possibilities really are endless! So now it's time for a little feedback. What do you guys think of this Fabulous Find? What is your favorite look? Would you wear this cardigan? Let me know!