We've reached that time of year when I only have one thing on my mind: spring fashion. So, for this week's Fabulous Find, I couldn't help but choose a piece that's perfect for warmer weather. This Target dress features a trendy asymmetrical hemline, and the color is a subtle peach hue that looks fresh and modern.
This dress is the perfect blank slate to create a variety of different looks. Want to see what this Fab Find looks like? Scroll down to check it out, as well as three ways to wear an asymmetrical dress for spring:
The Dress: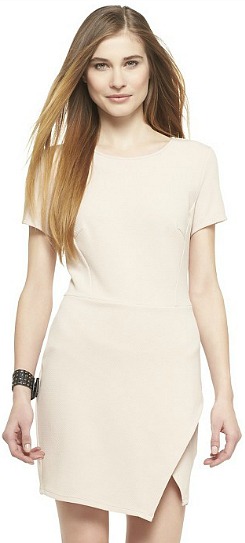 Asymmetrical Dress in "Serene Peach" — $29.99 at Target
Outfit Inspiration
If you like this cheap and chic dress, then you're going to love the outfits we put together for inspiration. Read on to find out three stylish ways to wear this week's Fabulous Find:
Outfit #1: On-the-Go Chic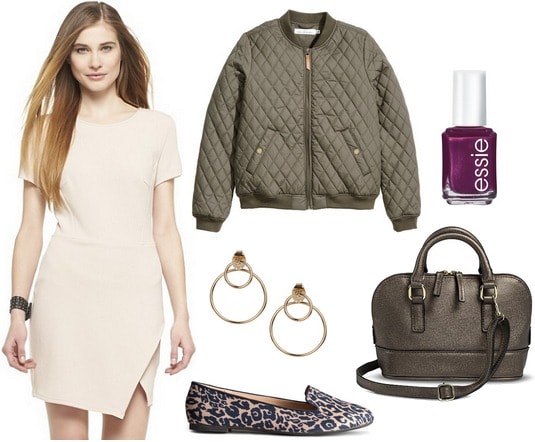 Product Info: Dress- Target, Jacket- H&M, Nail Polish- Essie, Earrings- Miss Selfridge, Bag- Target, Shoes- H&M
This first look is all about pairing this Fab Find with unique textured pieces. Wear the dress with a cool quilted bomber jacket, then slip on a pair of faux suede leopard print loafers. Tote your belongings in a metallic top-handle bag and accessorize with circular gold earrings. For the finishing touch, paint your nails a rich purple hue.
Outfit #2: Internship Attire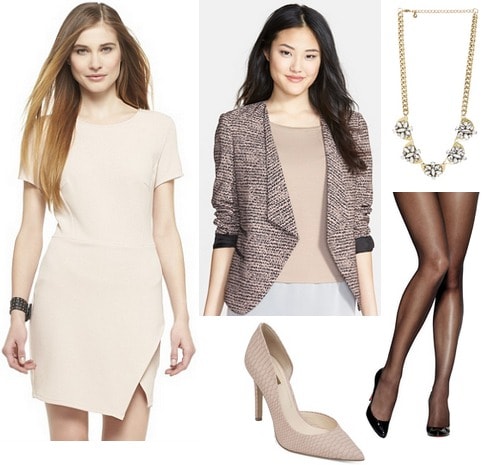 Product Info: Dress- Target, Blazer- Nordstrom, Necklace- Daily Look, Shoes- Macy's, Tights- Bare Necessities
Make this Fab Find work for a more formal setting by pairing it with blush pink, pointy-toe pumps. Add a sharp blazer adorned with a subtle print, as well as a pair of sheer tights. Accessorize with a statement necklace to complete the look.
Outfit #3: Boho Flair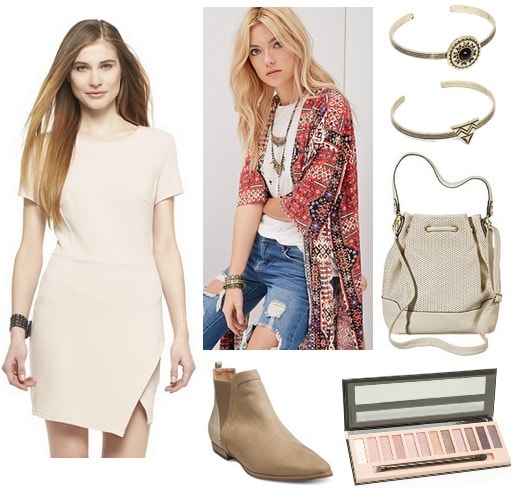 Product Info: Dress- Target, Jacket- Forever 21, Bracelets- ASOS, Bag- Target, Shoes- Target, Eyeshadow- Go Jane
For a stylish between-seasons ensemble, pair this dress with a printed kimono jacket and neutral ankle boots. Stack on a few bangles, and grab a trendy bucket bag. Finish the look with a neutral eye makeup look.
Your thoughts?
What do you think of this week's Fabulous Find? Would you buy this dress from Target? Which look is your favorite? How would you wear an asymmetrical dress? Remember to leave a comment below and tell us what you think!