Okay, so for this week's Fabulous Find, I chose something that I'm pretty sure I've covered multiple times here – a striped shirt. But there's good reason for the repeat: Stripes, in my wardrobe at least, are a neutral. They go with everything: every color, every style, every print. So when I found this black and white striped, dolman-sleeved, wide neck tee for only $10.99 at Rue21… I HAD to style it for you guys!
Unfortunately, as you'll notice if you click over, Rue21 doesn't offer online shopping. That said, there are lots of Rue21 stores all around the country that have this top available! Also, if you don't live near a Rue21, there are tons of shirts out there that look similar to this one and could be substituted into these looks.
So without further ado, check out three very cute, very different ways to wear this adorable tee!
The Tee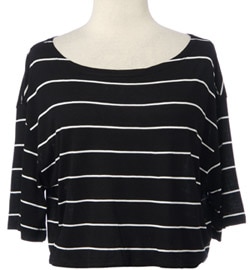 Drop Shoulder Crop Tee – $10.99 at Rue21
Outfit Inspiration
Here are three different ways to wear this adorable piece for different occasions.
1. Indie Casual
Tee, Shorts, Sandals, Necklace
This look is definitely a reflection of my personal style: It's very laid-back and neutral, with some boho accessories and a slightly retro feel thanks to the high-waisted, acid-washed salmon denim shorts. By pairing the black and white stripes with salmon shorts and brown accessories, the striped tee is immediately softened and feels less stark and more boho.
2. Summer Sweet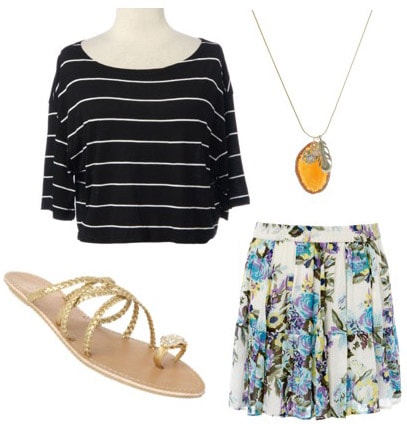 This is such a pretty, summery look that would be perfect for so many seasonal activities, whether it's worn shopping and to lunch with the girls, or to a barbeque with the family. For another lesson in print mixing, I chose to pair the striped top with a super sweet, girly floral skirt that's cute and short (without being too short), and some gold sandals. To finish the look and tie in the bright colors from the skirt, I chose a cool yellow agate pendant to throw on last.
3. Trendy Neutrals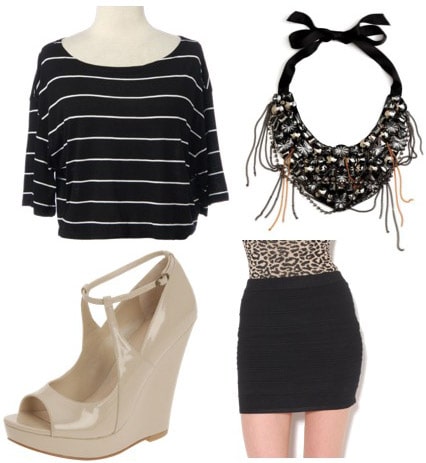 For the dressiest look of the three, I chose to tuck the top into a simple black bandage skirt. If you read my posts often, you'll know that for dressier looks, I tend to use lots of black, but in this case, I chose black because it's universally flattering. For accessories, I chose to keep on flattering and go with a beige wedge to elongate the leg. (These wedges would be great for paler ladies. If you have darker skin, opt for a wedge in a hue that's close to your skintone!) Finally, I picked out this really cool bib necklace that ties in the black, white, and beige in a perfectly eclectic way. Rock this look for a summer night out on the town!
What do you think?
In my opinion, you can never have enough stripes in your wardrobe, so I highly recommend you head to Rue21 and get this shirt! This shirt comes in a red and white striped version, too, which is just as cute and versatile – so let your imagination run wild and wear these stripes with whatever you want. At only $10.99 a pop, you can't go wrong with these tees.
Now it's time for you to let me know what you think: Which was your favorite look? How do you feel about stripes?How do you wear your favorite striped tops? Tell me your thoughts with a comment!