Nothing is more versatile than a comfy pair of simple flats – so this week's Fabulous Find is just that! These amazing beige patent flats are from Payless and are only $17! Their neutral color and simple design make them work with virtually ANY outfit, but below, I'll show you three cute ways to wear them.
The Flats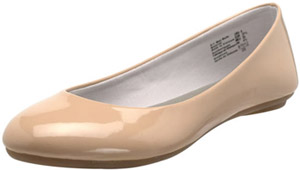 Lower East Side "Chelsea" Flat – $16.99 at Payless
Outfit Inspiration
Here are three sample ways to wear these perfect neutral shoes: one casual, one dressy, and one look that's in between.
1. Casual Boho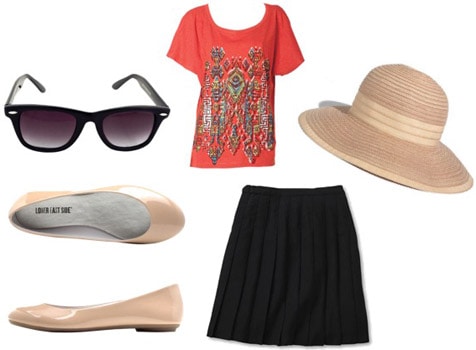 Flats, Tee, Skirt, Hat, Sunglasses
This look would be perfect for any casual outing. By pairing the beige flats with a pleated black skirt, an edgy graphic tee, a trendy floppy straw hat and some classic black wayfarers, you create the perfect relaxed, cool look for daytime.
2. Cali Chic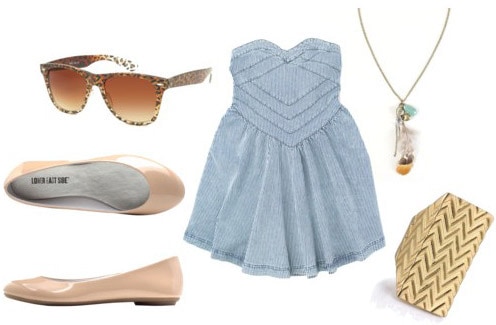 Flats, Dress, Ring, Necklace, Sunglasses
This look would be perfect for a day-date, lunch with the girls, or any other activity that calls for a look that's a step above casual. This time, the shoes are paired with this AMAZING denim strapless dress (the sweetheart neckline and cinched waist are SO flattering!) and some pretty boho accessories. Finish off the look with a pair of leopard print sunnies (remember my motto – leopard is a neutral!) for a polished, yet slightly edgy s0-cal vibe.
3. Prim & Polished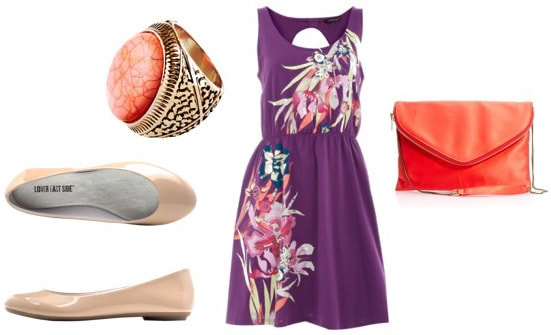 A pair of neutral shoes is always the perfect complement to an otherwise brightly-colored outfit – for example, this vivid purple dress with a bold floral pattern. Since I chose to add a bright orange clutch and ring, the beige flats are the perfect paring – they're adorable yet understated, which is exactly what this outfit needed. Wear this to a breezy summer dinner date for a chic, fashion-forward, and most of all, practical ensemble.
Your thoughts?
So there you have it: three unique ways to work these amazingly versatile flats into your summer wardrobe. For only $17, you really can't go wrong with them – they'll be a wardrobe staple for seasons to come!
So let me know what you think. Which outfit was your favorite? Do you have a favorite pair of go-to shoes? How would you wear these?! Let me know!