This week's Fabulous Find is definitely a Fall/Winter staple – a cute, simple sweater dress.
I don't know about you guys, but when I see a sweater dress in a store, I don't necessarily run right to it – it's hard for me to find the right style. In my experience, sweater dresses are usually too clingy and tight for my liking… and I am ALL about comfort. So, that being said, when I saw this one from Papaya for less than $10 – I nearly died.
This sweater dress is the one, guys. Its fitted top and looser bottom are extremely flattering, and even though the one I chose to use is black, it comes in a bunch of different neutral colors. There are millions of ways to style a dress this simple and flattering, so take a look at these three outfit ideas and get some inspiration for yourself!
The Dress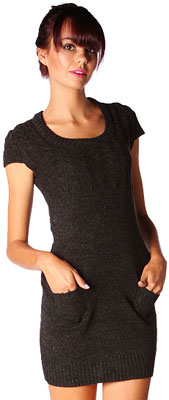 Simple Round Neck Sweater Dress – $9.75 at Papaya
Outfit Inspiration
Below, I've created three different outfits incorporating this pretty sweater dress. Wear it to class, out shopping, or to a party – your choice!
Outfit 1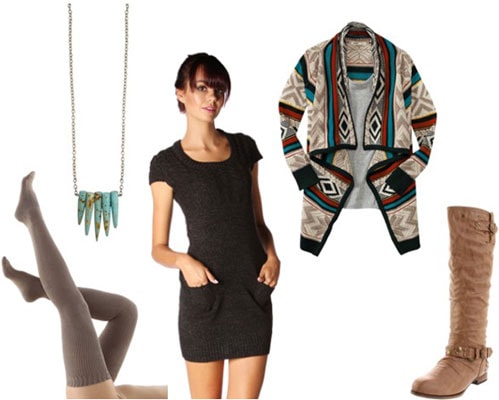 Dress, Socks, Cardigan, Boots, Necklace
This first look is my favorite of the three thanks to its neutral color palette with little pops of red and turquoise. Starting with the dress, I added a pair of thigh-high gray socks and an awesome pair of distressed cognac knee-high boots. This amazing geometric-printed waterfall cardigan adds tons of interest and texture, while this simple spiked turquoise necklace plays off the colors in the sweater. I would wear this to class on a warmer winter day, or out shopping with friends.
Outfit 2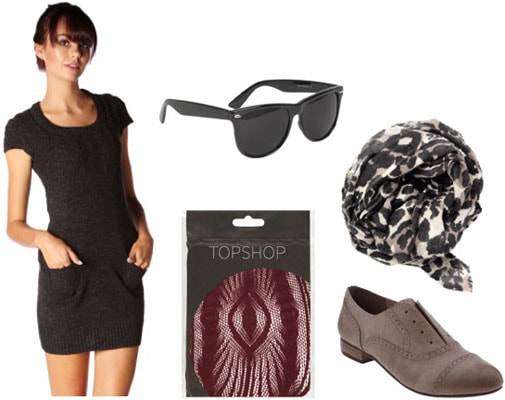 Dress, Tights, Scarf, Shoes, Sunglasses
This outfit, although with less layers and color than the first, still has tons of interesting details that keep it fresh and stylish. I paired the dress this time with some awesome wine-colored patterned tights and some lace-less gray oxfords. This neutral-toned leopard print scarf plays off the shoes, and simple black wayfarers keep the look extra laid back and street style-worthy.
Outfit 3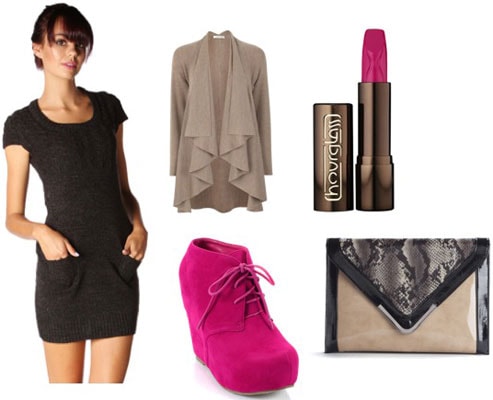 Dress, Cardigan, Wedges, Clutch, Lipstick
For a dressier night out, I decided to add two super-bright splashes of color to give the dress a fun vibe. I chose this pretty beige cardigan with oversized ruffle detailing in the front and a super-chic snakeskin, black, gray, and nude clutch to work with the colors in the dress and sweater. Then, to really make the outfit pop, I added these amazing hot pink lace up booties, and an identical lipstick to match! I'd keep the rest of the makeup super simple – simple black winged liner and mascara would be HOT!
Your thoughts?
Now I want to hear from you guys: How would YOU rock this week's Fabulous Find? Do you shop at Papaya? How do you wear your favorite basic dresses? Which look is your fave? Tell us in the comments.