This week's Fabulous Find is something that every girl needs as a summer staple – a cute pair of shorts!
These ones from Papaya are particularly perfect, boasting a high waist, loose fit, on-trend pattern, and neutral colors that go with EVERYTHING. Even better, they're only $18, which is pretty unheard of for statement-making shorts like these.
I actually tried these shorts on at the Papaya near me a few weeks ago and fell in love, but opted for the same style, in a floral pattern. Now, after writing this post, I'm wishing I hadn't. I'll definitely be making a trip back to snag these up for the rest of summer. In the meantime, though, I can dream up possible outfits – so here are a few ideas for how to wear these amazing shorts!
The Shorts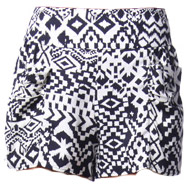 Front Pocket Graphic Print Shorts – $17.99 at Papaya
Outfit Inspiration
Below, I've incorporated these cute shorts into three unique outfits: One casual, one dressy, and one that's somewhere in between.
1. Eclectic Casual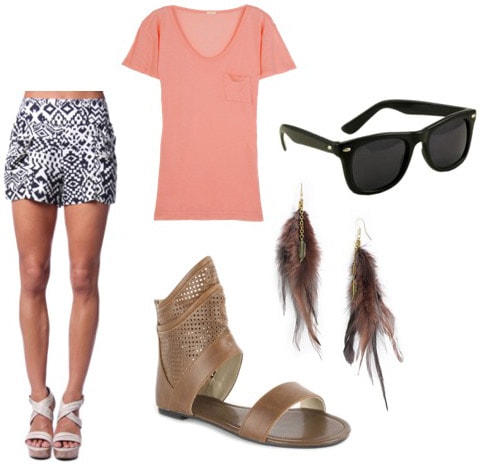 Shorts, Tee, Sandals, Earrings, Sunglasses
This outfit illustrates why it's okay to wear black and brown together. Here, the black and white shorts work as a neutral, pairing perfectly with a coral tee and some interesting brown cuffed sandals. To tie in the brown from the shoes and the black from the shorts, I added a cool pair of brown feather earrings (with hints of coral) and some classic black wayfarers.
2. Polished Metallics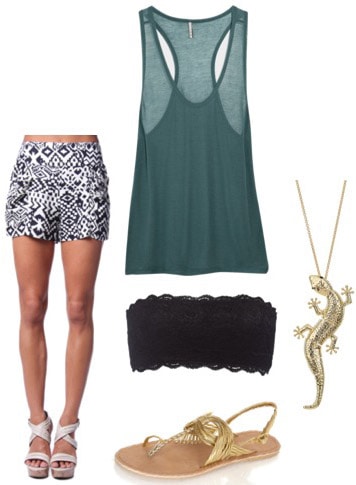 Shorts, Tank, Bandeau, Sandals, Necklace
This look, while still casual, has a little bit of a more polished vibe than the first. This time, I paired the shorts with a pretty, slightly sheer teal tank and a black lacy bandeau to be worn underneath. To top it all off, I chose some interesting gold accessories, namely a cool lizard necklace and some strappy sandals.
3. Shorts for Nighttime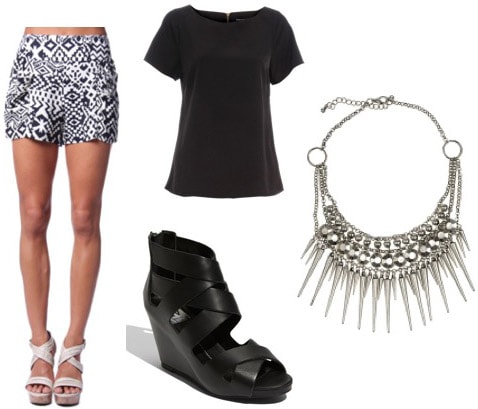 For a dressier nighttime look, I went minimal but dramatic, pairing the shorts with a dressy black tee that has a slight sheen and zipper back. As for accessories, a pair of badass black wedges and an even more badass silver spiked necklace make a serious statement.
Your thoughts?
There are tons and tons of ways to wear these amazing shorts – so I want to know: How would you style them? Do you like these shorts? How do you feel about the printed shorts trend? Let me know what you guys think, I always love hearing what you have to say!