This week's Fabulous Find is a piece that's a true closet essential – a plain, basic dress. This one is just that – super simple and basic, but especially adorable because of its flattering cut, spaghetti straps, and functional pockets. The best part? This dress is only $8.99 at Papaya! I used the gray one in this post, however it also comes in a pretty navy blue, black, and bright red.
The Dress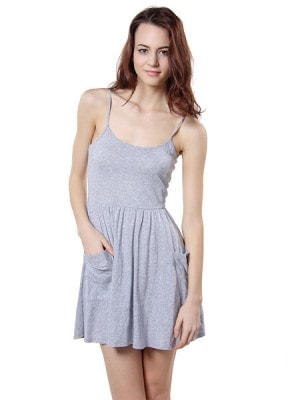 Basic Pocket Strap Dress – $8.99 at Papaya
Outfit Ideas
Now that you've seen the dress, check out these three ways to style it for different occasions and moods.
1. Pretty & Polished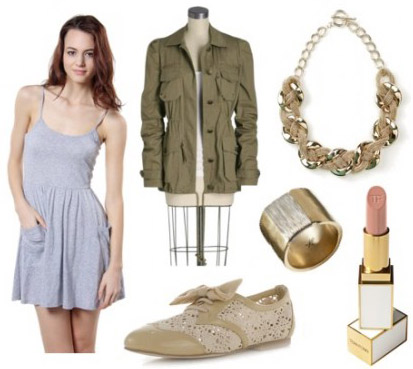 Dress, Jacket, Oxfords, Necklace, Ring, Lipstick
This look is simple, chic, and pretty. By taking this basic gray dress and adding a utility jacket, feminine oxfords, and gold accessories, it immediately becomes part of a polished, sophisticated, and casual look. Rock loose waves in your hair and this gorgeous nude lipstick and you're ready for anything – whether it's class, a coffee date, or a group meeting.
2. Boho-Trendy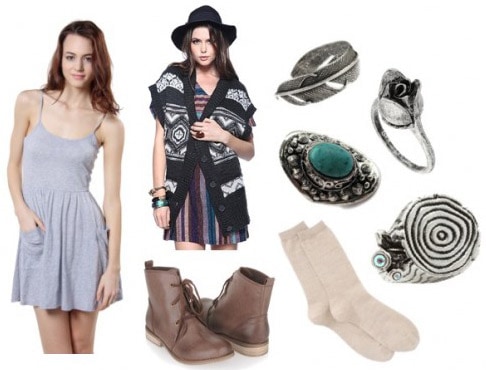 Dress, Sweater, Boots, Socks, Feather Ring, Turquoise Ring, Rose Ring, Swirl Ring
I love this look because it definitely reflects a lot of my own personal style – mixing neutrals and lots of accessories. For this outfit, I took the basic gray dress and added a cool short sleeve cardigan and a pair of brown lace-up boots with cream-colored socks peeking out from the top. After that, I loaded on the accessories, pulling a ton of different silver rings for lots of interest. This look is so laid-back and effortless looking, but so cool at the same time.
3. Night-Out Glam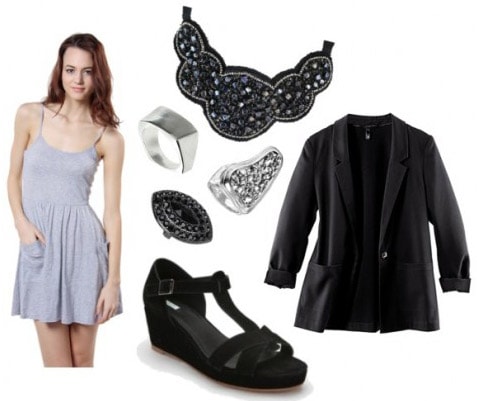 Dress, Blazer, Shoes, Necklace, Silver Ring, Black Ring, Rhinestone Ring
Finally, I wanted to use this dress to create a more fun look for a night out. Now I know that it may seem impossible to take such a casual dress and make it appropriate for evening – but that's just what I've done here, and it's easy to recreate!
First, I added something that I think should be a staple in every girl's wardrobe: a black boyfriend blazer. For shoes, I chose a Katie-friendly choice (aka NOT a stiletto – if you read my posts often, you know I'm not a high heels girl) in the form of a cool black suede t-strap wedge that isn't too high to handle. Since the dress is so casual, I went big with the accessories. A beaded bib necklace (as seen in my polka dot skirt post!) dresses up the neckline and adds interest, while an assortment of black and silver rings give a little pizazz to this otherwise-casual dress.
Your thoughts?
What do you think of the dress – is it a good deal for the money? How would you style it? Which outfit is your fave? Leave a comment and let us know!