Although it may not be the first place that comes to mind, JCPenney is definitely a mecca for affordable fashion. The department store implemented a new pricing strategy this year — making items dirt cheap — and also hosts a variety of exclusive lines from designers like Charlotte Ronson and Mary-Kate and Ashley Olsen.
This week's Fabulous Find is a classic, yet modern sleeveless button-up from MK &A's Olsenboye line. The simple and lightweight top is perfect for summer, comes in a trendy neon green shade and — get this — only costs $11.
Ready to see what the top looks like? All you have to do is scroll on down to check out our Fab Find as well as some ideas on how to style it for summer:
The Top: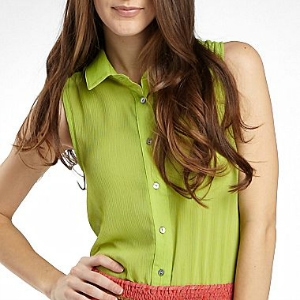 Olsenboye Sleeveless Boyfriend Shirt in Green Glow — $11 at JCPenney
Outfit Inspiration
If you like this ridiculously inexpensive and stylish top then you're going to love the outfits we put together for inspiration. Read on to find out three stylish ways to wear this week's Fabulous Find:
Outfit #1: Playfully Posh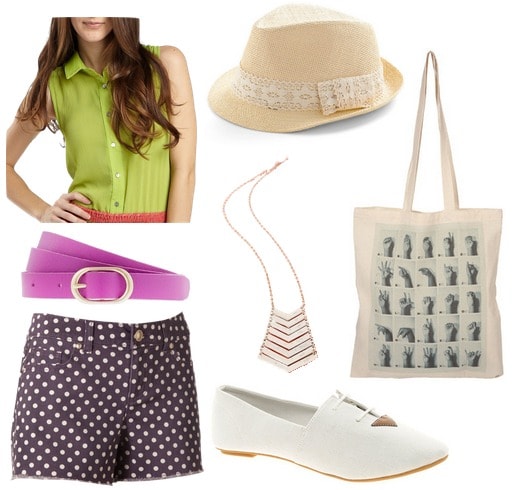 Product Info: Top- JCPenney, Hat- ModCloth, Belt- J. Crew, Necklace- Nasty Gal, Bag- ASOS, Shorts- LC Lauren Conrad, Shoes- ASOS
For a fun and flirty look, pair the top with some adorable polka dot shorts. A fuchsia belt pairs well with the lime green color of the blouse, while white oxfords add polish. Next, accessorize with a summer-appropriate straw fedora and canvas tote. Add a cool chevron necklace for a casual, yet fashion-forward outfit.
Outfit #2: Bombshell Best
Product Info: Top- JCPenney, Skirt- Forever 21, Sunglasses- Madewell, Watch- Urban Outfitters, Bracelets- J. Crew, Bag- DSW, Shoes- H&M
This neon blouse is the perfect piece to use for color-blocking, which is exactly what we did with this outfit. Pair it with a pretty cobalt-colored tulip skirt for a bold look. Sky-high wedges add interest, while a leopard print handbag plays off the blue and green shades. Accessorize with a unique initial watch and several gold bangles for a sophisticated vibe. Finally, add a pair of Wayfarers for a fun, trendy and completely glamorous look.
Outfit #3: Neutrals with a Twist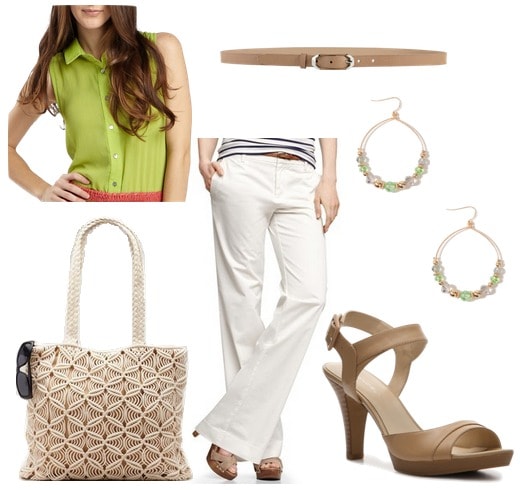 Product Info: Top- JCPenney, Belt- Cole Haan, Pants- Gap, Earrings- Forever 21, Bag- Loehmann's, Shoes- DSW
For our final look, we decided to really showcase the colorful top by pairing it with neutral pieces. White bootcut trousers work well with the lime-colored blouse, while tan sandals add the perfect amount of height. Accessorize with a matching leather belt and a pair of gold drop hoop earrings, which have a subtle hint of green. For the finishing touch, grab a woven tote bag.
Your thoughts?
What do you think of this week's Fabulous Find? Would you buy this JCPenney top? Do you like the Olsenboye line? Do you normally shop at JCP? Which look is your favorite? How would you wear this blouse? Remember to leave a comment below and tell us what you think!