This week's Fabulous Find is an adorable tee from Old Navy – and probably the most versatile item I've featured yet!
At only $14, you can't go wrong with this basic tee – especially because it's striped. Stripes are easily the most versatile pattern to work with under any circumstances, whether it's clothing, design, whatever – so the possibilities are endless with this shirt! Although it comes in many different colors, like yellow, pink, light blue, and navy, this pretty, subdued army green color is my favorite because it works as a neutral in practically any outfit.
Below, I'll show you a few cute ways to style this adorable, affordable tee.
The Tee: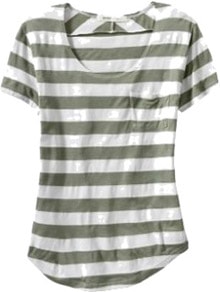 Rugby Stripe Pocket Tee – Old Navy
1. Edgy Chic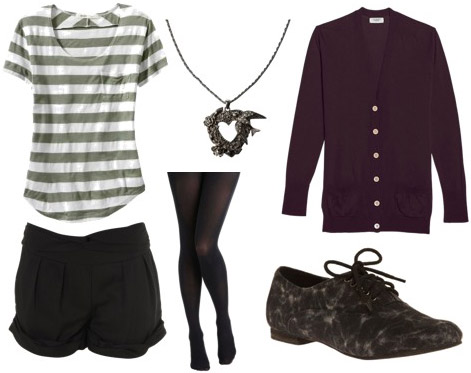 Shirt, Shorts, Cardigan, Tights, Oxfords, Necklace
This is probably my favorite look out of the three outfits in this post, because it shows how truly versatile a simple striped tee can be!
I usually gravitate towards black, so I styled this shirt the way I would wear it myself. I paired the green striped tee with a pair of black cuffed shorts, and added tights underneath for extra warmth. These cool, tie-dye-printed oxfords add interest and play off the rustic-looking heart necklace I chose. A dark plum cardigan looks cool left open over the ensemble for a pop of color.
2. Polished
Shirt, Jeggings, Blazer, Oxfords, Ring, Necklace
This outfit is much brighter and polished than the first. This time, the tee is paired with some dark-wash jeggings and (another) pair of oxfords – this time in a pretty floral print. A neutral-colored blazer with pretty details like gold buttons and gathering on the collar and pockets polishes up the look. An ornate gold pendant plays off of the buttons, and a light green and gold cocktail ring adds contrast and interest.
3. Feminine & Flirty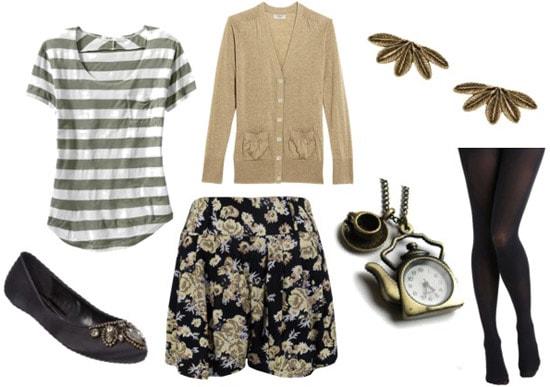 Shirt, Flounce Shorts, Cardigan, Flats, Tights, Necklace, Earrings
It's probably become clear from my CF posts thus far that I'm a big fan of mixing prints – so of course I had to show you how to do that with this fabulous find as well!
One of the easiest ways to mix prints is by combining stripes and floral print, and these two printed pieces (the tee and the flounce shorts) look like they were made for each other. The shorts' floral pattern works nicely with the tee's army green stripes, and the fact that the shorts are flowy and high-waisted gives the illusion of a skirt, which automatically dresses up the entire outfit.
Finally, by adding tights and a pretty, neutral cardigan to keep you warm, plus detailed flats in similar colors, you can add a little extra interest to the look. Finish it all off (as you'll notice I do a lot) with a long, charm necklace and some pretty gold studs.
What do you think?
How do you like this week's fabulous find? Do you own a basic striped tee like this one? If so, how do you wear it? Which outfit is your fave? Make sure to let me know by leaving a comment!