One of the best pieces to invest in for the winter-to-spring transition is a denim jacket, which is just what we're featuring as this week's Fabulous Find. This light wash denim jacket looks fresh for spring, but will keep you warm if it's still chilly outside. And at just $20, this Old Navy jacket is too good of a deal to pass up!
Want to see what this Fab Find looks like? Scroll down to check it out, as well as three cute ways to wear a denim jacket this season:
The Jacket: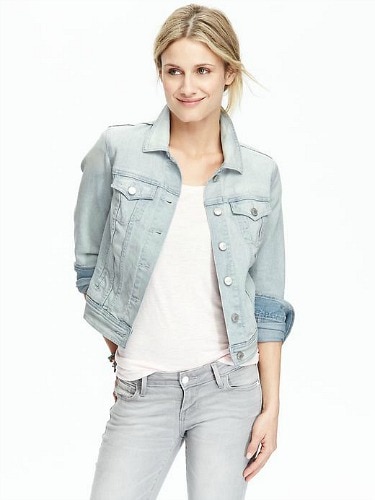 Light Wash Denim Jacket — $20 (on sale!) at Old Navy
Outfit Inspiration
If you like this versatile and budget-friendly jacket, then you're going to love the outfits we put together for inspiration. Read on to find out three stylish ways to wear this week's Fabulous Find:
Outfit #1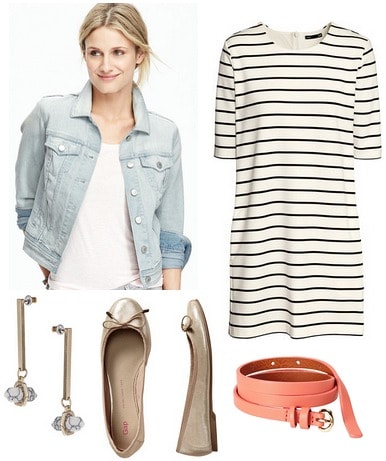 Product Info: Jacket- Old Navy, Dress- H&M, Earrings- Topshop, Shoes- Gap, Belt- Old Navy
Pairing a denim jacket with a dress always looks chic for spring, especially when you choose a classic striped frock. Pair one with a coral-hued belt and metallic flats to amp up the style. For the finishing touch, accessorize with sleek drop earrings.
Outfit #2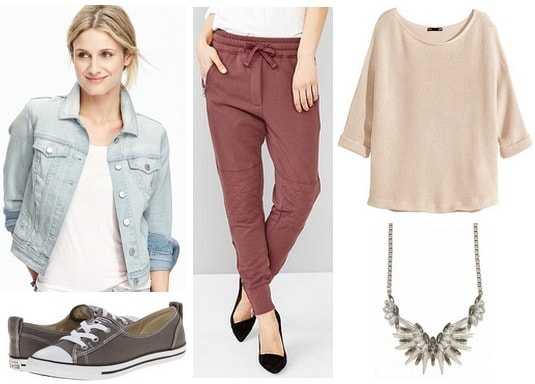 Product Info: Jacket- Old Navy, Pants- Gap, Top- H&M, Shoes- Converse, Necklace- Jewel IQ
This outfit is perfect for lounging around or running errands, but still looks polished and put-together. Start with some tone-on-tone color-blocking; pair wine-colored joggers with a blush pink top. Add a pair of slip-on sneakers, as well as our Fab Find. Finish up the look with a silver bib necklace.
Outfit #3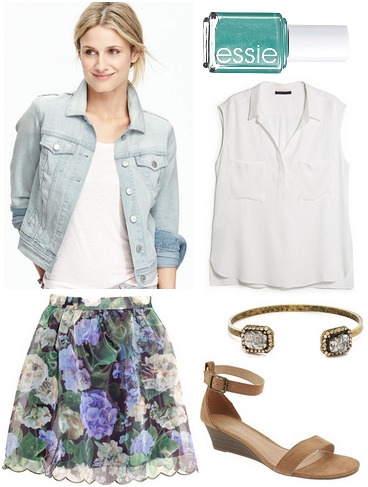 Product Info: Jacket- Old Navy, Skirt- H&M, Nail Polish- Essie, Top- Mango, Bracelet- BaubleBar, Shoes- Old Navy
For this cute springtime ensemble, tuck a sleeveless blouse into a floral print skirt. Layer on this denim jacket, then grab a pair of mini-wedge sandals. Accessorize with an antique gold bangle, then complete the look with a shimmery blue-green manicure.
Your thoughts?
What do you think of this week's Fabulous Find? Would you buy this Old Navy denim jacket? Which look is your favorite? How would you wear a denim jacket this season? Remember to leave a comment below and tell us what you think!