When it comes to wearing white during the colder months of the year, I'm all for it. So many people break out darker clothes for fall, so rocking white is such a stylish way to stand out.
For this week's Fabulous Find, I spotted a sleeveless top in the sale section of Nordstrom that's so great for the summer-to-fall transition. This lace trim blouse can be worn as is or layered under sweaters and coats, which makes it worth every penny.
Want to see what the top looks like? Just scroll down to check it out, as well as three cute ways to style it for early fall:
The Top: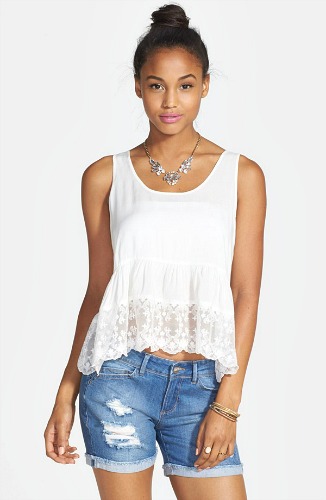 BP. Lace Trim Babydoll Tank in "Cream Egret" — $21.60 at Nordstrom
Outfit Inspiration
If you like this cheap and chic top, then you're going to love the outfits we put together for inspiration. Read on to find out three stylish ways to wear this week's Fabulous Find:
Outfit #1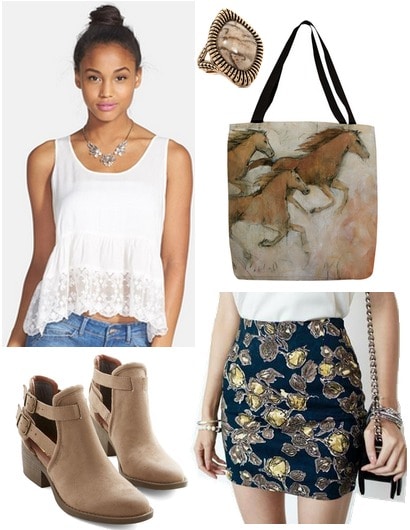 Product Info: Top- Nordstrom, Ring- HSN, Bag- Overstock, Shoes- ModCloth, Skirt- YesStyle
For a casually chic look, start by pairing this Fab Find with a fitted floral print skirt. Not only are these sand-colored booties comfy, but the trendy cut-out detailing makes them perfect for early fall. Stash the essentials in a unique horse-adorned tote, then accessorize with a pretty gemstone ring to complete the ensemble.
Outfit #2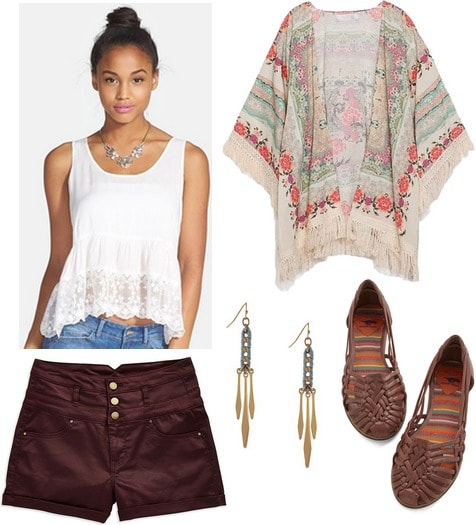 Product Info: Top- Nordstrom, Kimono Jacket- Amazon, Shorts- Lord & Taylor, Earrings- Lord & Taylor, Shoes- ModCloth
Create a stylish summer-to-fall outfit by wearing this top with high-waisted shorts in a deep burgundy hue. A vintage-look printed kimono jacket adds the right amount of coverage, while woven flats continue the boho-chic vibe. For the finising touch, add a pair of cool statement earrings.
Outfit #3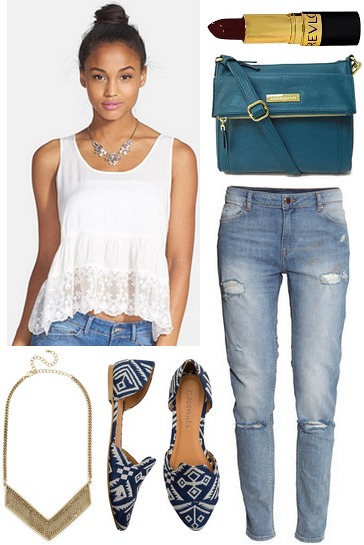 Product Info: Top- Nordstrom, Lipstick- Revlon, Bag- JCPenney, Necklace- ModCloth, Shoes- Coconuts, Jeans- H&M
This final outfit is casual yet cute, and perfect for a day spent on campus. Wear the top with these on-trend distressed jeans, then incorporate some print with these navy-and-white d'orsay flats. A sleek gold chevron necklace continues the bold vibe, while a dark teal crossbody bag adds a pop of color. Finish with one of my favorite fall lipsticks: Revlon's "Black Cherry."
Your thoughts?
What do you think of this week's Fabulous Find? Would you buy this Nordstrom top? Which look is your favorite? How would you wear a lacy white blouse for fall? Remember to leave a comment below and tell us what you think!