For this week's Fabulous Find, we picked a cute and versatile dress that's seriously on sale. This striped skater dress has a winter-appropriate black-and-navy color scheme, but can be worn well beyond the colder months of the year. We found this dress in the Nordstrom sale section – it's currently 50% off, so snag this go-to frock while you can!
Want to see what the dress looks like? Scroll down to check it out as well as three casual ways to wear this Fab Find:
The Dress: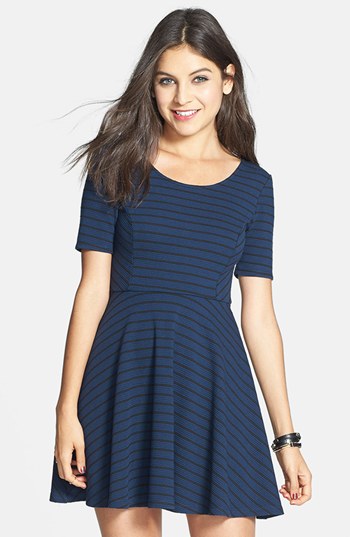 Lush Scoop Back Skater Dress in Navy/Black Stripe — $22.98 (on sale!) at Nordstrom
Outfit Inspiration
If you like this cheap and chic dress, then you're going to love the outfits we put together for inspiration. Read on to find out three stylish ways to wear this week's Fabulous Find:
Outfit #1: Classic Meets Trendy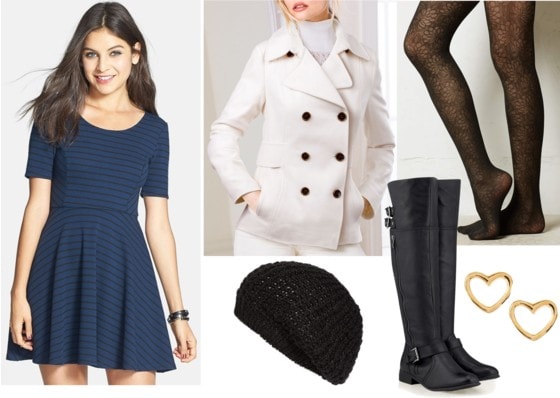 Fab Find: Nordstrom Striped Skater Dress – Classic Meets Trendy by collegefashion featuring black thigh-high boots
Product Info: Dress- Nordstrom, Coat- Victoria's Secret, Tights- Anthropologie, Hat- Nordstrom, Shoes- Pret-a-Beaute, Earrings- Neiman Marcus
For a casual look with a trendy twist, pair our Fab Find with these eye-catching sheer patterned tights. Riding boots have a timeless appeal, as does this cozy white peacoat. Grab a knit beret and accessorize with cute heart-shaped stud earrings to finish up this chic winter ensemble.
Outfit #2: Edged Out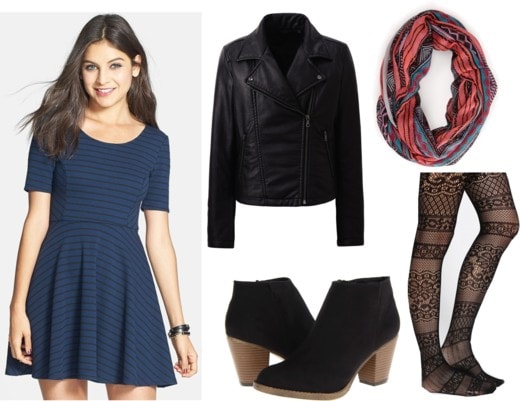 Fab Find: Nordstrom Striped Skater Dress – Edged Out by collegefashion featuring black suede ankle booties
Product Info: Dress- Nordstrom, Jacket- Uniqlo, Scarf- Forever 21, Shoes- Zappos, Tights- Urban Outfitters
Toughen up this girly dress by layering on a faux leather biker jacket and suede-like heeled ankle booties. Add visual interest with these unique lace tights, which have a cool vintage vibe. Lastly, incorporate a pop of color by accessorizing with an oversize patterned infinity scarf.
Outfit #3: Double Up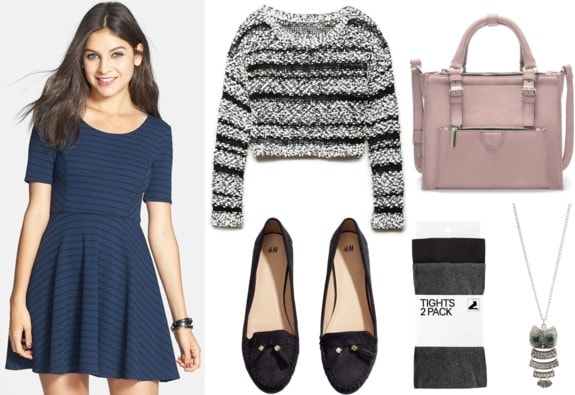 Fab Find: Nordstrom Striped Skater Dress – Double Up by collegefashion featuring brown handbags
Product Info: Dress- Nordstrom, Sweater- Forever 21, Bag- Zara, Shoes- H&M, Tights- H&M, Necklace- Aeropostale
Go bold by rocking double the stripes. Layering a black-and-white cropped sweater over this dress creates a fashion-forward look that's still casual enough to wear during the day. Continue the low-key vibe with opaque tights and comfy loafers. Add contrast with a lilac-hued handbag, then slip on a long necklace that features an adorable owl.
Your thoughts?
What do you think of this week's Fabulous Find? Would you buy this Nordstrom dress? Which look is your favorite? How would you wear this striped dress? Remember to leave a comment below and tell us what you think!