Tuxedo-style jackets have been popping up in stores everywhere recently, so for this week's Fabulous Find we've found one that is not only youthful and fashion-forward, but is also budget-friendly to boot.
This bright red jacket from J.Lo's collection at Kohl's is not only a gorgeous color, but can instantly give a polished vibe to any outfit, making it quite the versatile wardrobe staple. And if you're a bit color shy, never fear, there's a gray version available, too.
The best part? This jacket was recently marked down from $80 to a mere $24 — that's some serious bang for your buck! Scroll down to check it out, as well as some outfits for style inspiration.
The Jacket: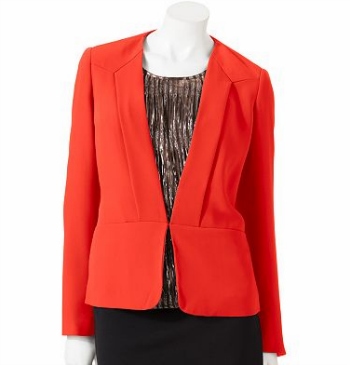 Jennifer Lopez Tuxedo Jacket in "Corsica Red" — $24 at Kohl's
Outfit Inspiration
If you like this eye-catching, polished, and budget-friendly jacket then you're going to love the outfits we put together for inspiration. Read on to find out three stylish ways to wear this week's Fabulous Find:
Outfit #1: Dressed to the Nines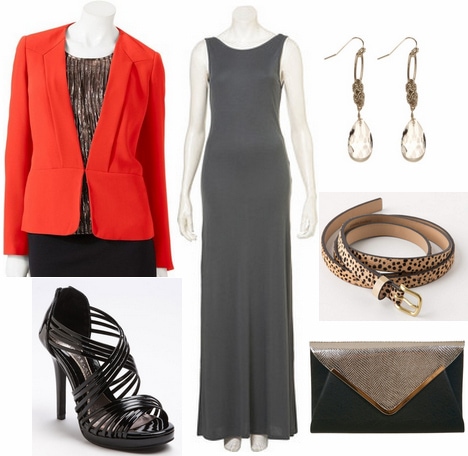 Product Info: Jacket- Kohl's, Dress- Topshop, Earrings- The Limited, Shoes- Chinese Laundry, Belt- Anthropologie, Bag- Miss Selfridge
Create a party-worthy ensemble with our Fab Find by pairing it with a glamorous deep gray maxi dress. A leopard print belt not only helps to define the waistline, but also adds visual interest. Next add a pair of sculptural, sky-high shoes to continue the dressy vibe. Finally, accessorize with delicate drop earrings, then grab a two-toned clutch.
Outfit #2: Laid-Back & Edgy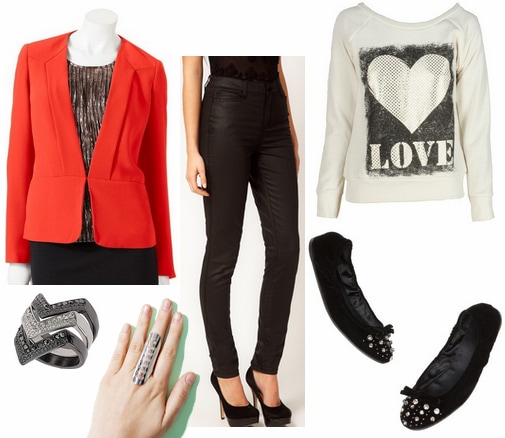 Product Info: Jacket- Kohl's, Jeans- ASOS, Top- Chiara Fashion, Stacked Rings- Topshop, Knuckle Ring- Nasty Gal, Shoes- LOFT
For a low-key look with a bit of a rocker vibe, start with some coated jeans with a bold graphic sweater. The coated denim looks similar to leather, which pairs well with the cherry red color of the blazer. Velvet and rhinestone-adorned ballet flats are a luxe, yet comfy and casual choice of footwear. For the finishing touch, accessorize with several edgy silver and black rings.
Outfit #3: Trendy & Polished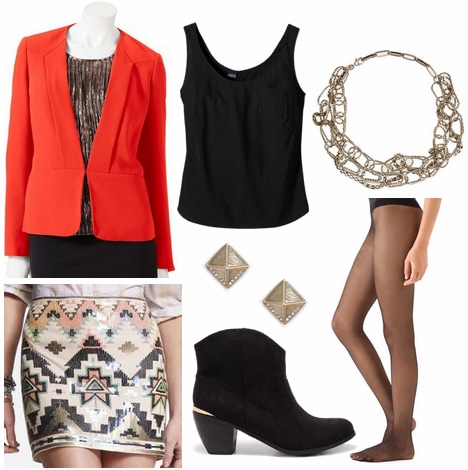 Product Info: Jacket- Kohl's, Top- Patagonia, Necklace- ASOS, Skirt- Express, Earrings- Nordstrom, Shoes- Forever 21, Tights- Shopbop
Just because the jacket is bold, that doesn't mean you can't play with other colors and patterns! For example, the above look pairs our Fab Find with a gorgeous sequined mini skirt to create a fashion-forward, statement-making outfit. A simple black tank top creates balance, as do the sheer tights. For shoes, we went with simple black ankle booties that have a hint of gold detailing on the back. Add a unique mixed metal necklace as well as matching pyramid stud earrings to complete this look.
Your thoughts?
What do you think of this week's Fabulous Find? Would you buy this jacket from Kohl's? Which look is your favorite? How would you wear this blazer? Remember to leave a comment below and tell us what you think!