For this week's Fabulous Find, we've found an ah-mazing pair of boots that are fashion-forward, versatile, practical and ridiculously budget-friendly — in a nutshell, we love them. These brown lace-up boots from Kmart have a rugged, almost masculine feel to them, but the addition of a comfy wedged heel keeps them modern and stylish. Plus, at just under $20, you simply can't beat the price!
Want to see what the boots look like? Just scroll on down to check 'em out, then learn several super-stylish ways to wear them this season.
The Boots: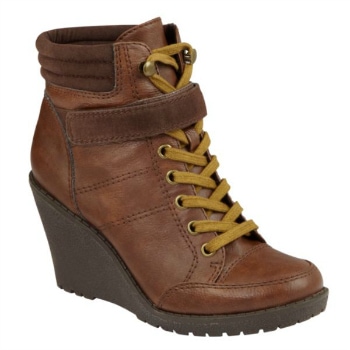 Route 66 Tayside Wedge Casual Boot in Cognac — $19.99 at Kmart
Outfit Inspiration
If you like these cheap and chic boots, then you're going to love the outfits we put together for inspiration. Read on to find out three stylish ways to wear this week's Fabulous Find:
Outfit #1: Comfy & Laid-Back
Product Info: Shoes- Kmart, Sweater- Wet Seal, Sunglasses- Forever 21, Jeans- Kohl's, Bag- DSW, Rings- Forever 21
Create a stylish and casual vibe with your boots by pairing a neutral-colored cable knit sweater with a pair of relaxed fit boyfriend jeans. Add the ankle boots, then cuff the jeans to really showcase our Fab Find. A deep red cross-body bag adds a pop color, while tortoiseshell sunglasses lend a classically cool touch. Complete this look by accessorizing with several pretty gold rings.
Outfit #2: Cute & Polished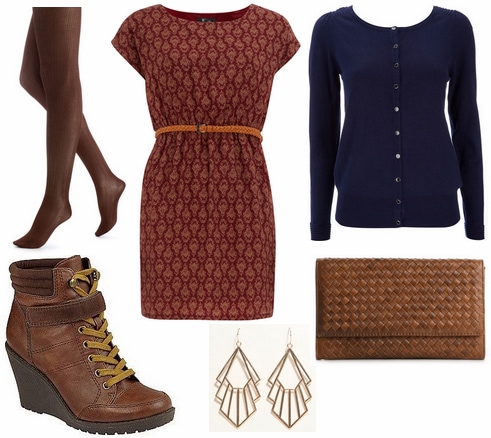 Product Info: Shoes- Kmart, Tights- Hue, Dress- Dorothy Perkins, Cardigan- Wallis, Earrings- PacSun, Clutch- DSW
For this next look, balance the rugged feel of the boots by pairing them with a feminine, printed dress. A navy blue cardigan adds polish, while sweater tights help make the outfit winter-appropriate. Accessorize with a pair of Art Deco-inspired earrings and a unique woven clutch.
Outfit #3: Modern Meets Vintage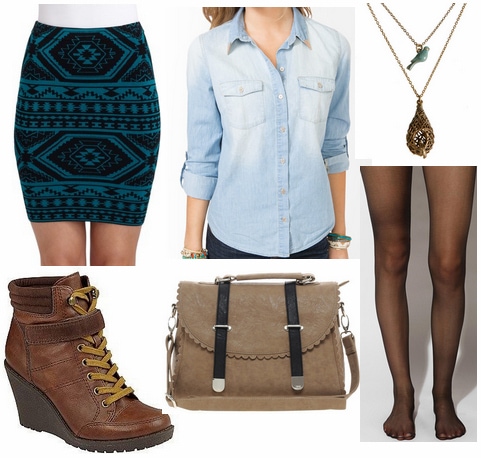 Product Info: Shoes- Kmart, Skirt- Saks Fifth Avenue, Top- Forever 21, Necklace- Lord & Taylor, Bag- ASOS, Tights- Urban Outfitters
Our final outfit blends trendy and classic elements for a stylish, one-of-a-kind look. Start by pairing a graphic skirt with a chambray blouse. Add the boots, as well as a pair of basic sheer tights. Finally, incorporate an adorable layered necklace and a two-toned scalloped satchel to top off the ensemble.
Your thoughts?
What do you think of this week's Fabulous Find? Would you buy these shoes from Kmart? Which look is your favorite? How would you wear the boots? Remember to leave a comment below and tell us what you think!