This week's Fabulous Find is something that everyone is going to need this spring and summer – a pair of shorts! This particular pair is black, and at only $14.. you can't beat them! I know that my black shorts are a total wardrobe staple for me, and I work them for every season – so here are some outfit ideas to help you guys to do the same!
The Shorts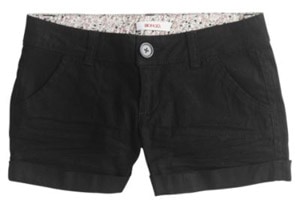 Black shorts – $14 at Kmart
Outfit Ideas
Here are three different ways to style this one pair of basic black shorts.
1. Tomboy Chic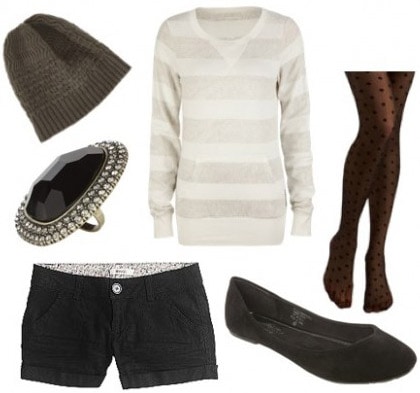 Shorts, Sweater, Tights, Flats, Beanie, Ring
This look is cool because it's got a few boyish qualities that are balanced by a few ultra-feminine accents. I started with the black shorts, then added a simple neutral colored rugby-striped boyfriend sweater, and a slouchy grayish beanie to play off of the stripes. To even out these boyish pieces, I added a simple pair of girly black flats and a gorgeous black rhinestone cocktail ring.
Finally, for those of you who asked for colder weather options (I apologize for my lack of tights and jackets in the past few posts – this beautiful Florida weather has me spoiled!), I included a pair of cute polka dot tights to layer under the shorts for extra warmth. You could always omit them if you're in a warmer climate!
2. Urban Cool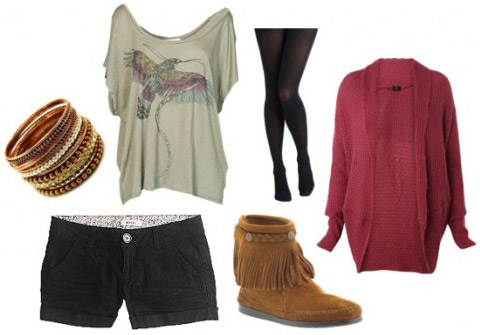 Shorts, Tee, Cardigan, Boots, Tights, Bangles
This outfit is definitely a lot more laid-back and obviously has a much more eclectic feel than the last. This time, I paired the black shorts with a cool, slouchy graphic tee picturing a brightly colored bird, and a pair of trendy ankle-height moccasins. I kept the accessories fairly minimal with just a few gold and bronze-toned bangles, and for those of you in colder weather, I once again included a pair of black tights and a pretty raspberry-colored cardigan to keep you warm!
3. Dressing Up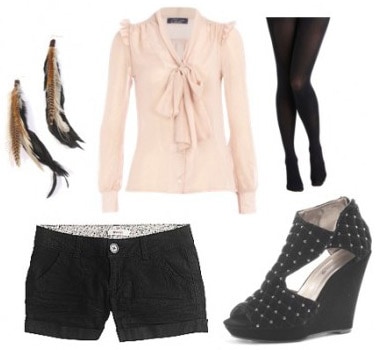 Shorts, Blouse, Wedges, Tights, Earrings
The third and final outfit is an easy way to dress up these normally casual shorts. Just by adding a pretty, dressy top, some black wedges, and an edgy pair of feathered earrings, these shorts become instantly chic and night-out appropriate. Again, I included a pair of black tights for those of you in colder weather, and actually, I like this look best with a pair of tights, even for warm weather nights. After all, shorts and bare legs are harder to dress up!
What do you think?
So there you have it – a pair of versatile black shorts, that can be worn in a multitude of ways, for only $14! How can you beat that? The possibilities are endless for any season with such a basic staple.
So what did you guys think? Do you like these shorts? Which outfit is your favorite? I'd love to hear your feedback!