The Fabulous Find for this week is something that we all own in copious amounts, but can't help buying more of whenever we get the chance – and that, my friends, is a great pair of sandals.
These pretty sandals I found at Kmart are not only cheap, at just $14.99, but also boast a gold metallic finish that makes them work with virtually EVERY OUTFIT. So regardless of how many pairs of sandals you may already own, these are a must-have for the upcoming summer season!
The Sandals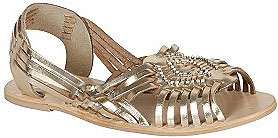 RB2 by Rebels "Mira" in Gold – $14.99 at Kmart
Outfit Inspiration
Now that you've seen 'em, check out a few ways to rock these awesome shoes!
Outfit 1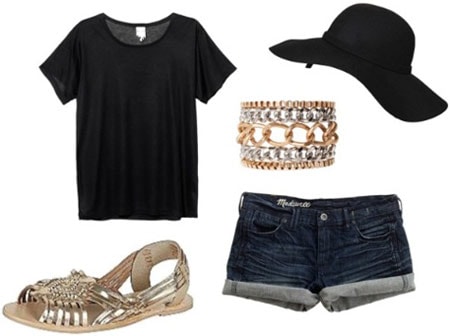 Sandals, Shorts, Tee, Bracelet, Hat
This first look is super casual and perfect for any summer day (or spring day, if you live in a warm climate)! Here, I paired the sandals with some classic dark wash denim shorts and a slouchy black tee. To maintain a classic vibe, I kept the accessories super simple, adding just an interesting chain bracelet and a black floppy hat.
Outfit 2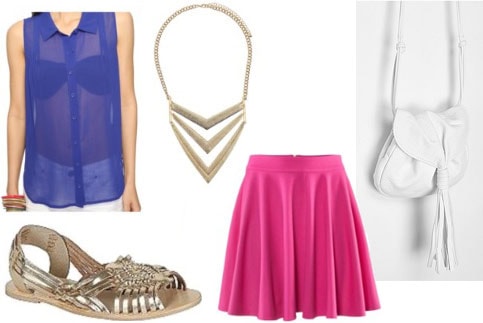 Sandals, Skirt, Shirt, Necklace, Cross-Body Bag
This look isn't for the meek – it IS, however, for those of you who aren't afraid to make a BIG statement! This time I paired the shoes with a hot pink, flouncy skirt and a sheer electric blue button-down blouse, to be tucked in. For accessories, I again kept things minimal with a simple white cross-body bag (that's under $30!) and an art deco-inspired necklace to play off of the metallic shoes. Rock this look on a shopping trip or a lunch date; either way, you are guaranteed to turn heads!
Outfit 3
Sandals, Dress, Clutch, Lipstick
The last look, as always, is the most dressy of the three – and is actually pretty simple! I chose this amazing floral dress to be paired with the shoes (as an alternative to uncomfortable heels!) and a beautiful sky blue clutch to hold the necessities. Finish off your look with some fun pink lipstick and hit the town!
Your thoughts?
What do you think of these sandals? How would YOU style them? Do you share in our sandal-buying addiction? Leave a comment and let us know!