So this week's Fabulous Find incorporates something that is easily one of my favorite things in the entire world — LEOPARD PRINT! I will continue to maintain that leopard print is a neutral – it really goes with anything, from neon hues to other patterns.
Although I didn't get too crazy with the outfits this week (I'm not sure everyone has the same theories about what goes with leopard as I do), I definitely tried to show the versatility of this print, and how not only colors but accessories can completely transform the pattern. This adorable leopard print dress, which I found at Kmart, is only $14.99 and totally worth EVERY cent! Keep reading to learn how to style it.
The Dress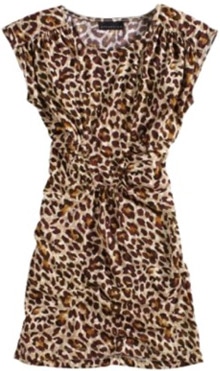 Animal Print Sheath Dress – $14.99 at Kmart
Outfit Inspiration
Check out these three leopard looks for some style inspiration.
1. Pretty in Pink
Dress, Sandals, Earrings, Sunglasses
This look takes the bold leopard print and softens it with the help of some pretty, pink, girly touches. These sandals are the perfect color for summer, and the soft leather means they're super comfortable. Keep the accessories simple – these pretty little stud earrings play nicely with the color of the sandals, and a pair of black wayfarers finishes off any look perfectly.
2. Beach Babe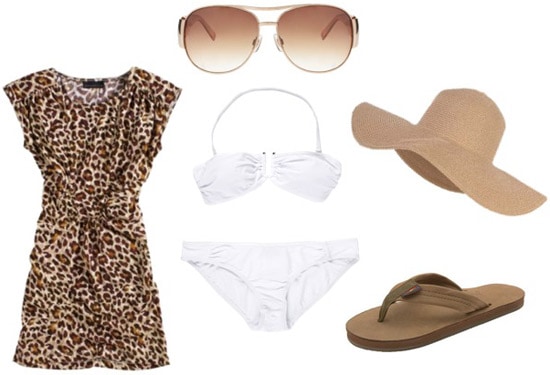 Dress, Bikini, Hat, Sunglasses, Flip Flops
We all love our cute bikinis for summertime, so shouldn't our beach cover-ups be JUST as cute as what's underneath? I think so! Use this adorable dress as a cover up for the beach – I like it over this white bikini, worn with a floppy neutral hat, classic flip flops, and chic sunglasses. After all, when the sun gets too hot and it's time for a lunch break, don't you want to look your best?
3. Fiercely Dressy
This outfit is an example of a classic way to style leopard print – just add black and gold accessories. The organic shapes created by the wedges and the cuff play off of the print nicely, and definitely add a touch of elegance to the fierce leopard frock. Finish off the look with these pretty stud earrings – they're simple enough to let the dress speak for itself! Wear this outfit for a night on the town with the girls or a hot summer date.
What do you think?
Do you like this dress? How would you wear it? Which outfit is your fave? Do you consider leopard print a neutral? Leave a comment and let us know!