So, last week's Fabulous Find was this amazing dress from Kmart – and I talked about how leopard (in my book) is a neutral and can be worn with anything. However, some of you commented on the post saying that you liked the looks I created, but wished I would have taken it a bit further to show some of the more bold choices you can make with leopard print – so that's exactly what I'm going to do this week!
So here it is, you asked for it, Part II – three more ways to wear the Kmart leopard print dress!
The Dress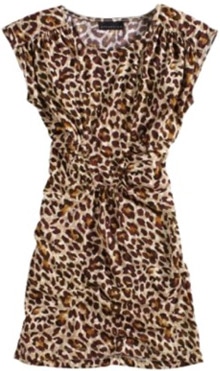 Animal Print Sheath Dress – $14.99 at Kmart
Outfit Inspiration
Below, I've created three NEW outfits featuring this dress – they're more bold than the last three, but still just as practical for everyday wear!
1. Leopard and Stripes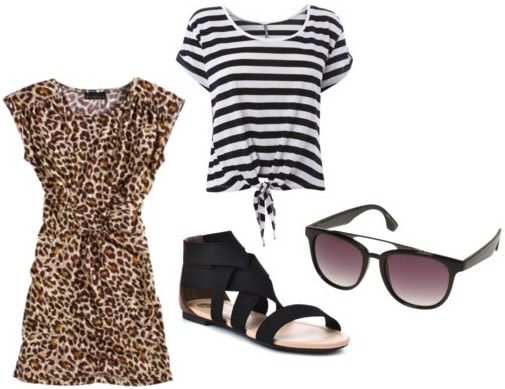 Dress, Tee, Sandals, Sunglasses
Stripes and leopard print are neutrals, in my book – they go with practically everything. So why not work them together into the same outfit? Test out your layering skills by wearing this striped, tied-up shirt over your dress, letting the leopard print dress act as a skirt in this ensemble. Add a pair of strappy black sandals and a cool pair of wayfarer-aviator hybrids for a casual, cool look.
2. Pops of Color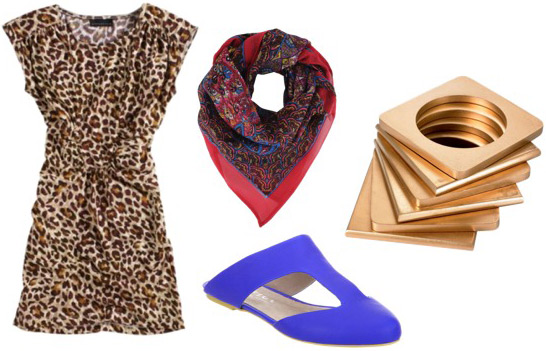 A few of you mentioned adding more pops of color with the leopard, and one of the suggestions was a pop of red – so that's when I went looking for a cool red scarf to add to the dress. I was planning on adding a red pair of shoes or metallic sandals, but then I found these AMAZING blue shoes and had to include them. The almost-neon hue is totally unexpected, but totally perfect – it plays off of the blue accents in the scarf. So now you have a bold leopard print, an intricate pop of red, and a loud pop of blue – all in one outfit! Add these cool gold, square bangles to finish off this funky look.
3. Denim Shirt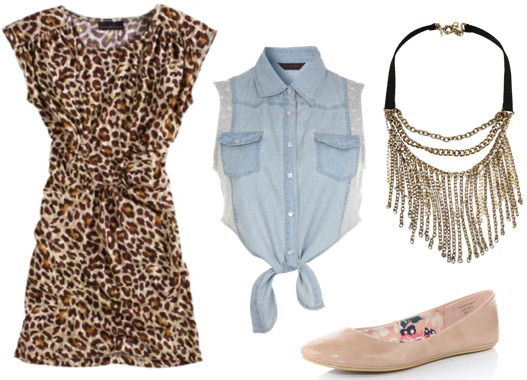 This outfit is a total play on tough vs. girly – by adding this dainty little denim shirt with super girly details over the leopard dress, you automatically soften the look. These pretty nude flats have a similar effect. However, by throwing this awesome leather waterfall necklace into the ensemble, you give it another little kick of toughness.
Your thoughts?
So there you have it! Three NEW ways to style this awesome leopard dress from last week. What did you guys think of these looks? Which was your favorite? Did you think they were better and more bold than last week's? Let me know what you think!