So for this week's Fabulous Find, I chose a skirt from Kmart. In fact, it's a piece from Selena Gomez's "Deam out Loud" collection for the store. And although most of us college girls wouldn't normally think to shop Selena Gomez's clothing line, this piece is actually super stylish and versatile.
This particular skirt is absolutely perfect for fall and winter, made of trendy black lace and in a flattering shape. And the best part? It's only $14! Can you really beat that? Keep reading to see three ways to style this unexpectedly stylish – and budget-friendly – skirt!
The Skirt: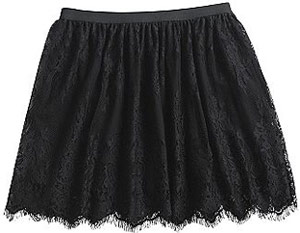 Dream Out Loud by Selena Gomez Lace Miniskirt – $14 at Kmart
Outfit Inspiration:
Below, I've created three sample outfits that incorporate this pretty skirt, all of which would be perfect for fall weather with tights or high socks.
Outfit 1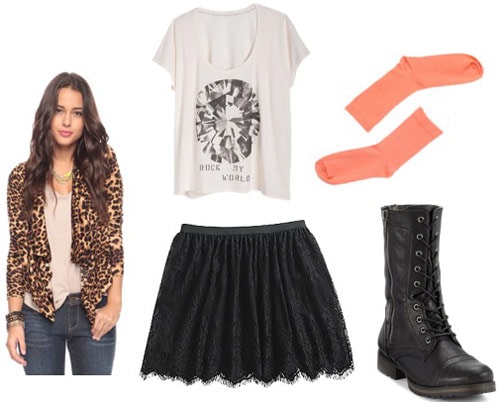 Skirt, Tee, Sweater, Socks, Boots
This look is the perfect example of how to take something typically fancy (or at least a nighttime staple) and make it casual for daytime. I first paired the skirt with a super cool graphic tee, and added a leopard cardigan, because – as I always say – leopard goes with everything. I then added a pair of black lace-up combat boots and some pretty coral socks to peek out from the top for a little splash of color.
This is a perfect look for transitional weather, and would be great for class on crisp fall days. Just add opaque tights and your favorite coat when the weather gets chilly.
Outfit 2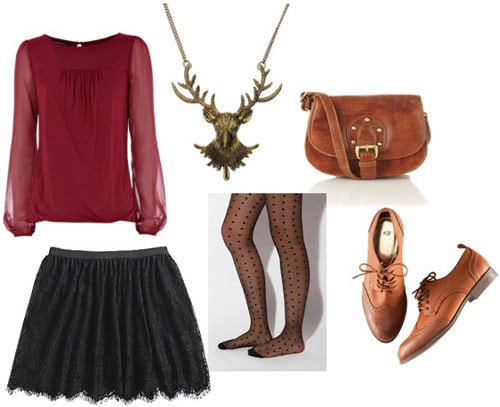 Skirt, Top, Tights, Oxfords, Necklace, Purse
This is another great example of a way to make this dressy skirt casual, only this time, I've created a look with a more polished feel.
This look's color palette just screams fall – the deep, rich colors give it a sophisticated and warm vibe. I first chose a long-sleeved, burgundy chiffon top to be tucked into the lace skirt, and added a quirky pair of polka dot tights for warmth and interest. Then, I finished the look with a pair of worn-in brown oxfords, and a cross-body bag in a matching hue. Rock this look anywhere – from class to a casual date – and you'll look pretty, polished, and fall-appropriate!
Outfit 3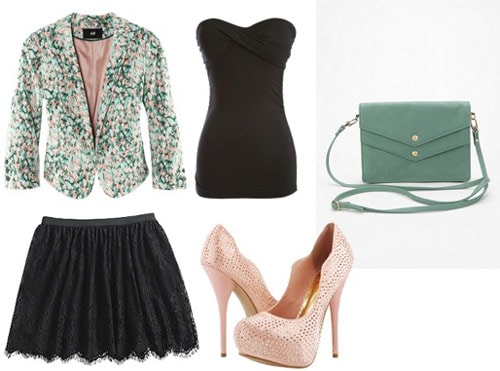 Skirt, Top, Blazer, Heels, Purse
The third and most dressy look for this week's Fabulous Find is definitely a showstopper.
This time, I paired the skirt with a black tube top. (I'm normally not a tube top fan, but by wearing this one underneath an awesome blazer, you create the illusion of a trendy corset-inspired top for half the price.) Next, I decided to throw this amazing printed blazer over the top, and added a pair of killer blush platform heels. This look would be perfect for a fun night out!
Your thoughts?
How would you wear this lace skirt? Which outfit idea is your favorite? Do you like to wear skirts with tights in winter? Leave a comment and let us know.