This week's Fabulous Find is a spring and summer staple – a pretty racerback tank! This floral one with ruffle detailing is from Kmart (it's actually from teen star Selena Gomez's line for the store) and is only $7 – can you believe that?!
Floral prints are always super hot for spring, and that's certainly true this season – so jump on board with the trend and check out some cute ways to style this pretty tank!
The Tank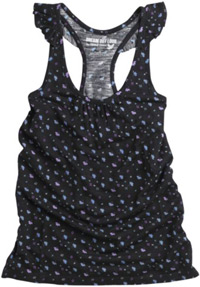 Dream Out Loud by Selena Gomez Ruffle Tank – $7 at Kmart
Outfit Inspiration
Now that you've checked out this adorable and super inexpensive tank, here are three unique ways you could wear it.
1. Summery & Boho-Chic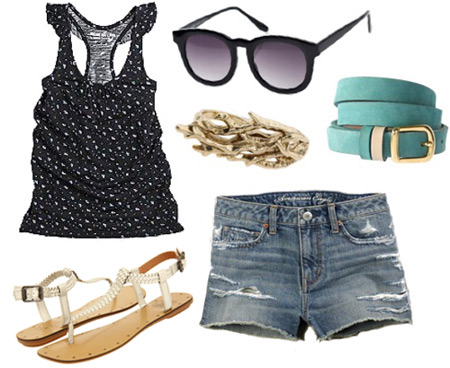 Tank, Shorts, Sandals, Belt, Ring, Sunglasses
This outfit is perfect for a beautiful, sunny day when you just want to be comfortable. Here, I paired the adorable top with my favorite pair of high-waisted denim shorts, a pretty turquoise belt with gold details, and a pair of simple braided sandals. For accessories, I chose an interesting gold ring and a pair of quirky retro-inspired sunglasses.
This is a great go-to look for any casual occasion during these warmer seasons – whether you're running errands or doing something fun like going to a fair, you'll be cute and super comfortable!
2. Polished Print-Mixing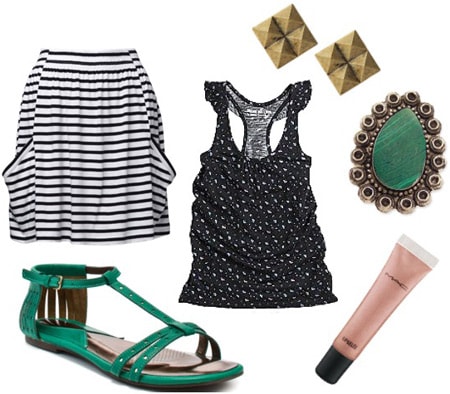 Tank, Skirt, Sandals, Ring, Earrings, Lipgloss
I love this look because it incorporates one of my favorite trends – mixed prints! I think that mixing two prints is one of the easiest ways to look fashion-forward and cool this season, with barely any effort at all.
Here, I chose to pair the tank with a black and white striped skirt (stripes and florals are my favorite mixed prints combo) and some bright green sandals for an unexpected pop of color. To emphasize the green, I added a gorgeous green cocktail ring with gold detailing. I then added some gold studded earrings for extra interest. Finish off the look with some pretty nude gloss and you're good to go; this look would be perfect for lunch with the girls on a pretty spring day!
3. Girly & Romantic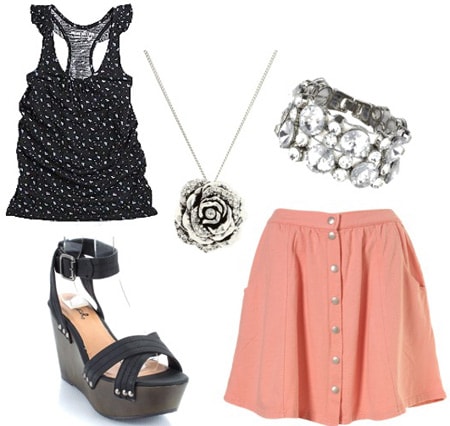 Tank, Skirt, Wedges, Necklace, Bracelet
This is the dressiest of the three looks, and is the perfect way to wear the tank for a flirty, romantic vibe.
For this ensemble, I styled the tank with a cute, mid-length flouncy skirt in a pretty peach color (perfect for spring and summer!) and a cool pair of wooden platform wedges for an edgy twist. For jewelry, I kept it pretty simple, adding a sweet rose rhinestone pendant and a matching rhinestone cuff. Can't you just picture this for a date night with a cute boy? It's simple and pretty, but still fashion-forward with a little edge.
What do you think?
Do you like this tank top? How would you wear it? Which outfit is your favorite? Make sure to leave a comment and let me know what you think!