This week's Fabulous Find is from one of my favorite "wild card" stores to find unexpectedly cute stuff – from clothes, to shoes, to accessories, to home goods. Yup, I'm talking about Kmart!
This week, I chose this black, draped skirt from Kmart because I don't think you can ever have enough skirts in your closet… especially ones like this, that are classic with a twist. The draping on this skirt is both stylish AND flattering, which makes it a must-have. And on top of all of that? It's only $15!
The Skirt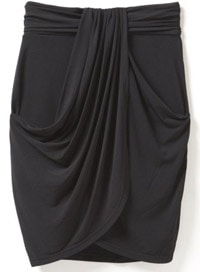 Black Draped Skirt – $14.99 at Kmart
Outfit Inspiration
Now that you've checked out the skirt, read on to see three different ways to wear it!
1. Trendy Boho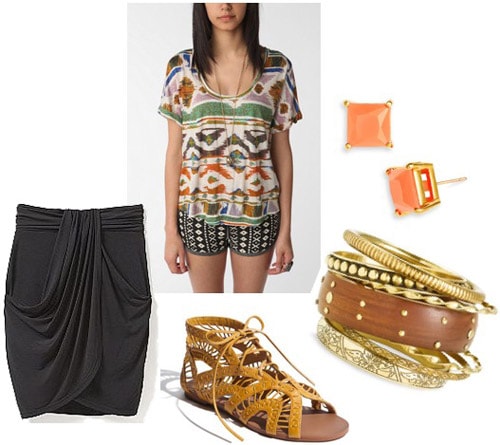 Skirt, Shirt, Sandals, Bracelets, Studs
This look is great because it takes the skirt, which is a fairly dressy piece, and makes it perfectly casual for daytime. The combination of the simple skirt and this ultra-casual tribal print tee creates an awesome day look that's both comfortable and stylish. Pair the skirt and top with some bright, interesting sandals and a handful of eclectic accessories to finish the outfit.
2. Weekend Chic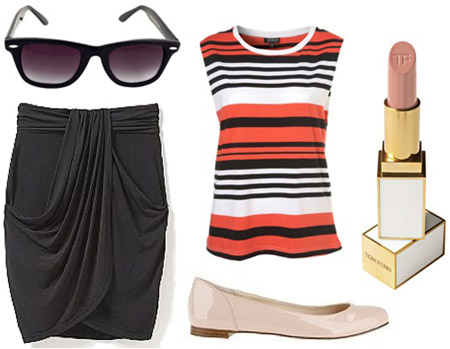 Skirt, Top, Flats, Sunglasses, Lipstick
This outfit is classic and chic, which makes it perfect for pretty much any occasion. The skirt, this time, is paired with a classic striped tee and a pair of nude flats. To keep the look simple and modern, I went extremely minimal with accessories, adding only some black wayfarers and nude lipstick. Throw your hair up in a sleek bun to top off this chic look.
3. Night Out Shimmer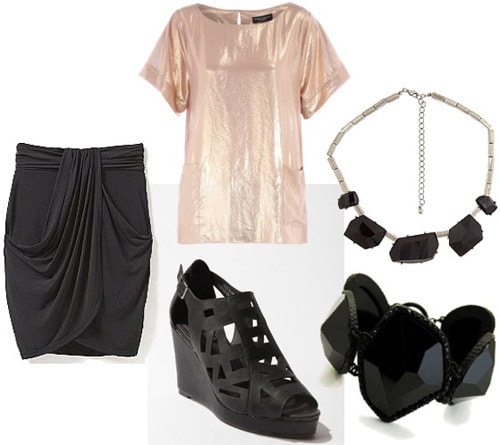 Skirt, Top, Wedges, Necklace, Bracelet
This last look is obviously the most dressy, and would be perfect for a fun night on the town with the girls – whether you're at a trendy restaurant, swanky bar, or cool nightclub, you'll be perfectly dressed. This shiny, wet-look gold tee adds just enough pizazz without being gaudy, because the classic black skirt tones it down. Black wedges elongate your legs while dressing up the outfit. Finish off with some bold black jeweled accessories.
Your thoughts?
So what do you guys think – would YOU wear this skirt? Do you ever shop at Kmart? Which look was your favorite? Let me know what you think!