I have done manypostsaboutKmartbefore, and although I'm sure some of you were a little wary the first time, I hope you have come to realize that Kmart is a REALLY great, pretty reliable place to find some amazing, affordable fashion finds.
Now, I don't go to Kmart on a regular basis, but I have never gone and NOT found an amazing pair of shoes. So this week's Fabulous Find is just that – an awesome pair of boots that are just $25. Sure, they're not an $8 pair of shoes, but lets be realistic… a pair of boots for $25? That's almost unheard of!
The desert boot trend has been going strong for a while now, and I don't know about ya'll, but I not only LOVE these boots for their looks, but also because they are so versatile. Don't believe me? Read on for some ideas on how to wear them!
The Boots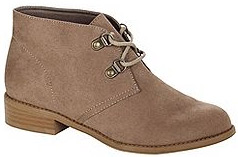 Bongo Women's Elain Desert Bootie – $24.99 at Kmart
Outfit Inspiration
Check out 3 interesting ways to style this awesome pair of Kmart desert boots.
1. Casual Stripes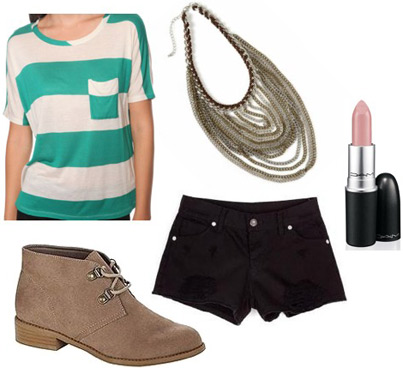 Boots, Shirt, Shorts, Necklace, Lipstick
This is a great look for going to class, running errands, or just trying to get some work done in the library – it has that, "I just threw this on" feel in the best possible way; it manages to look easy and effortless, while still feeling pulled together. To create this look, I started with a pair of black shorts and an easy, relaxed, striped tee. Then, I added the boots and a mixed-metal chain necklace to tie in the color of the boots. I finished off the look with a pretty pink-nude lipstick.
2. Printed Skirt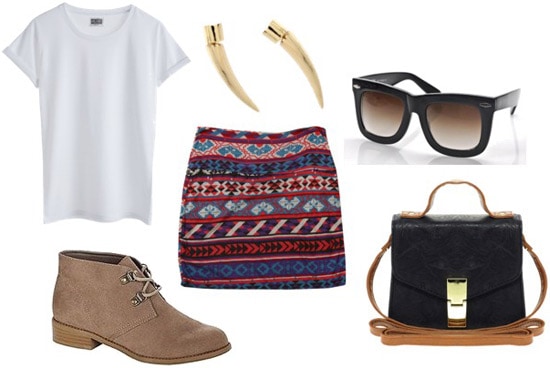 Boots, Tee, Skirt, Purse, Sunglasses
This is probably my favorite look of the three this week! This time, I paired the boots with this awesome red and blue printed knit skirt and a plain white tee. (I always like to tuck mine in JUST in the front when I wear shorter, tighter skirts like this.) Since I chose this amazing black, tan and gold cross body bag, I decided to pass on a necklace and chose a pair of super-cool gold spike earrings instead. I topped it all off with a bold, modern take on the usual wayfarer. Wear this look on a casual date or on one of those days when you're feeling like looking extra-amazing in class!
3. Floral Dress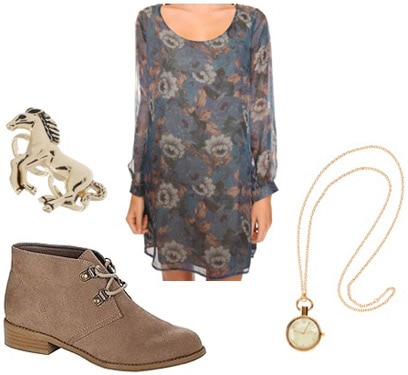 Although it can be tricky to make a pair of ultra-casual boots appropriate for a night out, I think this outfit manages quite well. First, I chose a pretty, super feminine floral dress with traces of taupe in it to tie in the boots. Then, I kept it really simple with some subtly quirky accessories like this long gold watch pendant, and a two-finger gold ring. Because the outfit is not overdone with tons of accessories, it instantly seems more chic – especially with its muted color palette! Wear this out for date night or dinner with the girls.
Your thoughts?
So there you have it – another amazing Kmart find! So tell me, which look was your favorite? Do you love these boots as much as I do?! And how do YOU feel about Kmart – do you ever find anything amazing and unexpected there? Let me know- I LOVE your feedback!