For this week's Fabulous Find, we picked a dress that has a classic shape but comes in a totally wild print. This abstract print shirt dress is currently on sale for just under $15 at Kmart, and we think it will transition well from summer to fall.
From pink and red to blue and yellow, this dress incorporates so many different colors, and that means it's fantastic for mixing and matching. Just swap out different-colored shoes, bags, and accessories to create an entirely different look! Scroll down to check out the dress, as well as three cute ways to style it this season:
The Dress:

Women's Multi-Color Scoop Neck Belted Shirt Dress — $14.84 (on sale!) at Kmart
Outfit Inspiration
If you like this cheap and chic dress then you're going to love the outfits we put together for inspiration. Read on to find out three stylish ways to wear this week's Fabulous Find:
Outfit #1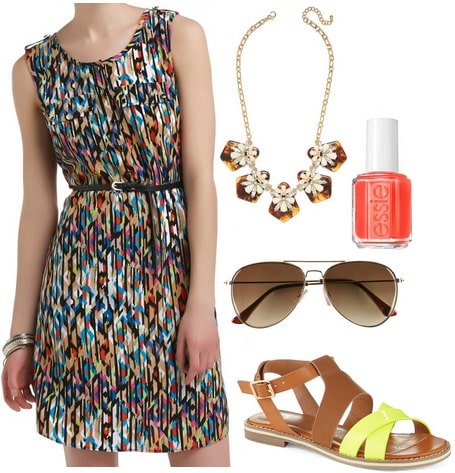 Product Info: Dress- Kmart, Necklace- Jewel IQ, Nail Polish- Essie, Sunglasses- H&M, Shoes- Lord & Taylor
Look super-cute during the last few weeks of summer with this ensemble. Pair the dress with casual sandals that match two of the colors found on the dress. Accessorize with a classic yet glam tortoise shell statement necklace and slip on a pair of cool aviator shades. Finish by painting your nails a bright red-orange for a contrasting pop of color.
Outfit #2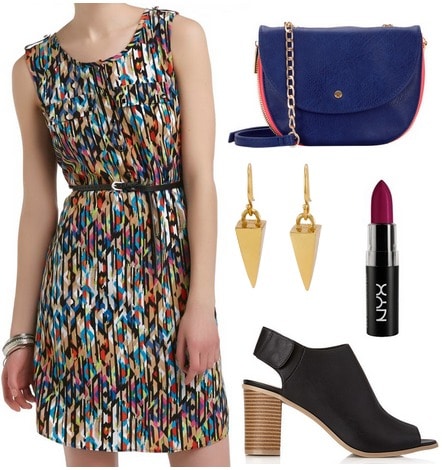 Product Info: Dress- Kmart, Bag- Barneys Warehouse, Earrings- Melinda Maria, Lipstick- NYX, Shoes- Forever 21
For a dressier outfit with an edgy flair, rock this Fab Find with these sleek slingback ankle booties. This cobalt blue handbag has a classic yet modern vibe, thanks to the cool pink detailing on the side. Continue that look with a deep fuchsia lip, then complete the ensemble with gold pyramid drop earrings.
Outfit #3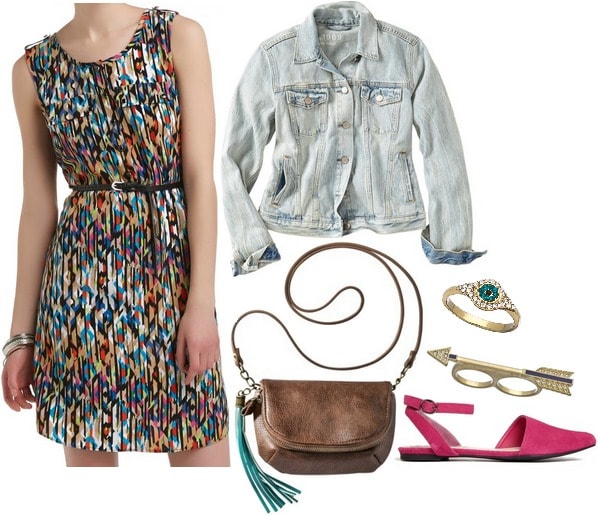 Product Info: Dress- Kmart, Jacket- Gap, Bag- Target, Evil Eye Ring- Max & Chloe, Arrow Ring- Max & Chloe, Shoes- ASOS
This final look would be so perfect to wear on campus in early fall. Pick up on the pink hues in the dress with these pointed-toe flats and throw on a light wash denim jacket. Stash your essentials in a vintage-look crossbody bag that has an on-trend tassel detail. Lastly, accessorize with several rings; I'm loving the combination of the evil eye ring and double-finger arrow-shaped one.
Your thoughts?
What do you think of this week's Fabulous Find? Would you buy this Kmart dress? Which look is your favorite? How would you style this dress? What colors would you wear with it? Remember to leave a comment below and tell us what you think!