We lovevests here at CF, so for this week's Fabulous Find, we found a a cute, cozy and inexpensive one for fall. This winter whitepuffer vest from JCP features a neutral color and a trendy faux fur hood, making it a fantastic option for cold weather. Plus, this vest will only set you back $17, which is a pretty amazing deal for outerwear.
Want to see what the vest looks like? Scroll on down to check it out, as well as some ideas on how to style it this season:
The Vest: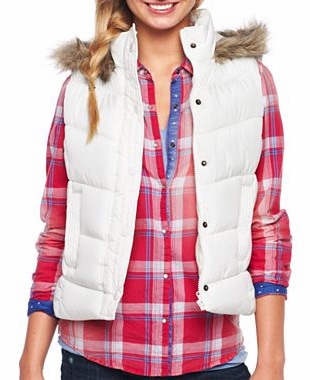 Arizona Puffer Vest in "Snowdrift" — $17 at JCPenney
Outfit Inspiration
If you like this budget-friendly, practical and stylish vest then you're going to love the outfits we put together for inspiration. Read on to find out three trendy ways to wear this week's Fabulous Find:
Outfit #1: Winter Wonderland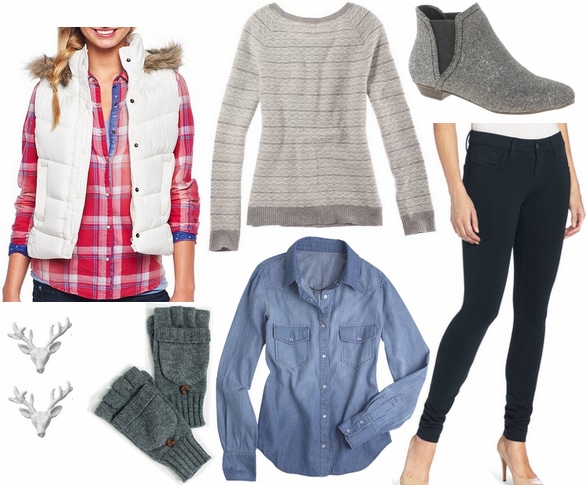 Product Info: Vest- JCPenney, Sweater- American Eagle Outfitters, Shoes- ASOS, Earrings- Wildfox Couture, Gloves- J. Crew Factory, Shirt- Delia's, Jeans- amazon.com
For a cute and casual look incorporating our Fab Find, look no further than this outfit! Start by layering a light wash denim shirt under a fair isle print sweater, then add a pair of hunter green skinny jeans. The puffer vest makes this look perfect for venturing out in colder temperatures, while flat grey ankle boots add contrast to the outfit. Accessorize with a pair of adorable deer-shaped earrings and grab some warm "glittens" to complete this look.
Outfit #2: Cozy Glam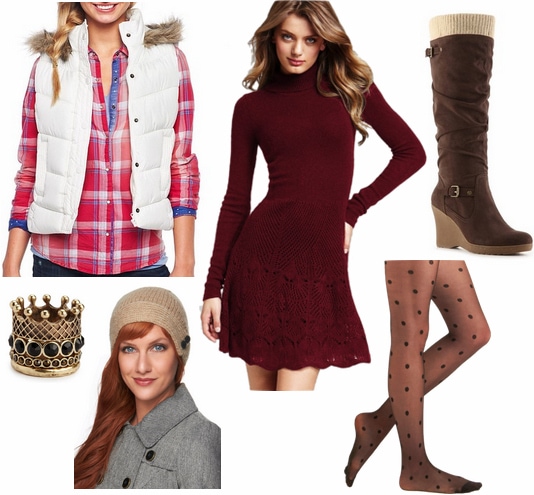 Product Info: Vest- JCPenney, Dress- Victoria's Secret, Shoes- DSW, Rings- Lucky Brand, Hat- ModCloth, Tights- ModCloth
If you prefer something a bit more dressy, try pairing the vest with a deep red sweater dress for a glamorous look. Polka dot tights give this look a fun vibe, while wedged boots are a stylish and practical choice for fall. For the finishing touch, accessorize with a cozy knit beanie and a set of pretty rings.
Outfit #3: Chic Layering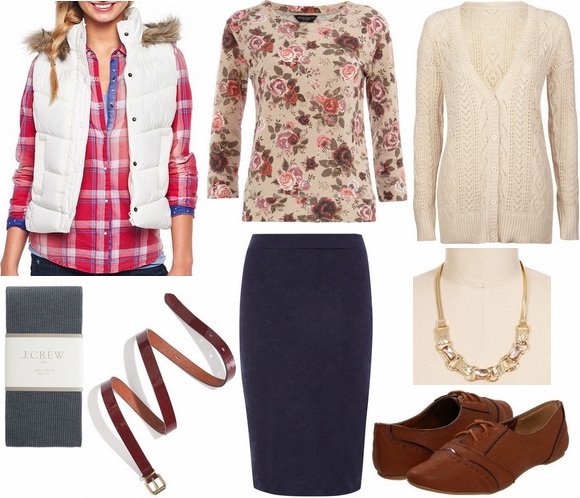 Product Info: Vest- JCPenney, Top- Dorothy Perkins, Cardigan- Tilly's, Tights- J. Crew, Belt- Madewell, Skirt- Dorothy Perkins, Necklace- Windsor, Shoes- amazon.com
This final look is all about layers. Start by pairing a pretty floral print sweatshirt with a navy blue pencil skirt. Add a cream-colored cable knit sweater, then define your waistline with a leather belt. Next, layer on the puffer vest as well as a pair of gray tights. Adorn your feet with some stylish lace up oxfords and accessorize with a statement necklace for a bit of sparkle.
Your thoughts?
What do you think of this week's Fabulous Find? Would you buy this vest from JCP? Which look is your favorite? How would you wear the vest? Remember to leave a comment below and tell us what you think!