For this week's Fabulous Find, we found a trendy and inexpensive black and whitetunic from department store JCPenney. This sleeveless high-low top comes in a bold, yet understated abstract print that looks fantastic whether you pair it with neutrals or bright colors. Plus, this tunic works with everything from leggings to jeans to shorts– so, so versatile!
Ready to see what the tunic looks like? Simply scroll on down to check it out, as well as cute ideas on how to style this top for spring:
The Tunic: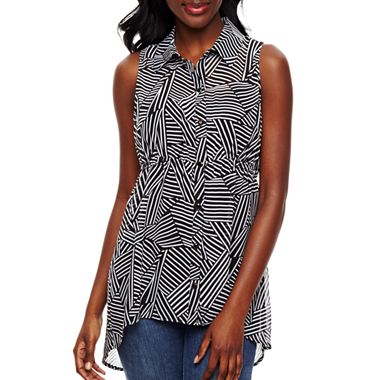 High-Low Sleeveless Tunic Blouse in B/W Mixed Stripe — $17 at JCPenney
Outfit Inspiration
If you like this cheap and chic tunic, then you're going to love the outfits we put together for inspiration. Read on to find out three stylish ways to wear this week's Fabulous Find:
Outfit #1: Laid-Back Meets Edgy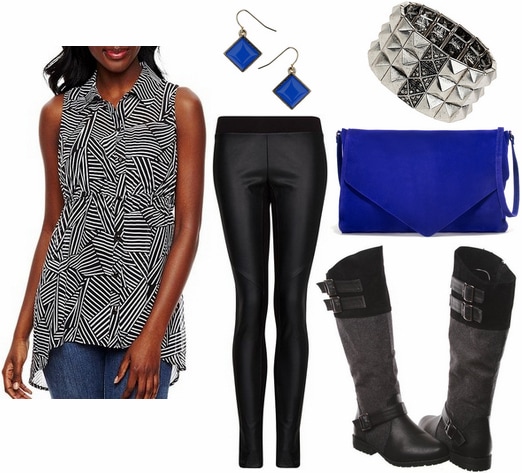 Product Info: Tunic- JCPenney, Earrings- Windsor, Bracelet- Windsor, Leggings- Mango, Bag- Zara, Boots- amazon.com
Tunics are the perfect length to pair with leggings, so for this first look, we're going to do just that. These leather-like leggings are trendy, yet comfy, and work perfectly with the abstract print of our Fab Find. Riding boots continue the casual vibe, while a cobalt clutch and matching earrings add the right amount of color. For the finishing touch, accessorize with an edgy studded cuff.
Outfit #2: Bold & Comfy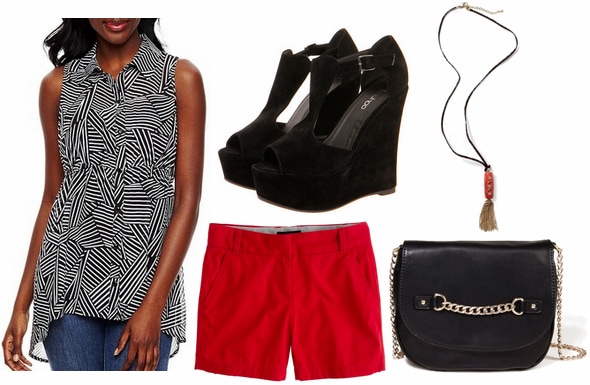 Product Info: Tunic- JCPenney, Shoes- boohoo.com, Necklace- Piperlime, Shorts- J. Crew, Bag- Forever 21
Once the weather warms up, try pairing this tunic with colorful shorts for a laid-back and stylish outfit. These suede wedges are a fashion-forward choice, while a tassel necklace mimics the crimson color of the shorts. Finally, grab a black chain-strap bag to complete this look.
Outfit #3: Pretty Pastels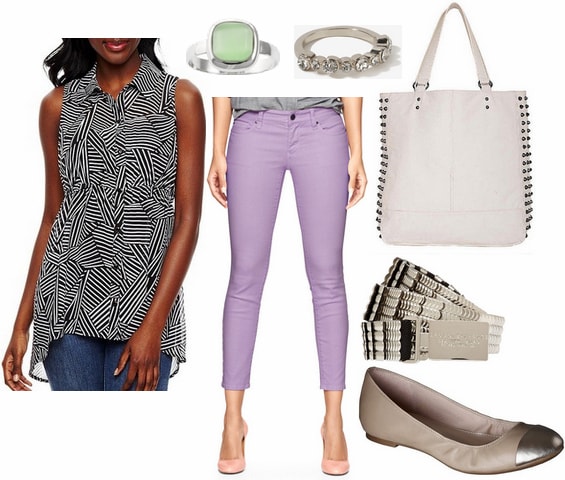 Product Info: Tunic- JCPenney, Mint Ring- Target, Silver Ring- Forever 21, Bag- Alloy, Jeans- Gap, Belt- Armani Exchange, Shoes- Target
For this last outfit, try pairing the tunic with some trendy lavender jeans, which help to soften the bold pattern of the top. Accessorize with a metal belt around the waistline of the tunic to create a polished vibe. Incorporate another pastel hue with a mint green ring, then add a hint of sparkle with this rhinestone ring. Finish with cap-toe ballet flats and a studded tote for a cute and practical outfit you can rock on campus.
Your thoughts?
What do you think of this week's Fabulous Find? Would you buy this tunic from JCP? Which look is your favorite? How would you wear this top? Remember to leave a comment below and tell us what you think!