Coated jeans are one of the season's hottest denim trends and for this week's Fabulous Find we've found the perfect pair for autumn. Not only are these black coated jeans a less expensive (and cruelty-free) alternative to leather pants, but they give a distinct edgy vibe to every look, whether they're dressed up or down. The best part? These jeans are available for only $25 at department store JCPenney, making them a trendy and budget-friendly find.
Scroll on down to check out the coated jeans, as well as three fantastic ways to style our Fab Find for fall:
The Jeans: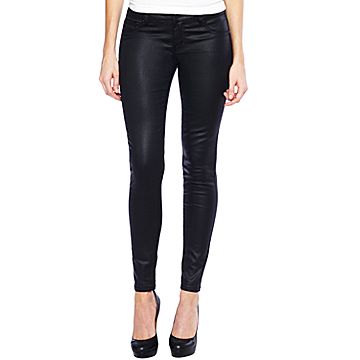 Bisou Bisou Black Coated Denim Jeans — $25 at JCPenney
Outfit Inspiration
If you like these super-trendy and budget-friendly jeans then you're going to love the outfits we put together for inspiration. Read on to find out three stylish ways to wear this week's Fabulous Find:
Outfit #1: Comfy & Casual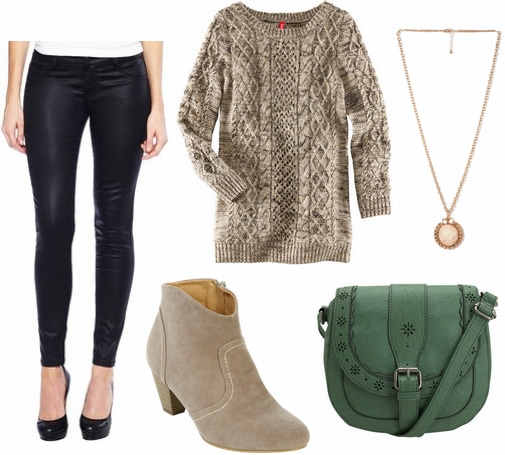 Product Info: Jeans- JCPenney, Sweater- H&M, Necklace- Forever 21, Shoes- Wet Seal, Bag- Payless
Style these coated jeans for a crisp autumn afternoon by pairing them with a cozy oversized knit sweater. Comfy taupe-colored ankle booties continue the casual vibe, while a green cross-body bag adds a pop of color. Accessorize with a long cameo necklace for a stylish outfit you can wear everywhere from the local pumpkin patch to grabbing lattes with the ladies.
Outfit #2: Chic & Stylish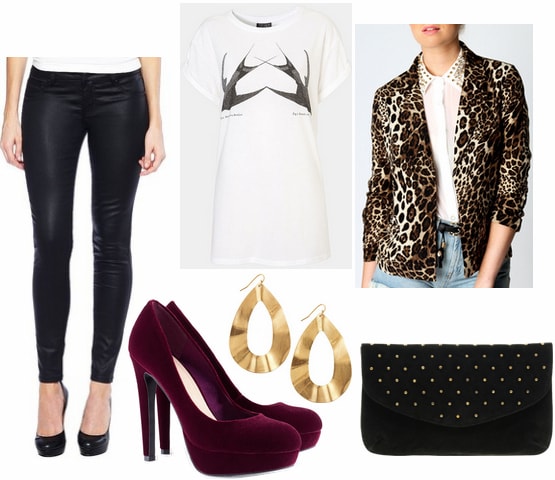 Product Info: Jeans- JCPenney, Tee- Topshop, Blazer- boohoo.com, Shoes- H&M, Earrings- Cusp by Neiman Marcus, Bag- Oasis
For a more fashion-forward look, pair our Fab Find with a chic graphic tee and an edgy leopard print blazer. Plum-colored heels help to dress up this look, while gold statement earrings add interest. Grab a studded black clutch and you'll have a stylish outfit that's perfect for nighttime.
Outfit #3: Cute & Trendy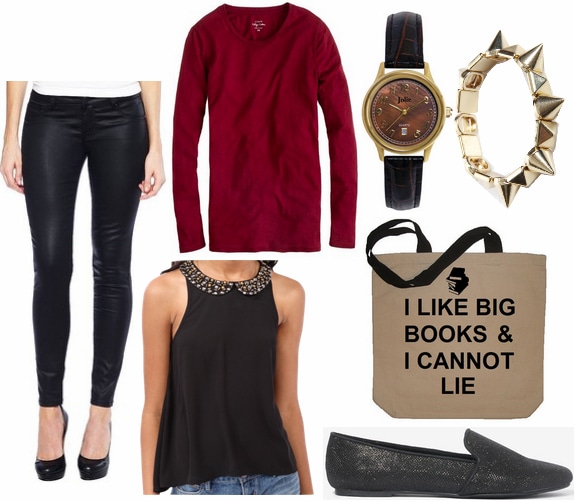 Product Info: Jeans- JCPenney, Long Sleeve Top- J. Crew, Watch- Lord & Taylor, Bracelet- boohoo.com, Sleeveless Top- Forever 21, Bag- Etsy, Shoes- Forever 21
Create a trendy, yet casual look by pairing the coated jeans with a blouse that has a pretty embellished collar. Make this look fall-appropriate by layering a simple burgundy long-sleeved top over the blouse and allowing the collar to peek through. Shimmery smoking slippers add a dose of sparkle, while this statement-making tote was made for lugging heavy textbooks across campus. For the finishing touch, accessorize with a practical watch and a fun spiked bracelet.
Your thoughts?
What do you think of this week's Fabulous Find? Would you buy these jeans from JCP? Which look is your favorite? How would you wear coated denim? Remember to leave a comment below and tell us what you think!