For this week's Fabulous Find, we picked a pair of skinny trousers that would work just as nicely in the classroom as they would at a holiday party. These burgundy-hued pants are made of sateen, which gives them a silky feel and a slight sheen. Although they look ultra-luxe, the price is far from expensive: you can score these pants at Gap for under $30.
Want to see what these trousers look like? Simply scroll down to check 'em out, as well as three chic ways to wear sateen pants:
The Pants: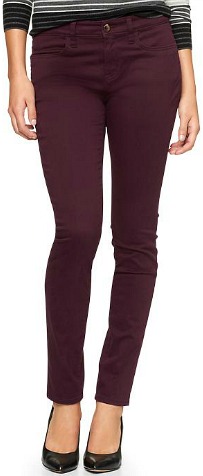 Always Skinny Sateen Pants in "Vamp Red"– $29.99 at Gap
Outfit Inspiration
If you like these cheap and chic trousers, then you're going to love the outfits we put together for inspiration. Read on to find out three stylish ways to wear this week's Fabulous Find:
Outfit #1: Laid-Back Luxe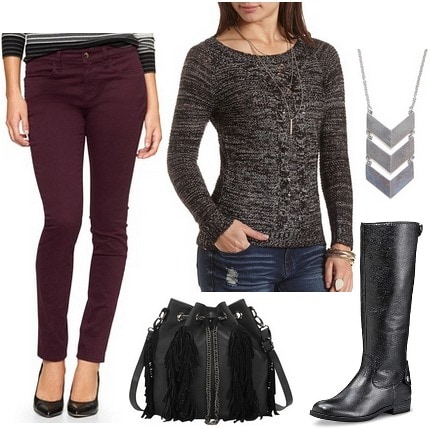 Product Info: Pants- Gap, Sweater- Charlotte Russe, Necklace- Pacsun, Bag- BlackFive, Shoes- Target
Create a stylish everyday look by pairing our Fab Find with a chic metallic sweater. Black riding boots have a classic appeal, while a fringed drawstring bag is a trendy way to hold the essentials. As far as accessories go, complete this outfit with a chevron pendant necklace.
Outfit #2: Seasonal Shindig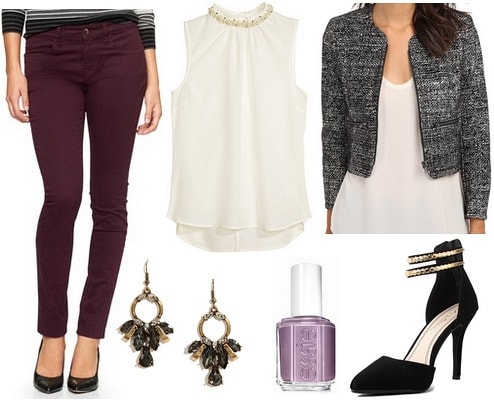 Product Info: Pants- Gap, Blouse- H&M, Jacket- French Connection, Earrings- Lulu's, Nail Polish- Essie, Shoes- J. Serene
This ensemble would look polished and festive for a holiday party or get-together. Pair the sateen trousers with an embellished collar blouse, then layer on a tweed jacket to create an outfit with plenty of texture and interest. Incorporate touches of black and gold with these ankle-strap pumps and statement earrings. Lastly, add a contrasting touch of color with a lilac-hued manicure.
Outfit #3: Cute & Cozy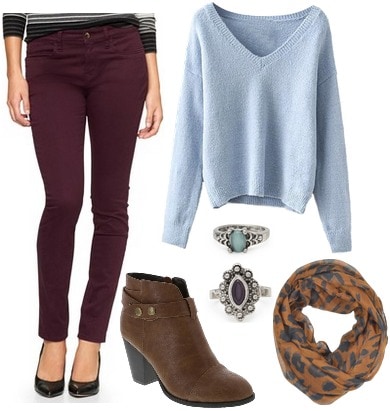 Product Info: Pants- Gap, Sweater- BlackFive, Shoes- Payless, Rings- Forever 21, Scarf- Overstock
For a colorful winter outfit, try pairing these wine-colored pants with an unexpected shade, like this baby blue sweater. Low-heeled boots keep things casual, while a printed scarf ties the look together. Accessorize with several silver rings to complete the ensemble.
Your thoughts?
What do you think of this week's Fabulous Find? Would you buy these pants? Which look is your favorite? How would you wear sateen trousers? Remember to leave a comment below and tell us what you think!