A denim button-down should be a part of every college girl's wardrobe. The right one can be dressed up or down, can be layered under or over other pieces, and works for every season. So for this week's Fabulous Find, we picked a denim shirt that fits the above criteria and is seriously on sale.
This Gap denim "boyfriend shirt" is currently 60% off, which means it rings in at $24. And believe us, you're going to be getting a lot of bang for your buck with this piece. Just scroll down to check it out, as well as three ideas for styling a denim button-down:
The Top: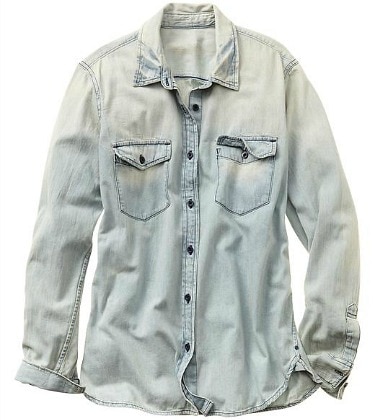 1969 Faded Denim Boyfriend Shirt in "Burnout" — $23.99 (on sale!) at Gap
Outfit Inspiration
If you like this trendy and budget-friendly top, then you're going to love the outfits we put together for inspiration. Read on to find out three stylish ways to wear this week's Fabulous Find:
Outfit #1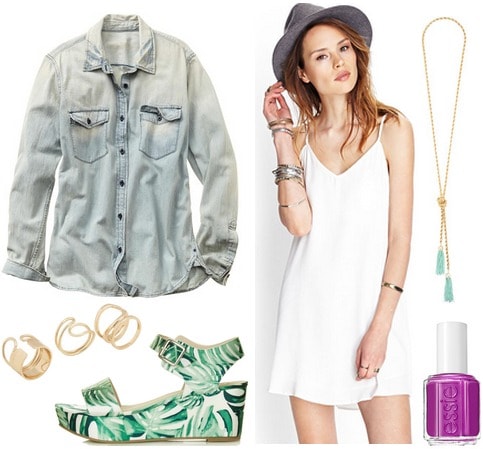 Product Info: Top- Gap, Dress- Forever 21, Necklace- BaubleBar, Rings- ALDO, Shoes- Topshop, Nail Polish- Essie
We love the idea of wearing a denim button-down like a lightweight jacket, which is exactly what we did in this first look. Start with a lightweight white slip dress, then layer on our Fab Find. (If it's too hot, you could also tie it around your waist, à la Miranda Kerr.)
Add pops of color and print with these palm tree sandals and bright purple nail polish. Lastly, accessorize with a trendy tasseled lariat necklace and sleek gold rings.
Outfit #2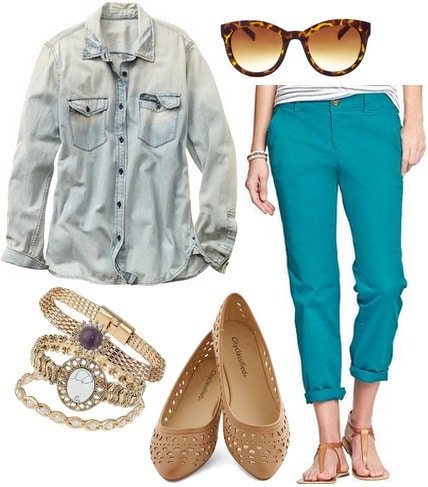 Product Info: Top- Gap, Sunglasses- Sole Society, Pants- Old Navy, Bracelets- Topshop, Shoes- ModCloth
For a classic look with a trendy twist, wear this denim shirt with a pair of teal-colored cuffed trousers. Neutral flats with cut-out detailing keep things casual yet stylish, while these stone-adorned bracelets have a vintage-inspired vibe. Accessorize with timeless tortoiseshell sunglasses to complete the ensemble.
Outfit #3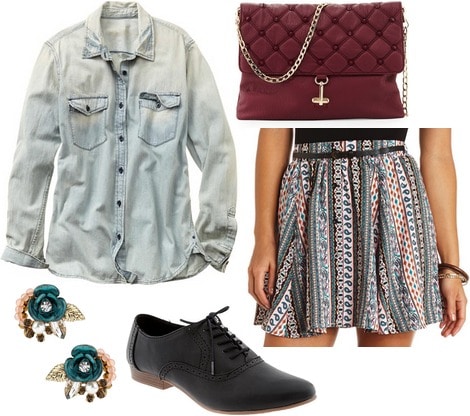 Product Info: Top- Gap, Bag- Neiman Marcus, Skirt- Charlotte Russe, Earrings- Lord & Taylor, Shoes- Old Navy
This final outfit has a polished yet youthful feel, which would make it perfect for fall classes. Tuck the denim shirt into a fun printed skirt, then add a pair of menswear-inspired oxfords. This quilted chain-strap bag looks ultra luxe, while these floral cluster earrings create contrast against burgundy hue of the purse.
Your thoughts?
What do you think of this week's Fabulous Find? Would you buy this denim shirt from Gap? Which look is your favorite? How would you wear a denim button-down? Remember to leave a comment below and tell us what you think!