This week's Fabulous Find is a basic pair of denim shorts with a fashion-forward twist — they're tie dyed!
However, we're not talking bright, bold, multi-colored tie-dye. Instead, this pair has a subtle two-toned look, making them the perfect choice whether you want to dress 'em up or dress 'em down. You can pick up these particular shorts from the ever-fashionable Forever 21 for just under $18, so they're a budget-friendly choice as well.
Want to see what these shorts look like? All you have to do is scroll on down to check out our Fab Find as well as some stylish outfit ideas:
The Shorts: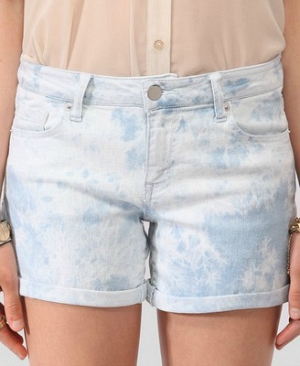 Cuffed Tie-Dye Denim Shorts — $17.80 at Forever 21
Outfit Inspiration
If you like these adorable and budget-friendly shorts then you're going to love the outfits we put together for inspiration. Read on to find out three stylish ways to wear this week's Fabulous Find:
Outfit #1: Shades of Blue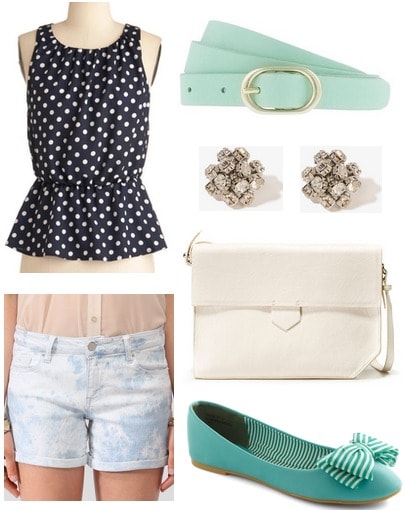 Product Info: Shorts- Forever 21, Top- ModCloth, Belt- J. Crew, Earrings- Forever 21, Bag- Zara, Shoes- ModCloth
For the first look, style the shorts with a navy blue polka dot peplum top for a feminine vibe. Wear a mint green belt over the blouse, as it will help define the waistline and create an hourglass shape. Add a pair of aquamarine flats with an adorable striped bow and a sleek white handbag. For the finishing touch, accessorize with a pair of unique rhinestone stud earrings.
Outfit #2: Classic Meets Trendy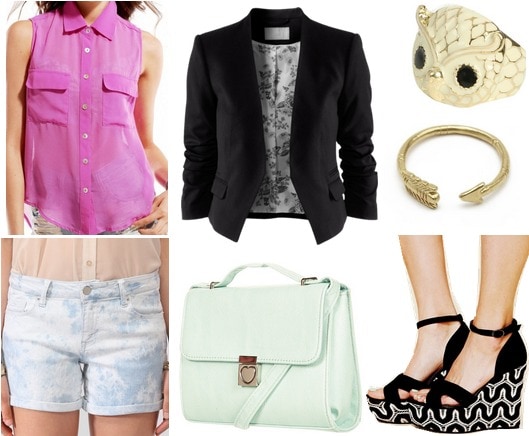 Product Info: Shorts- Forever 21, Top- Akira, Blazer- H&M, Owl Ring- Wet Seal, Arrow Ring- Catbird, Bag- Topshop, Shoes- Jeffrey Campbell
For a more dressy look, pair the shorts with an orchid-colored sleeveless blouse. A basic black blazer adds some polish while a mint handbag looks fantastic when paired with the brightly colored top. Add a pair of statement-making wedges and several unique rings for a look that combines classic and trendy pieces.
Outfit #3: Cute & Casual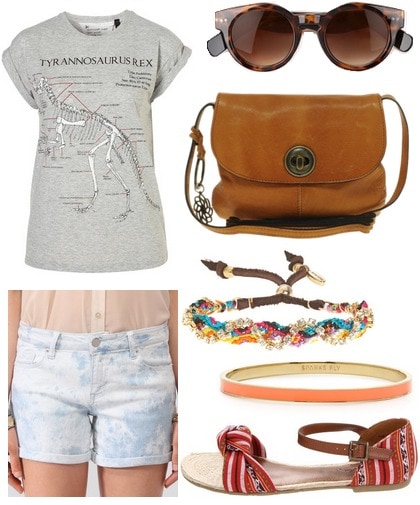 Product Info: Shorts- Forever 21, T-Shirt- Topshop, Sunglasses- Urban Outfitters, Bag- ASOS, Woven Bracelet- Calypso St. Barth, Bangle- Kate Spade, Shoes- Zappos
Our final look plays off the classic and comfy combination of denim shorts and a basic tee. This T-Rex t-shirt is definitely a statement piece and the gray color works well with the light-colored shorts. A pair of flat sandals add some color and pattern while the twist-lock bag adds a vintage-inspired touch. Finally, accessorize with several bracelets and a pair of round sunglasses for a stylish, yet laid back outfit.
Your thoughts?
What do you think of this week's Fabulous Find? Would you buy these Forever 21 shorts? Which look is your favorite? How would you style the shorts? Remember to leave a comment below and tell us what you think!