I've come to realize that I have a real problem. I have a slight obsession with stripes. And by "slight," I mean HUGE. Whenever I go shopping, I literally can. not. pass up a good striped top.
Why, you ask, am I so obsessed with striped items? Because stripes literally go with EVERYTHING – neutral items, other prints, even plaids (yes, that "no plaids and stripes" rule is outdated), and do so in style. So if there's a super inexpensive top, sweater, scarf, whatever that dons this pattern, I can't pass it up. And this week's Fabulous Find is no exception! This Forever 21 striped top, only $12.80, is the perfect neutral piece to fit seamlessly into any girl's wardrobe.
The Tee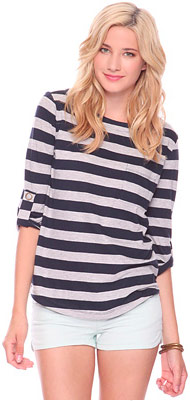 3/4 Slv Striped Top – $12.80 at Forever 21
Outfit Inspiration
Now that you've seen the adorable tee, check out these three very different ways to style it!
Outfit 1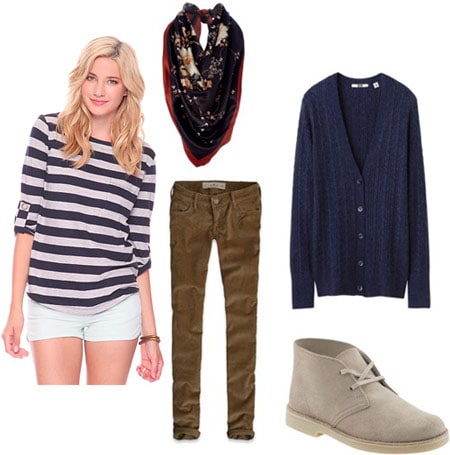 Tee, Pants, Cardigan, Booties, Scarf
This look is very neutral and laid back, but – thanks to a few subtle details – is still interesting and stylish. Here, I paired the tee with these awesome skinny brown corduroys, to be slightly rolled up above these classic grey desert booties. An oversized navy cardigan looks cute left open over the tee, while a vintage-inspired scarf with a pop of red adds some interest and color to the overall look. I'd wear this look to class, or to the library to get some studying done!
Outfit 2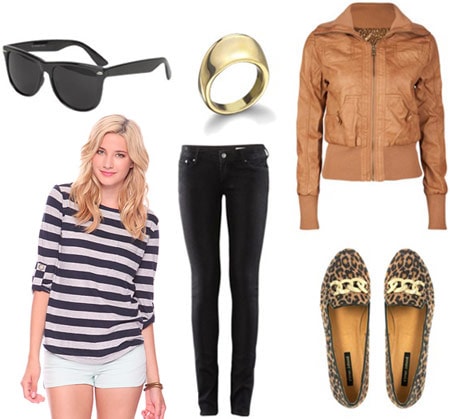 Tee, Jeans, Jacket, Shoes, Ring, Sunglasses
This look plays a little more with patterns and color combinations but is still casual like the first. I started by pairing the striped tee with a pair of black skinny jeans and these great leopard loafers with gold details. A cognac colored leather jacket (coincidentally lined with leopard fabric) adds contrast, and a gold ring and black sunglasses are the perfect toppers to an already fabulous outfit.
Outfit 3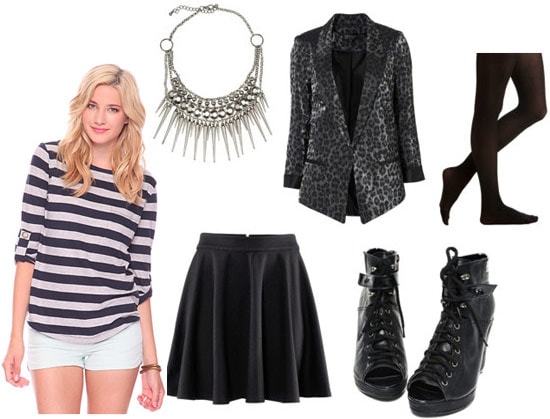 Tee, Skirt, Blazer, Shoes, Tights, Necklace
Like the second outfit, this look, the dressiest of them all, also plays with stripes and leopard print – but in a totally different way. For this look, I started by tucking in the shirt to this simple black circle skirt, and adding a pair of black tights for warmth during these winter months. This amazing black-and-metallic leopard blazer contrasts perfectly with the stripes, and badass black heels with silver details tie in nicely not only with the blazer, but also with the incredible silver-spiked necklace.
Your thoughts?
So there you have it – one shirt, three ways! If I were you, I'd go snag this shirt, and try it out with EVERYTHING, cause chances are, it'll look awesome! So… do you love your striped shirts? How would YOU wear this tee? Let me know what you think by leaving a comment!