So, like I mentioned last week, we're finally getting fall-like weather here in Florida. While it's not exactly chilly out, everyone is still excited – I'm seeing unnecessary boots, scarves, sweaters, and jackets everywhere, when we could really all be getting away with shorts and t-shirts.
So no matter where you live, it's time to start busting out the sweaters, and I found an amazing one. This striped sweater from Forever 21 has the PERFECT fit – it's slouchy and relaxed, but is just fitted enough to avoid looking frumpy. And the best part? It's only $12.50! You can never have enough casual sweaters during the cooler months, so go grab this one and check out some cute ways to style it!
The Sweater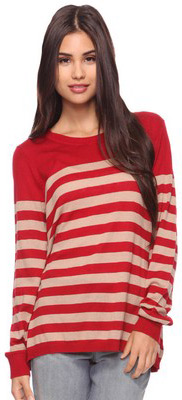 Striped Sweater Top – $12.50 at Forever 21
Outfit Inspiration
To get your inspiration going, here are three cute fall outfit ideas that incorporate this pretty striped sweater.
1. Not Quite Fall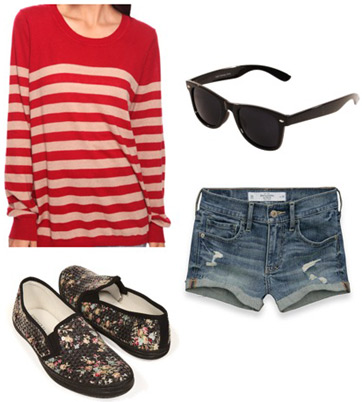 Sweater, Shorts, Shoes, Sunglasses
This outfit is basically the epitome of what's actually appropriate for the weather here in Florida right now – it's warm enough to wear shorts, but with enough bite in the air to make you wish you had a cozy sweater on.
To create a look for those not-quite-fall temperatures, I chose to pair the sweater with denim shorts, an adorable pair of black floral slip-ons, and black wayfarers. With a little bit of subtle print-mixing, this outfit has just enough punch to feel put together, but is just as comfortable as your pjs.
2. Casual for Class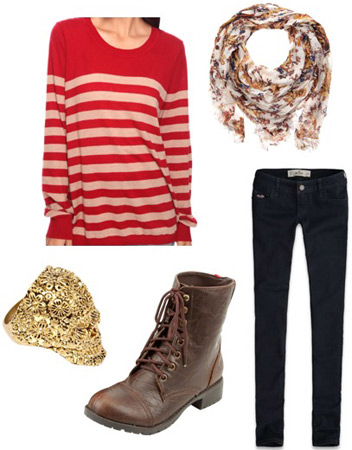 Sweater, Jeggings, Boots, Scarf, Ring
This day-of-classes look lends itself to more chilly weather, but doesn't sacrifice any style while keeping you warm.
I chose a pair of dark wash jeggings to pair with the slouchy sweater this time, and, with another nod to mixing prints, I chose a floral scarf with practically no color relation to the sweater – but don't freak out just yet! These awesome brown lace-up boots tie in the colors from the scarf and make for an interesting, perfectly mis-matched look. Finish off with a bold accessory, like this awesome skull cocktail ring. While not typically matchy-matchy, this look is cool and fashionable without being too fussy.
3. Night Out-Ready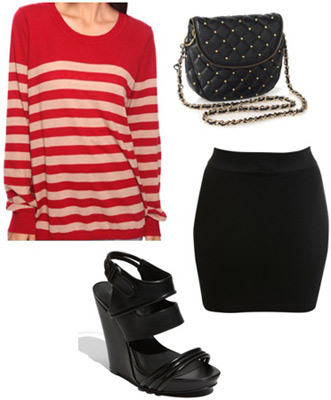 So, dressing up a sweater like this may seem impossible, but never fear- I think I did it! I'll be honest, when I'm not sure how to make something look a little more dressy, I add black. I know it may seem boring, but it always works!
To make this sweater work for night, I chose to pair it with a black body-con skirt. By leaving the sweater untucked, and adding an awesome pair of black wedges, the look instantly screams "Oh, I don't really dress up, I just threw this on… but look at how amazing my legs look in this skirt."
You know how everyone always says that if you're showing too much leg, you should cover up on top for balance? Well, this is the perfect example of that. Your legs look sexy in this amazing skirt and these badass wedges, so there is no need to overdo it on top – in fact, adding something unexpected like a slouchy sweater mixes it up and keeps it fun! Finish off the look with a cute black cross-body bag.
Your thoughts?
So there you have it! The perfect fall sweater with three great ways to style it. Now let me know what YOU think! Which was your favorite look? Would you wear this sweater? How would YOU style it? Leave a comment below.